Is the NC Sex Offender Registry Hard To Keep Up With? DoNotPay Can Help
North Carolina features among the top 15 states with the highest number of registered sex offenders in the U.S. As per statistics released by SafeHome.org, the NC Sex Offender Registry had over 25,000 registered entries in May 2021—and the number only keeps getting bigger every month.
While all states are required to maintain public sex offender registries under Megan's Law, the actual procedure to look into the database can be sloppy and underproductive.
Keeping your safety needs in mind, DoNotPay has developed an advanced tool that can in your area and give you automated alerts to help you stay vigilant at all times!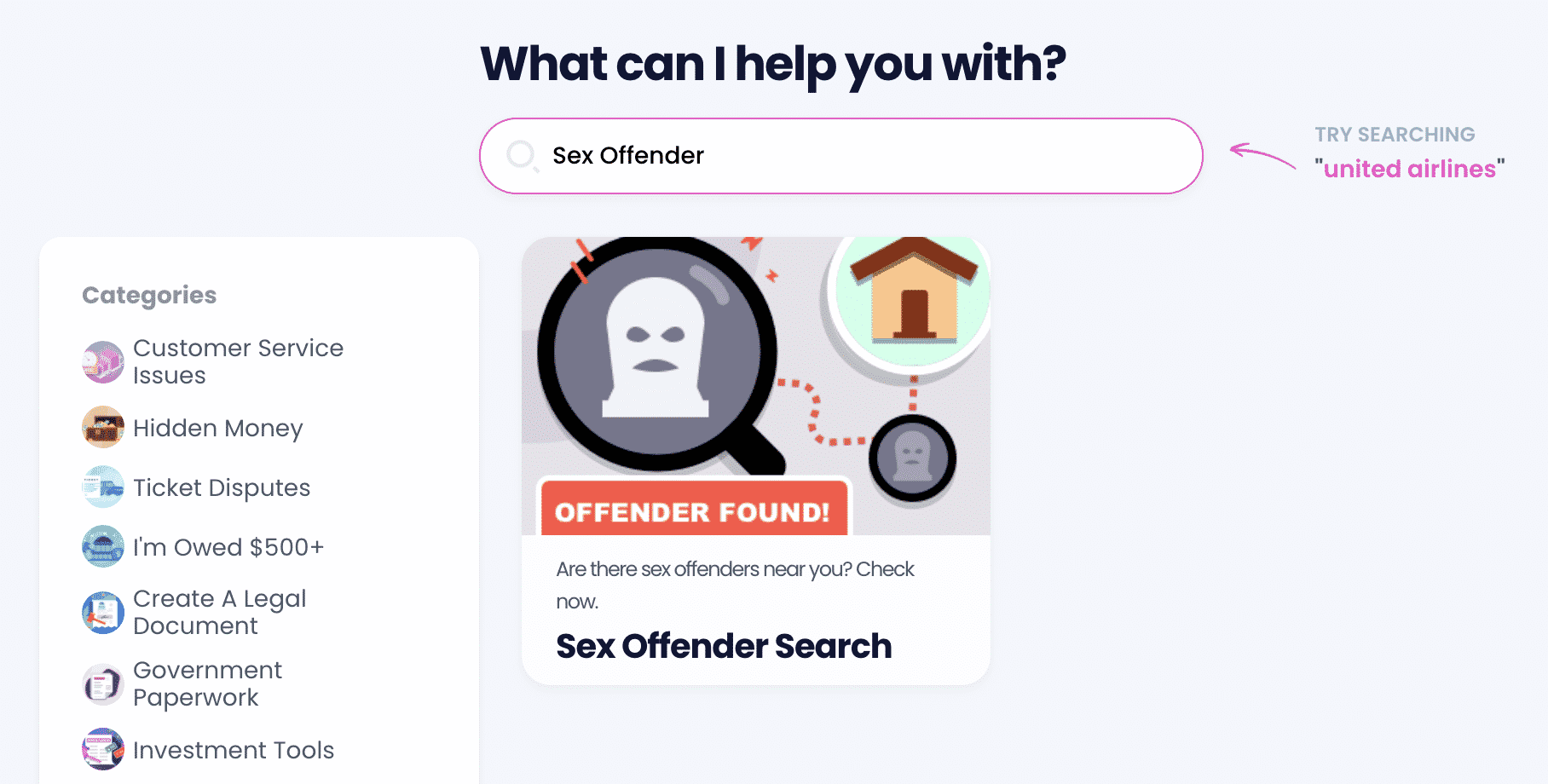 North Carolina Sex Offender Registry—How To Search For Predators
Many sex offenders are prone to recidivism—i.e., committing the same crime repeatedly. Tier 3 sex offenders are the ones who are highly likely to reoffend, so it becomes vital to monitor their status via the registry.
You can check out the current list of sex offenders in North Carolina in three ways:
On the website
Using email alerts
With telephone alerts
Use the Website To View the North Carolina Sex Offender List
It is easy to access the North Carolina Sex Offender Registry through their website, but you need to agree to an Acceptable Use Policy before you proceed with the search. This policy ensures you don't misuse any sex offender's data that leads to criminal acts like intimidation, stalking, and harassment.
Depending on your search criteria, you can browse the registry through four different means:
Search Criteria
Description
Address

You can use this to map sex offenders based on street, city, and ZIP code info
You need to punch in multiple times for different addresses

Name of the offender

This will let you view the NC offenders sorted by their first or last name
You will need to specify if you are looking for alias names or names of incarcerated offenders

Sex Registration Number

If you find the Sex Registration Number of an offender, you can use it to extract individual details

Location coordinates

Use this if you are suspicious of an offender lurking in an area with no recognizable address
You can define the area by latitude and longitude for accurate results
Email Alerts on NC Sex Offenders
You will need to sign in to the registry website to access the NC Offender Subscription Service, which includes email alerts. You can choose to receive alerts about a specific offender or general notifications about newly registered individuals in your area.
Registered Sex Offenders NC—How Do Telephone Alerts Work?
For telephone alerts, you need to reach out to the NC Department of Public Safety. You can call their agency at 877-627-2826 to enable telephone alerts. These alerts will only notify you of the change in status of a registered sex offender.
You have to remember that telephone and email alerts are brief and incomprehensive. If you seek meaningful details, you will have to revert back to the website search—or use DoNotPay's Sex Offender Search feature.
North Carolina Registered Sex Offenders—Your Questions Answered
Every registered sex offender has to follow the state's registration laws to stay out of trouble. North Carolina's law requires its offenders to stick to a strict code if they want to avoid further Class F felony charges.
We have compiled some commonly asked questions about NC's sex offender registration rules.
Question
Registry Rule
How long will an offender remain registered?
Depending on the severity of the crime, an offender can be registered for:

At least 30 years
Lifetime

Do the registered offenders have residential restrictions?
Yes—no registered offender must reside within 1,000 feet of a school or child care center
What about employment restrictions?

Registered offenders cannot supervise, instruct, or care for minors on a professional level
They are banned from being babysitters

Can registered offenders use social media?
Yes—as long as they provide their online identifiers to the authorities
What else are registered sex offenders not allowed to do?
Registered sex offenders cannot:

Change their names
Renew emergency medical services credentials
Have driving licenses with Passenger or School Bus endorsements
Visit protected locations

Can they travel to other states?
Traveling is not prohibited, but there may be other restrictions
Is the registry list absolute?
No, the registry does not contain the names of:

Offenders exempt from registration
Offenders who complete their registration period
Registered Sex Offenders in NC—Can I Share Their Info?
North Carolina's Sex Offender Registry is public info, but you must still use your discretion while using this database. The North Carolina State Bureau of Investigation recommends consulting legal counsel before advertising or posting details about any registered sex offender.
Don't Waste Time Decoding Obscure Lists—Let DoNotPay Watch Over You
There could be hundreds of new additions to the North Carolina Sex Offender Registry by the time you wrap your head around how their website works. If you don't want to live under the lingering fear of crossing paths with a sexual predator, DoNotPay can cover all the bases for you.
DoNotPay's sex offender search feature is straightforward and quick. All we need is some parameters to give you the data you seek in a time-sensitive manner.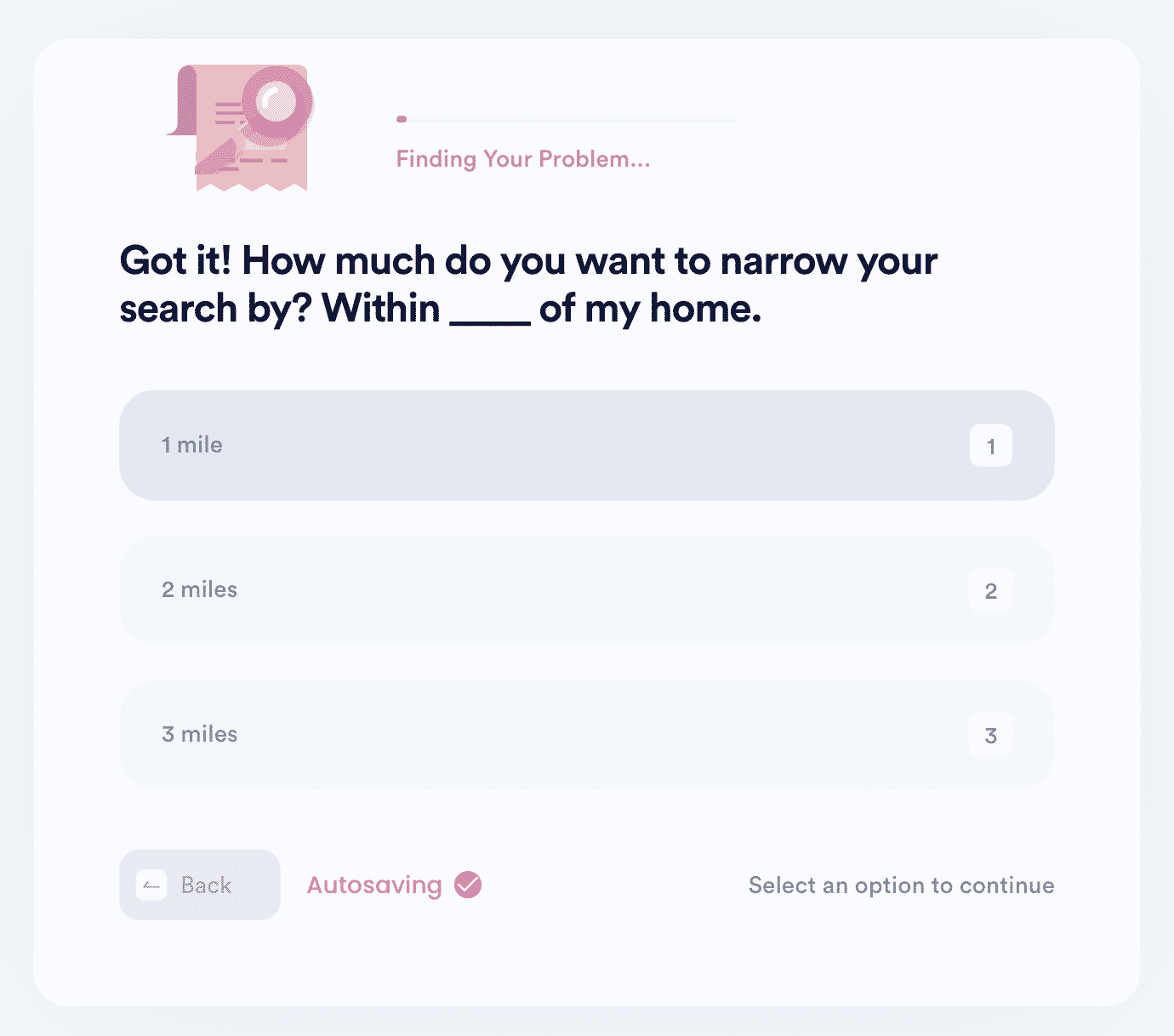 Follow these simple steps to access any sex offender registry in seconds:
Sign in to DoNotPay and choose the option
Select between Specific Individual or All Offenders Near Me
Set proximity radius between 1–3 miles of your address
Tell us if you want to enroll for a weekly check for that address
View the detailed report generated
You can rest assured that DoNotPay will give you a comprehensive report of your search query—complete with photos of the sex offenders—using the latest data from the core registry. We don't miss a thing when your well-being is in question!
North Carolina Sex Offender Search—What if an Offender Lives Nearby?
DoNotPay's search report can help you discover a sex offender lurking around your home in a jiffy. If you get a positive result, you can take the following precautions:
Stay alert
Talk to family and the ones at risk
Bring the issue up during a community discussion
Reach out to the offender's parole or probation officer for safety concerns
To Sue or Not To Sue?
Hiring a lawyer to help you sue a company can be helpful, but it can also cost you an arm and a leg. Luckily, you can avoid wasting hundreds of dollars and use our robot lawyer to sue any company in small claims court instead!
DoNotPay offers you a variety of other features you will find quite useful when dealing with bureaucratic issues. Check out the list below to see what else our app can help you with:
Creating standardized legal documents

Lowering property taxes
Shopping Without Dropping
Whoever said you should shop until you drop didn't have access to DoNotPay's various features. With our app, you can make your shopping experience smooth sailing and stress-free!
Here's a fragment of what you can accomplish by using our neat features: