The Ins and Outs of the JOANN Return Policy
JOANN has a great choice of products and fabrics, but it can happen that some of its items don't suit you. If you aren't pleased with your purchase, you may be able to return the product to JOANN.
You don't have to go through the return process alone—we are here to help you. Learn all about the JOANN return policy and find out how you can get a refund or exchange your product with ease. To request your return in a snap, you can use DoNotPay.
The JOANN Return Policy—Introducing the Basics
JOANN has a simple and generous return policy—you can send your items back at any time!
Before you decide to dive into the return, you should know the following:
The product needs to be in good condition
It is preferred to initiate a return within 90 days of the purchase
Returns without a receipt are possible
There is a different return policy for international orders
If you want to return a product, you can choose one of the following options:
Refund
Exchange
Store credit
JOANN accepts all products back, except:
Worn items
Custom-made products
Bulk purchases at JOANN+
The store might make an exception for custom-made or bulk items if they arrive damaged or flawed. If that happens, you'll need to contact customer service, and they'll let you know about your next step.
How Can You Return JOANN Products?
JOANN offers the following return methods:
| | |
| --- | --- |
| Can You Initiate a JOANN Return Via | Yes/No |
| DoNotPay | Yes |
| Email | No |
| Phone | No |
| Website | No |
| In person | Yes |
| Mail | Yes |
In-Person Returns
To return an online or in-store purchase, stop by the nearest JOANN store. Note that you should have a valid photo ID with you.
How you'll receive the refund depends on the initial method of payment. The table below explains it for you:
| | |
| --- | --- |
| Product Paid With | Purchase Will Be Refunded To |
| Debit card, credit card, or cash | The original method of payment |
| Gift card (check the JOANN gift card balance) | New e-gift card |
| PayPal | Physical gift card |
This refers to returns with a receipt. For a return without a receipt, you can choose between getting store credit or exchanging your product for another one. JOANN will consider the lowest price of the item in the last 90 days for reimbursement.
If you don't have the receipt because you made the purchase online, JOANN employees can look the transaction up using your order number.
Returns via Mail
While in-store purchases can only be returned to a store, the ones you make online can also be shipped via mail. The packing slip you received with the original shipment contains the return address and the return form, which you need to fill out.
JOANN can provide you with a return label if you take the following steps:
Go to the JOANN website
Navigate to the Contact Us form
Go to the My Question section
Select Return Item(s)
Enter your order number and the product you'll be returning
Once you get the label, place it on the outside of the box.
Can You Return Fabrics to JOANN?
When it comes to JOANN fabrics, you can return them as long as they are in the same condition in which you purchased them. The fabric you want to return can't be:
Bring the fabric and the receipt to a JOANN store, and you'll get a full refund. You can also get a refund without the receipt if you return the fabric within 90 days of the purchase. If you do that, the amount you'll get back will equal the item's lowest selling price in the past 90 days.
What's JOANN's Policy for Processing Refunds?
As soon as the company receives your shipment, it will send you a confirmation email and issue the refund to your original method of payment.
Note that if you paid with a credit card, it might take your bank up to ten business days to issue the money to your account.
JOANN will not reimburse the shipping costs. Those and handling fees will be deducted from your refund amount.
If you paid with a gift card, you'll get an e-gift card with the refund amount via email.
What's JOANN's Return Policy for International Orders?
If you ordered a JOANN item to a country outside of the USA, your return process will be different. The item will be shipped via eShopWorld, and you'll need to use JOANN's Return Portal to initiate the procedure:
Enter your email address and order number
Find the return address
Pack your item and the packing slip
Print the return label and place it on the box
Send the package using your preferred carrier
You need to pay for the shipping costs, which can vary depending on your location.
It might take up to 30 days for your return to be processed. As soon as the company receives your package, it will email you to verify your return and issue a refund.
Return Your Product in a Jiffy With DoNotPay!
Returns can be faster and easier when you use DoNotPay. How can our app speed up your return? You'll only need to take three steps:
Click on the Item Return Request product
Fill in the questionnaire about your purchase
When you submit your request, DoNotPay will generate a return request letter and send it to the seller.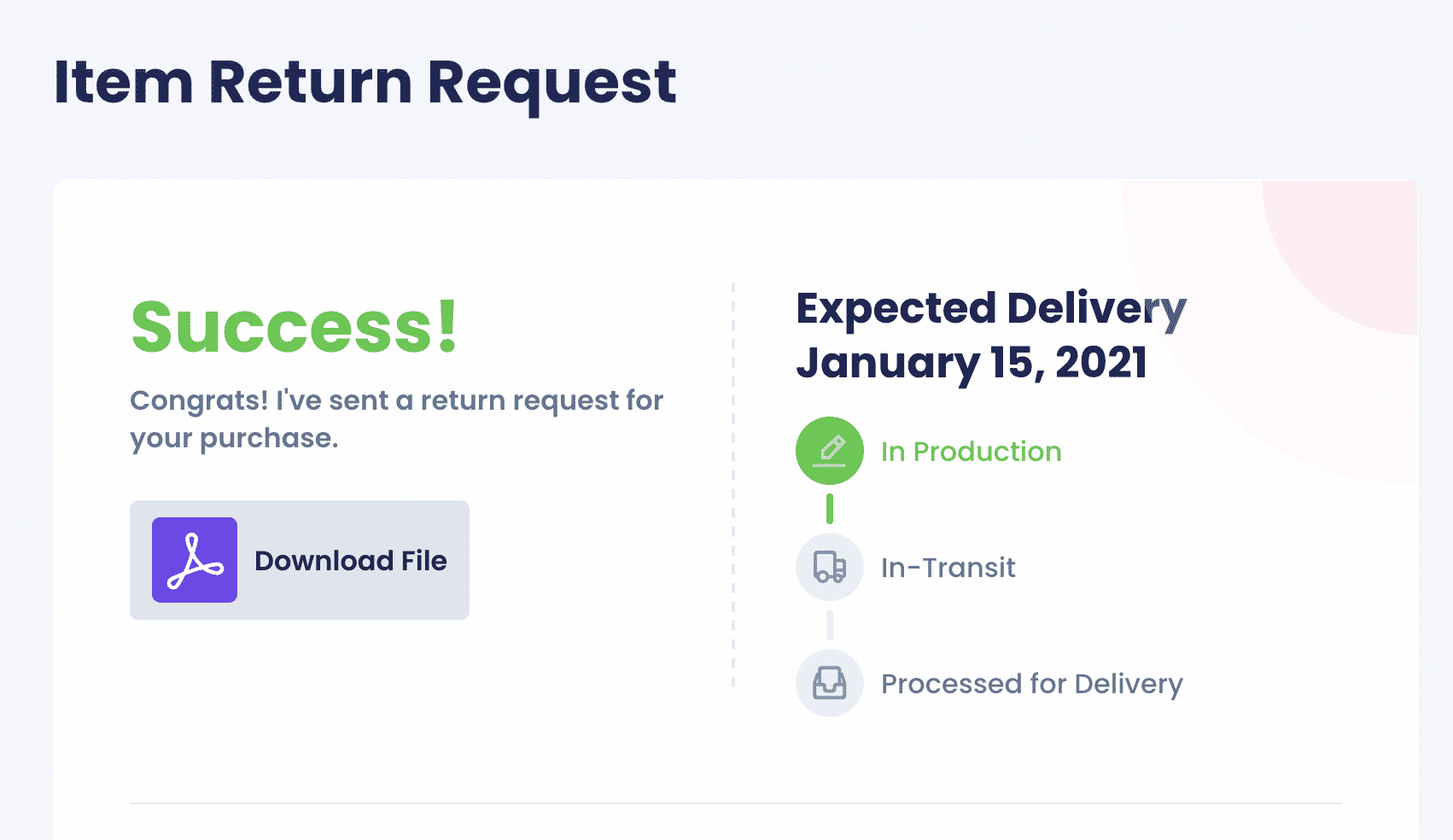 DoNotPay can send return request letters to many other retailers, including the companies in the table below: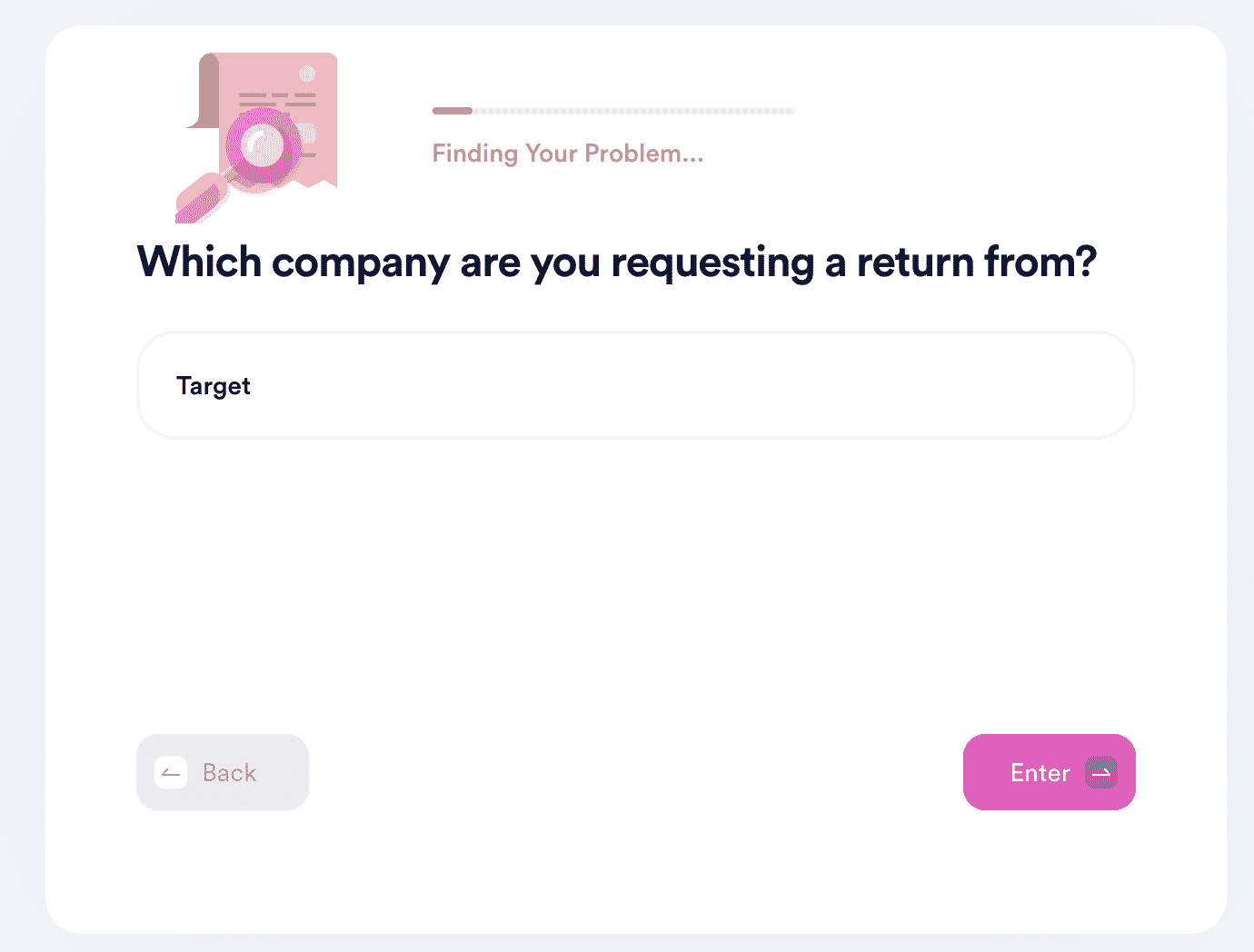 Don't Tolerate Corporate Attitudes—Request What's Rightfully Yours
DoNotPay is known for being the champion of customer advocacy because we help our users claim what's rightfully theirs, and we don't tolerate big corporations taking people's hard-earned money.
No matter if you want to request a refund, insurance, extended warranty, or compensation from airlines, our AI-powered lawyer will fight for your right.
If you feel like you're overpaying certain subscription services, we can help you cancel them. Also, if you want to test a subscription before you start paying money for it, don't connect your credit card to the free trial page! You can sign up for free trials using our virtual credit card. That way, companies won't be able to charge you auto-renewal fees because the card has no funds.
Wait! DoNotPay Can Help You in Many Other Ways
DoNotPay has many different areas of expertise—helping you return your faulty items is only one of them.
Check out how our app can assist you in: