How To Bypass the
Instagram Phone Number Verify
Process
Instagram, like many services and social media platforms, introduced phone number verification as a method of keeping users safer.
The feature proved not to be as practical and well-received as they thought it would be since many users disapprove of posting their real phone numbers online.
Rather than doing that, plenty of users opt for burner phones or fake phone numbers to get past this verification process.
For those not willing to spend money on burner phones or deem fake phone number apps unreliable, DoNotPay offers a hands-on solution—a temporary phone number.
Why Does
Instagram
Want To
Verify Your Account With a Phone Number?
Like with other services, such as Facebook or Tinder, reasons for phone number verification on Instagram revolve around users' safety.
Instagram requests your phone number when making a new account or signing in from a different IP address or location. How does this help? When Instagram requires your number, it can:
Help set up the two-factor authentication

—A process that allows you to reset your password if you forgot it or if there is unusual activity on your account

Verify your identity

—Providing your phone number proves that you are a real person and not a bot

Drive away spam accounts

—A particular phone number can be used for only one account. That way, Instagram makes it impossible, or at least difficult, to create multiple accounts
How To Verify Your Instagram Account With a Phone Number
Whether Instagram requested your phone number for verification or you wanted to enable the two-factor authentication, here is how it works:
Login to your account

Go to your profile

Select the

Edit Profile

option

Add your phone number and check

Done

Enter the code you get from Instagram to verify your account
This way, you'll never get locked out of your account, and you will be informed about any suspicious activity.
Is the
Instagram Phone Number Verification
Mandatory?
A short answer is it is not. You decide whether you'll use a phone number, existing Facebook account, or email address for creating an Instagram account.
Whatever you choose, Instagram will ask you to verify your account with a phone number, but you can skip this step. There is significant controversy surrounding this topic since many users complained that Instagram blocked their accounts due to suspicious activity. The issue could be resolved solely by entering a phone number for verification.
So, yes, you can skip the verification process, but the question is, will there be any consequences?
Reasons To Use a
Fake Phone Number for Instagram
Most users don't really read terms of use while signing up for social media platforms. The privacy policy can change over time, and people don't pay much attention when that occurs.
Social media users rely heavily on the idea that all their private information is safe. 
But, ever since Instagram confirmed that certain accounts and phone numbers were exposed because of a security breach, panic started to grow.
It is a well-known fact that large companies like Facebook sell their users' data to other corporations. After the Cambridge Analytica breach scandal, when data of more than 87 million Facebook users was abused for advertising purposes during elections, people started to get extra cautious.
How To Verify Your Instagram Account Without a Phone Number
Information leaks are the primary reason to search for ways to bypass phone number verification.
Take a look at an overview of plausible options for creating an Instagram account without disclosing your number:
| | |
| --- | --- |
| Method | Can You Use It To Avoid Phone Verification? |
| Burner Phone | Yes |
| Fake Phone Number App | Yes |
| DoNotPay | Yes |
| Someone Else's Number | Yes (if they approve and don't have an account already) |
The options are not scarce, but some can be expensive and unreliable, so we recommend using DoNotPay and our practical Burner Phone feature.
Verify Your Instagram Account Using DoNotPay

The Burner Phone feature is a convenient option for those unwilling to let Instagram have their actual phone number. DoNotPay generates a unique temporary phone number, so there is no need to worry about the number already being used.
Access DoNotPay from your web browser and get a temporary phone number in under a minute:
Select the

Burner Phone

feature

Choose the company you want to use this number for 

Click on the

Create a Temporary Number

button

Use the number that DoNotPay created to complete the verification process
The number is intended for only one use, and it is deactivated after 10 minutes. Unlike other services where you pay per number, we allow you to create multiple different numbers, and it is all included in our monthly subscription.
Why You Should Avoid Buying Physical Burner Phones
While purchasing an actual burner phone seems like an easy solution, there are some drawbacks:
It could be expensive

You may have to buy a SIM card separately

It's not eco-friendly

It doesn't protect you from spam
The Best Part About DoNotPay's Fake Phone Number Is Its Versatility
Plenty of apps and services require phone number verification. While two-step authentication is a great way to ensure that nobody else can log into your account, you may not always feel comfortable giving something as private as your phone number to big corporations. 
If you want to test out the service, but are reluctant to provide your actual phone number, you can use DoNotPay's randomly generated phone number instead. Here are some instances in which DoNotPay can help you bypass phone verification: 
Protect Your Financial Information With DoNotPay's Virtual Credit Card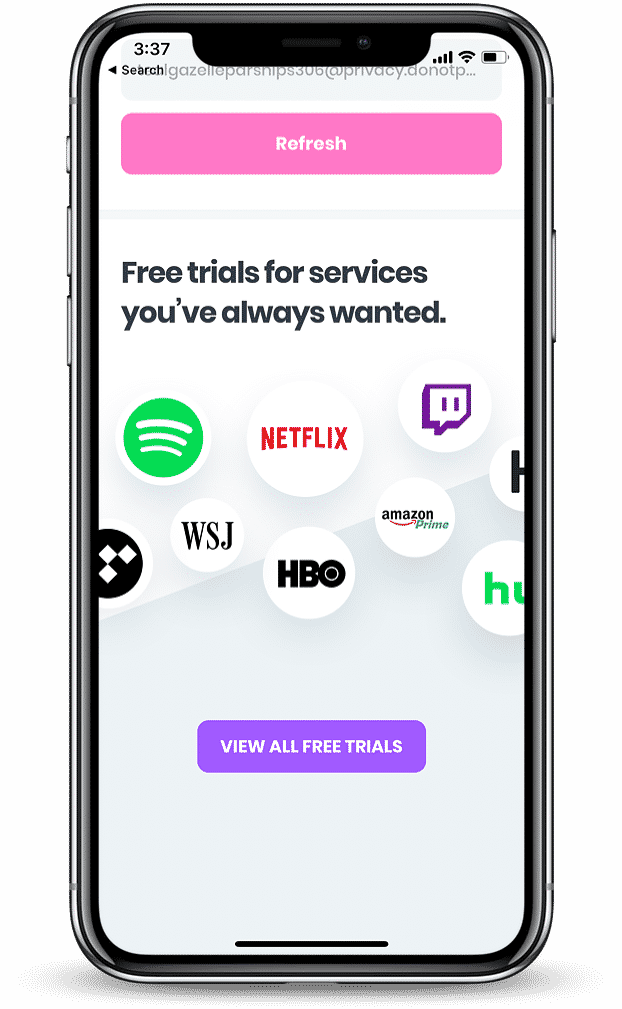 Many people are not comfortable giving away their credit card numbers online, which is perfectly reasonable, given what's at stake.
Even if you are willing to do so, you might enter your credit card information to sign up for a free trial but miss a notification about the expiration and get charged for full yet unwanted membership.
Don't give up on free trials yet! We developed a Free Trial Card—a convenient, money-saving feature you can use to sign up for any free trial without the risk of getting charged once it's over.
Here is how it works:
Open our app and select the

Free Trial Card

feature

We create a unique

virtual credit card

Use it when signing up for a free trial

When the free trial expires and the company tries to charge you, you get unsubscribed automatically since there are no funds on the card, and it's not connected to a bank account
Our virtual credit cards proved to be the most efficient option for keeping your information hidden from third-party violations, and we guarantee that your money stays in your pocket.
What Else Can DoNotPay Do for Me?

We offer versatile features developed to help you deal with stressful and tedious day-to-day tasks. Learn more about bypassing phone number verification for Facebook, Snapchat, YouTube, Grindr, or MeetMe. Create accounts for Craigslist, Yahoo, or PayPal trouble-free.
If you are interested in actual burner phones, we will explain everything you need to know about them and how to get them from AT&T, Verizon, or T-mobile.
Access DoNotPay from any web browser, and let us guide you through resolving issues, such as: 
Contesting traffic tickets

Fighting speeding tickets