How to Verify Your Facebook Account Without a Phone Number
Numerous platforms use phone verification processes for registering and maintaining accounts. The reason for this is the increasing number of scams and fraudulent accounts and the general safety of the users.
Facebook, the biggest social network worldwide, hosting more than 2.7 billion users monthly, is no exception.
Many people are not thrilled with the idea of giving out their phone numbers, and therefore often try to bypass Facebook's phone verification.
Some use fake phone number apps to generate dummy phone numbers, specifically for this. Others resort to burner phones.
Both options can take a lot of money and time and be unreliable in the end. DoNotPay came up with a temporary number feature that can help you sign up for Facebook, or any other platform, in no time and hassle-free!
What Is Phone Verification?
Phone number verification is a procedure used to confirm that your phone number is in service and that a real person is behind the account. This can be done either with an Interactive Voice Response (IVR) or via One Time Password (OTP). Verifying your phone is also used when you want to log in from a new device.
How Do I Verify My Phone Number on Facebook
?
In most cases, users chose the OTP option. To verify your phone number on Facebook this way, you have to do the following:
Enter your phone number using your country code

Chose

Send Code

Open the SMS with the confirmation code

Type the code in the provided space or click

Resend Code

if something went wrong

Click

Next

to submit
Facebook will send a confirmation code to the verified number every time you log in from a different browser or unknown device. If that occurs, enter the code to access your account.
Why Does
Facebook
Insist on
Phone Number Verification
?
Facebook is overflowing with hoaxers, spammers, and fake accounts used for stalking and harassment. Identity theft is not uncommon and shouldn't be taken lightly.
The phone number verification system was introduced to prevent fraudulent activities and make tracking fake and spam accounts easier.
Another benefit of having a verified phone number is that even if someone has your password, they won't be able to access your account without entering a confirmation code.
How To Get Past Facebook Phone Verification?
Facebook users are creative in finding ways to sign up for Facebook without giving their actual phone numbers. Some of the go-to choices are:
Buying a burner phone with a prepaid SIM card

Using the fake phone number apps available online

Asking a friend to use their number
All these options come with downsides. Buying and disposing of burner phones is not cheap or eco-friendly. Fake phone number apps are not very reliable, and using someone else's number can be tricky since the majority of the population uses Facebook, and a number can be used only once.
Here is a handy overview to help you understand what can and cannot get you past the Facebook phone verification:
| | |
| --- | --- |
| Can I Verify Using? | Yes/No |
| Burner phone with a prepaid SIM card | Yes |
| Fake phone number apps | Yes |
| Email | No |
| Disposable temporary email | No |
| DoNotPay | Yes |
| Friend's phone number | Yes |
| Facebook apps | No |
Reasons To Use Fake Numbers for
Facebook Phone Verification
According to the Pew Research Center, six-in-ten Americans think it is impossible to prevent companies or the government from collecting data about them. They are mostly right. Many social media platforms, including Facebook, sell their users' personal information to marketing agencies and other companies.
Here are several other reasons why you shouldn't use your real phone number on Facebook:
It is widely known that they don't keep their data safe

When they sell your information, it could lead to spam calls or texts

It can lead to

stalking or harassment

If you already have an account, but you need one for your business, you will need a new number for phone verification

You could become a victim of

confirmation code text scams
Get Around Facebook Phone Verification
With DoNotPay

Trying to keep your personal info safe on the web is a demanding task, and the risks are growing larger. DoNotPay has that in mind.
Our Burner Phone feature allows you to sign up for Facebook without serving your information on a silver platter. Here's what you should do:
Access DoNotPay from any

Choose

Facebook

as the company you need a number for

Click

Create a Temporary Number

Use the number we generated to create an account

Type the confirmation code that DoNotPay displays
You can use this number once, as it gets automatically deactivated after 10 minutes. That does not mean we won't help you create other accounts. With our subscription, you can create multiple temporary phone numbers and make accounts for various companies and social media platforms.
Sign Up for Free Trials With Our Virtual Credit Card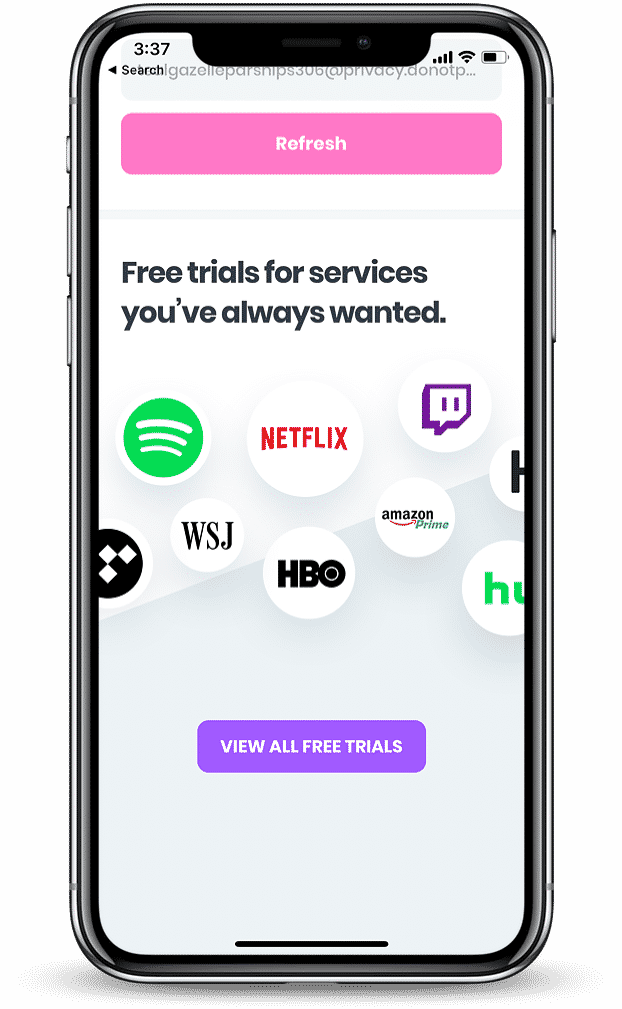 Not being comfortable with giving out personal details goes hand in hand with avoiding financial information disclosure.
Luckily, DoNotPay's free virtual credit card is here to help you sign up for free trials without exposing your information. As it is only used for free trials, it doesn't hold any funds, so there is no risk of getting charged.
Here is how it works:
DoNotPay creates a

virtual credit card

on your demand

You use it for a free trial

After the trial runs out, the service cannot charge you because there is no money on the card, and it is not connected to your bank account

You get automatically unsubscribed
With the virtual credit card, you can enjoy free trials for any service without the fear of forgetting to cancel and getting charged. Most importantly, there is no risk of someone using your credit card information or doing anything illegal with it.
Try Other DoNotPay's Features and Make Your Daily Tasks Easier

With DoNotPay, you can create accounts for any service or social media you like. We will deliver a temporary phone number if you want to sign up for Google, Instagram, Snapchat, Tinder, or Grindr. Don't let your personal and financial information get into the wrong hands. Use DoNotPay to pass the verification process when signing up for Venmo, PayPal, or Craigslist.
Do you have other issues with Facebook? If that is the case, we can help you report harassment, stop the confirmation code text spam, get rid of the annoying spam email, and much more.
Log in to DoNotPay from your preferred and gain access to our practical features for managing tedious tasks, such as:
Appealing traffic tickets

Disputing speeding tickets