How To Fax From Email: Outlook Edition

While email is a staple in today's business communication, faxes are still present. When it comes to sensitive information, legal documents, or patient records, faxes are a safer option because of the encrypted connection. 
Fortunately, you don't have to take out a fax machine from storage or buy a new one—you can fax from your iPhone, Android, Mac, and even Outlook.
We will help you learn how to fax from email in Outlook and discover other convenient faxing options.
Do I Need a Fax Machine To Fax From Outlook?
No, you don't! You can buy a fax machine or a multifunctional printer and hook it up to your computer to send faxes, but there's no need to go to all that trouble. A fax machine would:
Require a phone line

Take up a lot of room

Have connectivity issues

Not guarantee high-resolution documents

Take a lot of time to send faxes compared to online faxing

Cost you a lot of money (the machine itself, ink, paper, and repairs)
With the effectiveness and convenience of faxing over Wi-Fi using fax services and faxing from your Outlook or Gmail, you can finally fax without a phone line and a fax machine.
How Can I Fax Through Outlook?
Faxing from Outlook is possible with the help of fax software. Unlike regular faxing that operates through a phone line, fax software relies on the internet.
Typically, the online faxing process goes like this:
Click on the

File

tab in Microsoft Outlook

Tap on

Fax

under

New

Decide on a fax service

Create an account
Once you set everything up, you can start sending and receiving faxes in your Outlook email. Check out what both processes look like in the table below:
Sending Faxes in Outlook
Receiving Faxes in Outlook

Tap on

File

in Outlook

Select

Fax

under

New

Open a new email message

Fill in the receiving fax number in the following way, depending on the service provider:

Fax number only—eight- or ten-digit number

The word

fax

followed by the fax number (e.g., fax:05111992)

Fax number as an email address and the fax service name after the @ symbol (e.g., 05111992@bestfax.com) 

Type in the

Subject

field

Type out your message, which will be the fax cover sheet

Click on

Send

Check whether you set up your fax service account and number successfully

Open the received email

Click on the attachment to view your fax
Faxing With DoNotPay Saves You Time and Money
A major factor in deciding on a fax app is its price. Most online fax services will set you back between $10 to $50 a month, while DoNotPay is a much more affordable option. Whether you fax regularly or occasionally, our app is the way to go.
The perks of using DoNotPay to fax are the following:
Uploading files with ease

Faxing from any device

Sending up to 100 pages each month

Faxing from our app in a matter of minutes

Snapping a photo of a bill or check and faxing it right away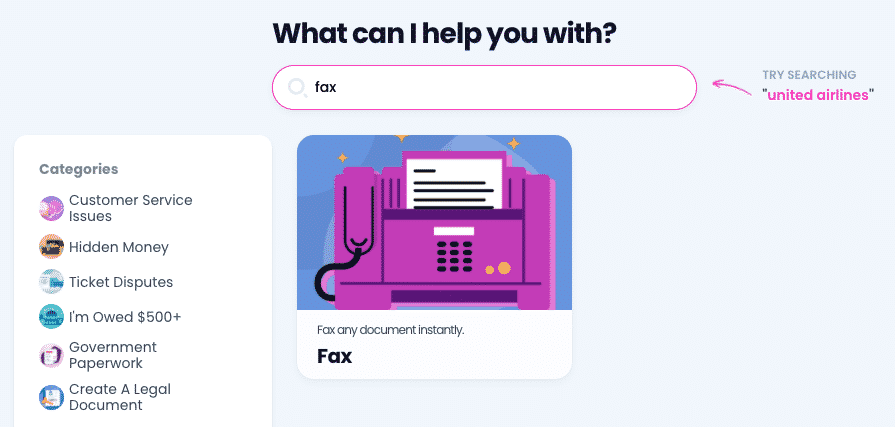 No Need for Outlook Fax—Use DoNotPay To Send Faxes in a Flash
Sending faxes with our app is a piece of cake. All you have to do is follow these instructions:
Access DoNotPay from any

web browser

Navigate to our

Fax

feature

Select

Send a Fax

Snap a photo or upload a file you want to fax

Enter the receiving fax number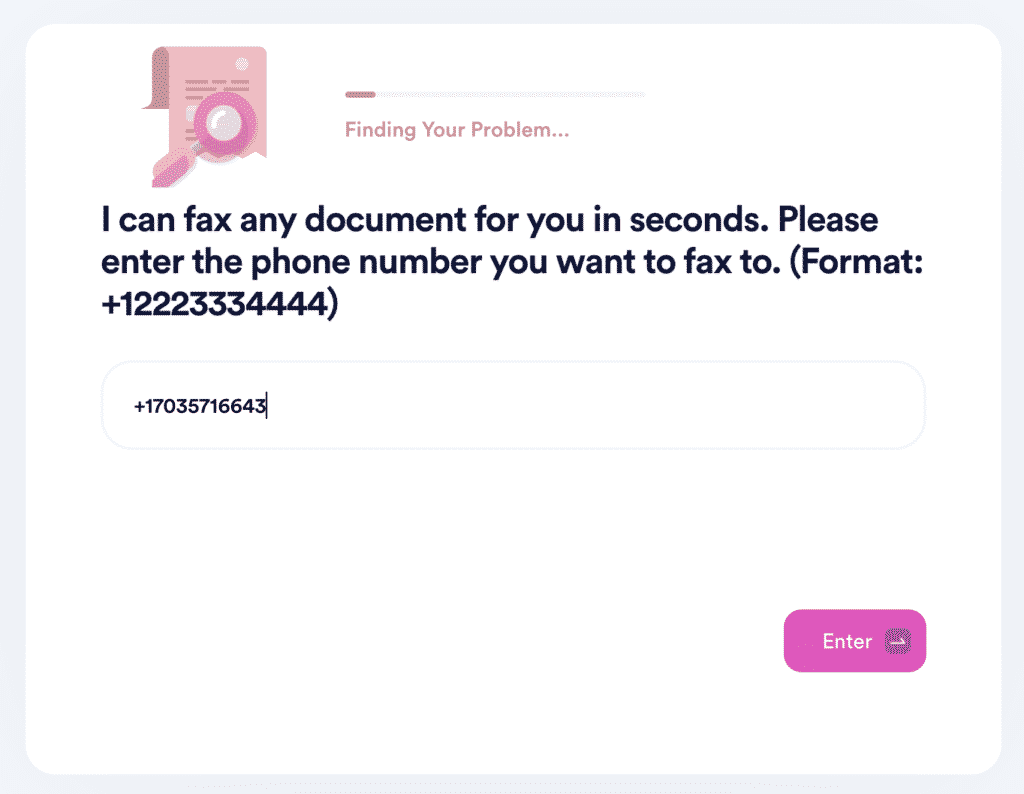 Your fax will go out immediately. You'll get a notification from us to confirm we have sent your fax successfully.
Another major benefit of faxing with DoNotPay is that you can use one of our other features—Legal Documents—along with the Fax feature.
Here's how to do it:
Search for a contact you want to create (e.g., a

non-disclosure

or a

non-compete agreement

)

Generate the agreement with our help

E-sign it

Fax it to the other party
Be on the Lookout for Other Faxing Methods
If you're interested in more ways to send faxes without the old-timey fax machine, you can check out our articles on:
In case you have any doubts or questions about faxing, such as whether faxing is secure, how to fax online one time, where to find fax cover letter examples, or how long a fax takes, we'd be happy to provide answers.
If you want to fax from the public library or another public place, send a free international fax, or receive a free fax, we'll show you how to do it.
Fighting Administration Is Easier With DoNotPay
Bureaucracy is a disease of the modern world, and we finally have a cure. Thanks to artificial intelligence, DoNotPay knows how to handle numerous rules and regulations and make your life so much easier. 
Our bots ask you a few questions, gather the necessary info, and off they go! Filing warranty and insurance claims, requesting property tax reductions, getting access to public records, or claiming unclaimed funds under your name—you can deal with these bothersome tasks from the comfort of your home and within minutes!
If you need to get in touch with customer service representatives to ask for refunds or contact airline companies regarding compensation, our platform will make the process painless and care-free.
Don't hesitate to put our app into service if you need to contest parking tickets or avoid long lines at your local DMV!
How Else Can We Help?
Not only does DoNotPay handle bureaucracy, but it also saves you money in the process. Whether you're looking for the best learning materials for government tests or planning to comb through and cancel streaming subscriptions you don't use, DoNotPay can give a helping hand.
Our platform grows every day and comes with user-friendly features that will help you manage unpaid bills, stop copyright violation, or solve problems with credit cards faster than ever!