Need To Fax Sensitive Docs? Is Faxing Secure Enough?
Is faxing secure? It seems like an odd question in the 21st century, but many people still use old-fashioned fax machines. That is surprising because technology has advanced immensely, and faxing is keeping up with it. You can now send a fax from a phone, via Skype, or over Wi-Fi, and there are several apps designed specifically for online faxing.
Trying to figure out how to fax sensitive or confidential documents can be a bit complex.
Should you use traditional fax machines or one of the online options? Do you get a fax number or fax without a phone line?
We have all the answers!
Are Faxes Secure
? Can a Fax Machine Be Hacked?
Fax machines are analog, so they can't be hacked the same way digital devices can. People tend to believe that faxes are impenetrable because they cannot be accessed remotely.
Faxing isn't 100% secure because the files aren't encrypted while they're in the process of transfer. Anyone who can access your phone line can access your fax documents as well. Hackers would get a company's fax number and send an image that has malware coded into it. The company's fax would decode it and upload it to the memory. All the phone networks that the particular infected fax machine is connected to would be at risk of a data breach.
What Risks Does Faxing Carry?
The major security risks of faxing are:
Disclosing classified or sensitive information

—Every data stays on the fax server on an unsecured hard disc. Only new files can overwrite them, which means the files stay on the fax server for a long time

Third-party viewings

—If you don't stand next to a fax machine waiting for your fax to arrive, chances are someone could get their hands on your information. This is risky because companies tend to use shared machines

Loss of data

—Faxed files come in physical form, which is why they are easily lost or destroyed
Is
a
Fax Safer Than
an
Email
?
Faxing is safer and better than email in many ways. You can find some of the differences between the two in the table below:
Fax
Email

Can be legally binding

Authentic

May have a physical or digital signature

No spam, viruses, etc.

Virtual fax can be encrypted

Susceptible to fraudulent activity—can't ensure authenticity

Easily infected with viruses and malware

Often targeted by spammers

Inadmissible in court, in most cases
Find Out Why DoNotPay Is the Best Way To Send Faxes
To ensure secure faxing of classified documents, you should . DoNotPay enables you to send faxes safely and easily. You'll be able to send your faxes from your computer or smartphone without even trying to figure out how to use a fax machine.
Our feature is one of the most affordable faxing services online—other platforms will charge anything from $10 to $50 a month.
With DoNotPay, you'll be able to:
Send faxes automatically from your phone or computer

Send 100 pages a month

Use the

Snap a Photo

option to send instant faxes

Use DoNotPay's

Standardized Legal Documents

feature to create an agreement before faxing it

Access the

Notarize Any Document

feature if you need your documents notarized before faxing them to the other party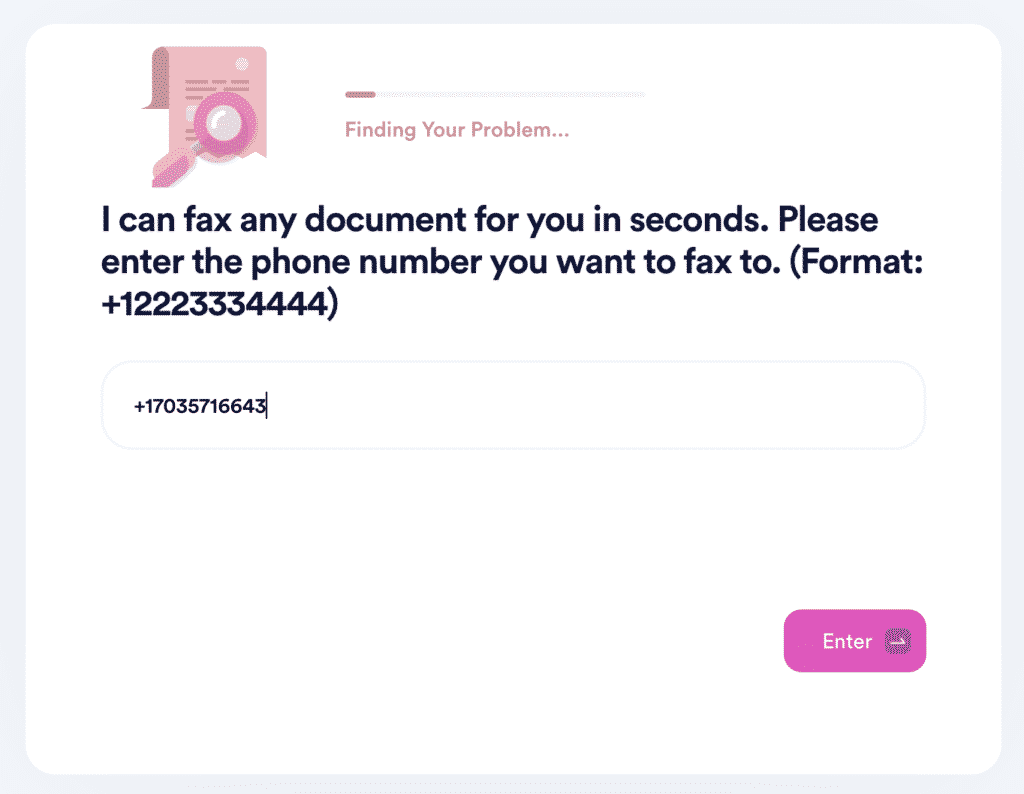 How To Fax in the DoNotPay Way
To use the Online Fax feature, you'll need to and sign in to your account. After you access our fax feature, select the option to send a fax and follow the steps below:
Upload a file or snap a photo

Type in the recipient's fax number

Submit your request
After you complete the steps, DoNotPay will fax your data automatically, and we'll notify you with an electronic confirmation receipt.
Learn More About DoNotPay's Legal Documents Feature
If you still don't have the legal document you need, we can generate one for you in a few clicks. All you need to do is , and you'll be able to create any of the following:
Intent To Purchase Real Estate

Prenuptial Agreement

Promissory Note

General Business Contract

Non-Disclosure Agreement

LLC Operating Rules Document

Lease Agreement

Child Care Authorization Form

Independent Contractor Agreement

Non-Compete Agreement

Bill of Sale Document

General Affidavit

Estoppel Certificate

Parenting Plan (Child Custody)

Quitclaim Deed
Do You Need Your Documents Notarized Before Faxing Them?
Our Notarize Any Document feature is fully integrated with the Online Faxing product. When you need an online notary, DoNotPay will book one for you. The process is fast and easy, which helps you avoid all the bureaucratic conundrums that you endure while visiting a local notary public office.
Follow these steps to get a document notarized with DoNotPay:
Find the

Notarize Any Document

feature

Upload the document

Provide us with your email address

Tap on

Enter
DoNotPay will send you a link which you'll use to make your online video appointment. During the appointment, you'll get the notary signature.
Tired of Bureaucratic Hurdles? Our App Will Step In
As soon as you sign up for the world's first robot lawyer, you won't have to worry about any administrative mess you find yourself in. We can help you resolve anything from reporting stalkers, robocalls, spam emails, and spam text messages to applying for clinical trials in any U.S. city.
With our AI-powered app's assistance, you can even get a refund from any merchant or airline you can think of. We can also help you save money by resolving your problems with high bills, canceling any subscription you no longer need, or assisting you with parking ticket appeals.
DoNotPay Helps You Fight for Your Right
Do you feel like a company has wronged you? Don't let them win—sue them in small claims court with our assistance! Our app will prepare all of the necessary documentation and help you win the case stress-free!
Apart from helping you sue any firm or individual, DoNotPay also makes it easy for you to set up a DMV appointment, deal with any credit card issue, start a free trial without your credit card info, protect your work from copycats, and much more!
Sign up for our app to take advantage of all its features!