Top Fax Cover Letter Examples
Faxing may sound old-fashioned, but companies today do it quite often to send classified documents. Luckily, technology evolved enough to move from impractical fax machines to safer and more convenient online faxing.
One of the ways to guarantee the safe transfer of your documents is to use top-notch fax cover letter examples. DoNotPay can help you figure out what information your cover letter should contain and how to fax any document in no time!
How To Write a Fax Cover Letter
The fax cover letter goes at the beginning of any faxed document. It displays important information that lets the recipient know who the document is intended for. Fax cover letters often include a short description of the content and purpose of the fax. The intent behind the cover letter is to make the recipient interested in reading the fax. A great cover letter should:
Appear professional

Be simple and to the point

Provide sufficient information about the fax
Take a look at the table below for more detailed information on what your cover letter should include:
Cover Letter Information
Details

Contact information

Sender's and receiver's name, full address, fax number, and email

Company's name, address, fax number, website, and a logo

Additional items

Current date

Number of pages

Short description regarding the purpose of the letter

Brief description of the fax content

Urgency or confidentiality indicator
How To Write a Fax Cover Sheet
A cover sheet is shorter and less personal than a cover letter. Besides the contact details, it can include the information on whether the document is confidential or urgent.
Here is a general description of the fax cover sheet requirements:
Cover Sheet Information
Details

Contact details

Sender's and recipient's name, address, phone number, and fax number

Company name and logo

Additional information

Current date and time

Subject and comment about the document

Urgency or confidentiality indicator
Why Is It Important To Write a Proper Fax Cover Sheet or Letter?
Fax cover letters and sheets are necessary items in online faxing. They not only provide context for your document but also give it a more formal and professional look.
Esthetics is not the only reason fax cover letters and sheets are a big deal. The contact information they contain is there to ensure the document doesn't end up in the wrong hands. That is especially significant if you are sending contracts or classified medical records.
You can also use a fax cover to indicate the importance of the document.
After you write a top-notch fax cover letter or sheet, you must make sure your file reaches the recipient in record time. The next step for you is to choose a reliable and affordable online fax service—DoNotPay!
The Benefits of Faxing a Document With DoNotPay
DoNotPay can help you fax your documents the easy way. By opening our app in your , you will be able to:
Send 100 pages per month

Fax quickly with the snap of a photo

Upload files and fax them in no time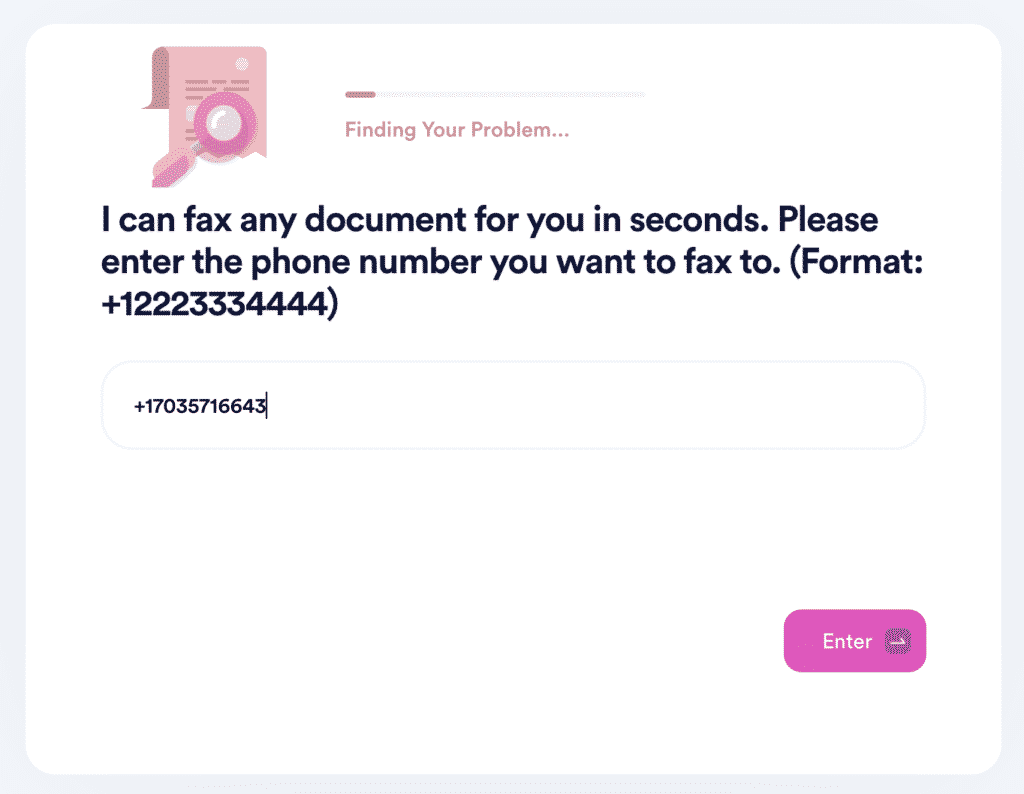 We offer some additional services to make faxing with us even more effortless. Our fax feature works well with our service for creating legal documents. You can create, sign, and fax a contract in a matter of minutes—all in one place!
The photo snap option allows you to snap pictures of your checks and bills and pay without using a scanner.
How To Send a Fax With DoNotPay
Follow the steps below and fax your documents without complications:
Open DoNotPay in your

Access the

Fax

feature

Choose between sending and receiving a fax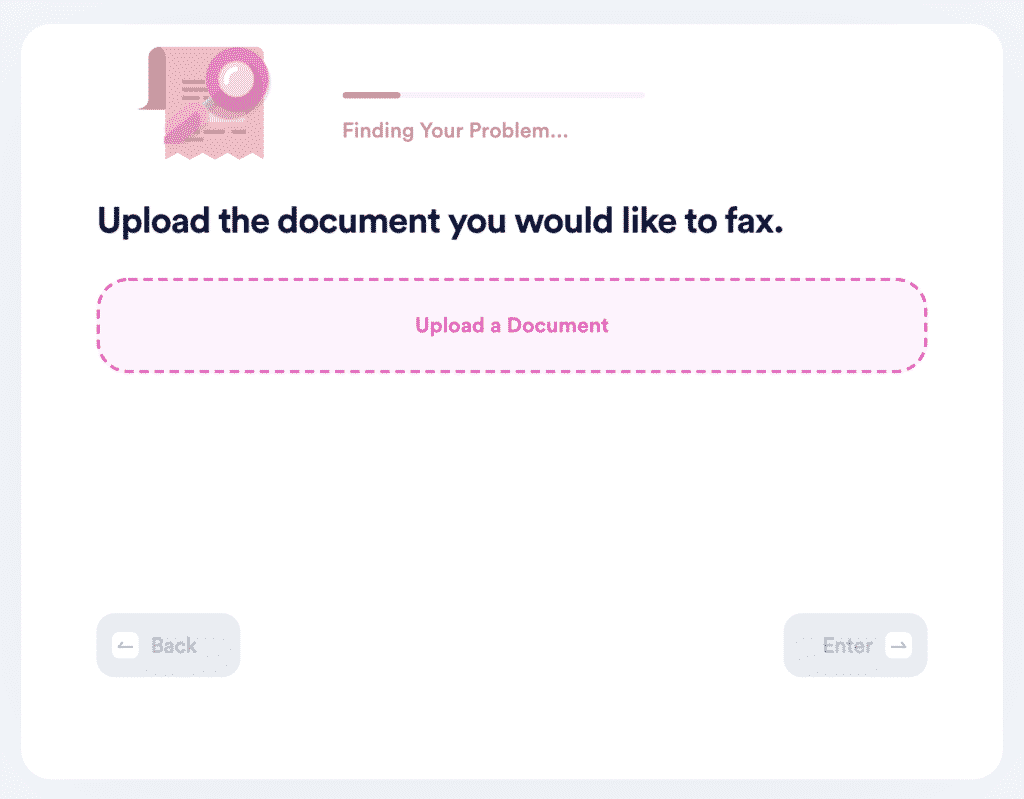 Depending on the option you chose, you will be required to perform some additional easy steps.
If you need to send a fax, follow this short guide:
Snap or upload a photo of the document you want to send

Enter the receiving party's fax number in the required field

Wait for the confirmation that the file has been sent
Before you opt for a temporary or a permanent monthly online fax number, you need to assess what kind of a user you are. If you fax frequently, a permanent monthly option is the right choice for you. It allows you to send faxes during the whole month.
Users who fax from time-to-time are better off choosing a temporary online fax number. It enables them to fax for 30 minutes after activation.
DoNotPay Knows All About Online Faxing
Our app can teach you everything there is to know about online faxing. Check out our learning center to find out more about fax apps, Google Fax, and Windows Fax and Scan service.
We can give you guidance on:
DoNotPay Leads the Way Against Spammers
Browsing the internet has never been more popular than today, but you must not forget to keep your private and financial information safe. You know you can cancel any streaming service or magazine subscription easily, but that won't stop them from using your personal details for marketing purposes.
DoNotPay has a solution for that!
Is a company pestering you with incessant robocalls, spam emails and text messages? Use our Virtual Credit Card to catch them in the act and claim compensation for your troubles.
To prevent that from happening ever again, use our card to sign up for free trials—not only will you not pay a dime for the service, but you will be automatically unsubscribed as soon as the trials are up!
If you want to avoid revealing your personal phone number, we'll generate a temporary burner phone for you so the company won't have any way to reach you.
Already Been Scammed? DoNotPay Knows the Way!
If you've already made the mistake and divulged your personal info to the wrong party or experienced any other kind of crime or injustice, you don't have to sit tight and suffer the consequences. DoNotPay can assist you in taking anyone to small claims court!
We'll help you gather evidence—correspondence proving stalking or harassment took place, customer service call recordings, denied chargeback and refund claims, online fax transcripts, or proof of copyright violation. Then, we'll fill out the relevant legal documents for you and draft a court script that you can use in your hearing.