Learn How To Get a Fax Number Easily
If you are wondering how to get a fax number, you may be thinking that you'll have to keep using your fax machine. That is, thankfully, not the case. There are numerous options for using online fax nowadays, and we'll tell you how to fax with the easiest and most affordable way—.
Why Are Fax Machines Problematic?
You probably associate fax machines with the previous century, and that's where they should stay. They are complicated to use and will block your phone line. You could get an additional phone number to use for your fax machine by contacting a telecommunications company, but do you really need to?
In times when people are striving to fax without a phone line, a fax machine is a good choice only if you are a fan of bad-image quality. Another issue is that data sent through analog lines can't be encrypted—anyone who has access to your line can see the information you send or receive.
This doesn't mean everything should go to emails—fax is still essential in certain business-related areas. That's where online fax steps in.
How To Send Fax Online—How Does the Procedure Work?
If you decide to use the online fax option, you'll first need to get a fax number from a fax service. Take a look at the table below and see how online fax works and why it is a better choice than a fax machine:
How Online Fax Works
Benefits of Online Fax

Attach the document to an email

Send everything to the recipient's fax number (make sure to add the name of the faxing service after the number)

Wait for the documents to get translated so that a fax machine can read them

The service will send everything across the phone line. The recipient's fax machine will get the message, decode and print it out

Safer to send signed documents than with an email

Best choice for legal and medical documents

Easy to use from your laptop

Fast, unlike regular mail
The best part about faxing is that instead of dying out, the technology is adapting to modern times. This is happening mainly because faxing is still necessary for some areas. We still need fax to transfer certain documents that are not suitable for emails.
A survey from 2017 done on around 1500 IT employees proved that faxing is still alive—as much as 89% of IT professionals still use this method of sending and receiving files. If you are among those who still use fax regularly, make your life easier and enjoy DoNotPay's faxing services.
How To Get a Fax Number and Send Documents Easily With DoNotPay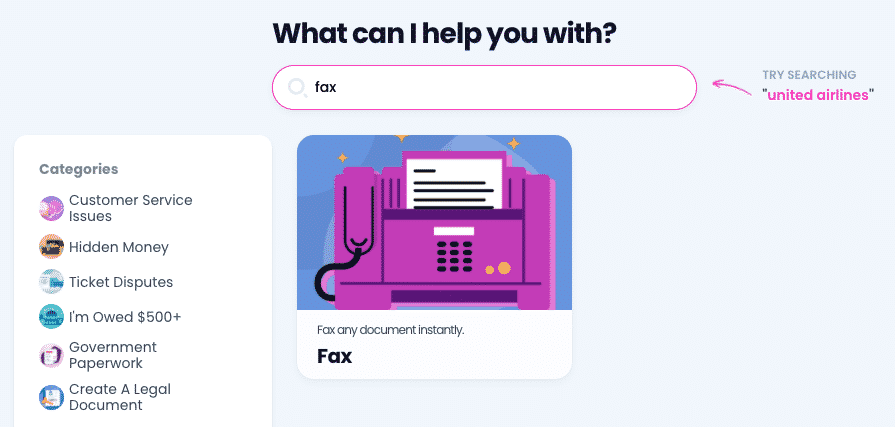 DoNotPay is the easiest and fastest way of sending fax online. When you see how simple our procedure for sending important documents is, you won't ever consider going back to using fax machines. Our feature is also a lot cheaper compared to other options available online, and that's not where the benefits stop. Our app provides you with a fax number that will enable you to:
Pick between instant fax with the snap of a photo or normal upload of files

Send 100 pages per month

Fax automatically from your laptop or

phone
If you use the photo snap option, you'll be able to take photos of bills or checks. This makes paying without using a scanner easy!
DoNotPay's Temporary Fax Number Helps You Save Time and Money
The entire procedure of sending a fax through DoNotPay's feature contains three steps:
Access DoNotPay from a

Type in the fax number you want to send your document to

Wait for DoNotPay to notify you that the file has been sent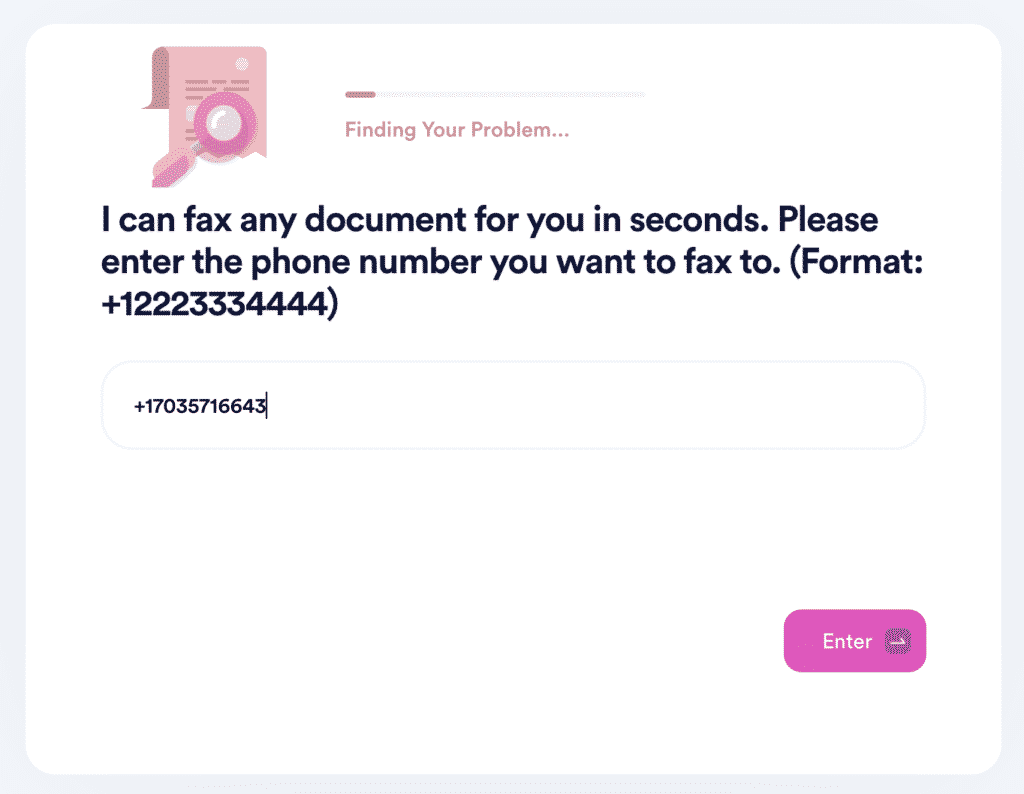 It doesn't get any easier than this. Once you try our feature, you won't ever think about faxing any other way. DoNotPay can also tell you how long a fax takes to go through and if it is possible to fax over Wi-Fi.
How To Obtain a Fax Number and Send a Fax on Your Own
You can send a fax by yourself in a few ways. Here are your choices:
None of these options are as easy and efficient as DoNotPay.
You shouldn't even consider the dated fax machine—it can only bring trouble. To use Microsoft Windows' Fax and Scan, you'll have to connect your laptop or PC to a phone line (hello '90s internet vibes).
The last option may sound inviting, but the issue is the price. You'll have to cash out a lot to use a fax app service—up to $200 per year.
Don't waste your time and money, and have your virtual assistant deal with everything.
DoNotPay Is Your Pocket-Sized Treasurer
To pay or to DoNotPay—that is the question! Our nifty app finds money where you didn't even know you had it.
With our app, you can avoid college application fees, cancel unused subscriptions, explore free trials, and get out of paying for unfair parking tickets.
We can also help you with high bills by composing due date extension letters or reducing property taxes, just as we can locate missing money that you can reclaim in any state you've ever lived.
To top it all, we'll even assist you in requesting compensation from any airline—whether it is for poor in-flight Wi-Fi, a delayed, or a canceled flight.
Can't Find Your Head in All the Paperwork? DoNotPay Sorts It Out for You!
You no longer have to cash out on pricy legal advisors to do simple paperwork for you—our app can draft legal documents for you in a matter of minutes!
We can write small claims court scripts, dispute letters for chargebacks and refunds, personalized letters to connect with inmates, DMCA takedown notices for copyright protection, and cease and desist letters for stalking and harassment protection.
If you need to get a DMV appointment before taking a driving exam or any other government test, we're there to schedule it in your stead!