Is It Possible To Use Email To Fax—Gmail Fax Explained 
The use of email services for faxing is a big step forward compared to the features that standard fax machines offer. Email faxing has become increasingly popular in business circles, but people usually need detailed instructions on how to use the services of their email provider for this purpose. 
If you have a Gmail account, why start using it instead of a faxing machine? Our guide will give you answers to all questions related to the email-to-fax Gmail service. 
Not only can we explain how Gmail fax works—we can teach you how to get the best virtual fax number and fax even more quickly from your phone or laptop with DoNotPay. Find out why our services are better than any other fax app you may come across! 
Can You Send a Fax From Gmail?
Gmail service allows all users to send and receive faxes. To activate this option, you need an online fax number and an active Gmail account.
How To Send a Fax Using Gmail
Here are the steps you should follow to fax using Gmail:
Sign up for an online fax app of your choice and create a burner fax number

Log in to your Gmail account

Click on

Compose

Enter the destination fax number and fax company extension instead of the recipient's email address

Type the text of your message

Attach the document(s) you wish to fax to the chosen number

Click on

Send

to fax your files
Benefits and Drawbacks of Gmail Fax
Gmail fax has many benefits, but that doesn't mean it's perfect. The following table shows the overview of its advantages and disadvantages:
Advantages
Disadvantages

Portable 

Paperless

Solid document quality

Faster than faxing machines

Potential security issues

Limited storage capacity

More complicated preparation procedure—requires picking an online fax app and getting a burner fax number before you can use it

High costs—you will need to pay a monthly fee if you want to keep using your Gmail fax number since free trials are limited
DoNotPay Can Help You Send Faxes Safely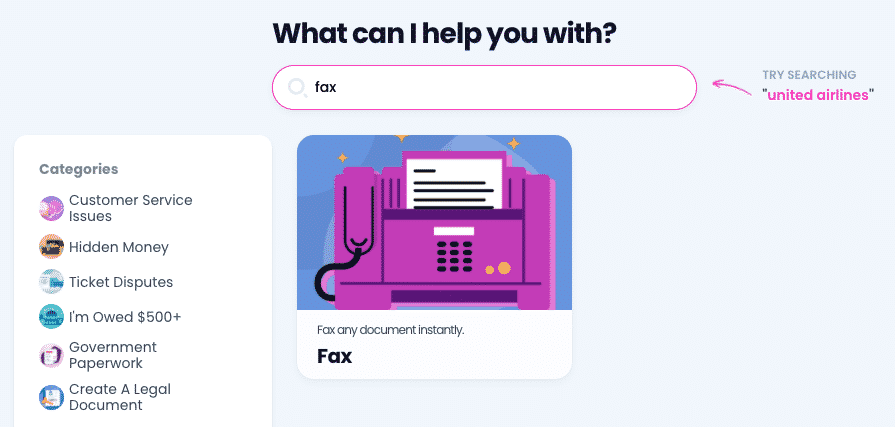 In the era of cyberattacks, exchanging confidential data and documentation via email isn't the safest option. Gmail fax is more secure than traditional faxing procedures, but there's always a risk of your faxes getting exposed. 
To help you avoid complications, DoNotPay has created a special Online Fax feature that creates a safe virtual fax number for you! By using our app, you can send faxes to your business partners and various institutions securely. 
Here's what you get if you opt for faxing with DoNotPay:
Super affordable service

Quickest faxing procedure

Best image and document quality

Better and more efficient replacement for a faxing machine

Instant faxing option that lets you upload and send your documents directly from your phone, tablet, or laptop

Practical email integration—the perfect choice for handling all your faxes in one place
With DoNotPay's guides, you can find out whether it's possible to receive free faxes and which software to use, what the best free fax apps for Mac are, or whether you can send faxes over Wi-Fi or Google Voice.
What's the Procedure for Sending Your Faxes With DoNotPay?
Unlike other services, which don't allow more than ten or 20 faxes exchanged, we give you a chance to send up to 100 pages per month! Our app makes the process easy, effortless and most importantly, super-fast.
How To Send a Fax Using DoNotPay
All you need to start sending faxes with our help is an internet connection, your preferred device, and the particular file you want to fax. 
To use our service, follow the instructions below:
Visit DoNotPay in any

web browser

Find the

Online Fax

feature by using the search field

Upload the file you want to send from your device

Enter the desired fax number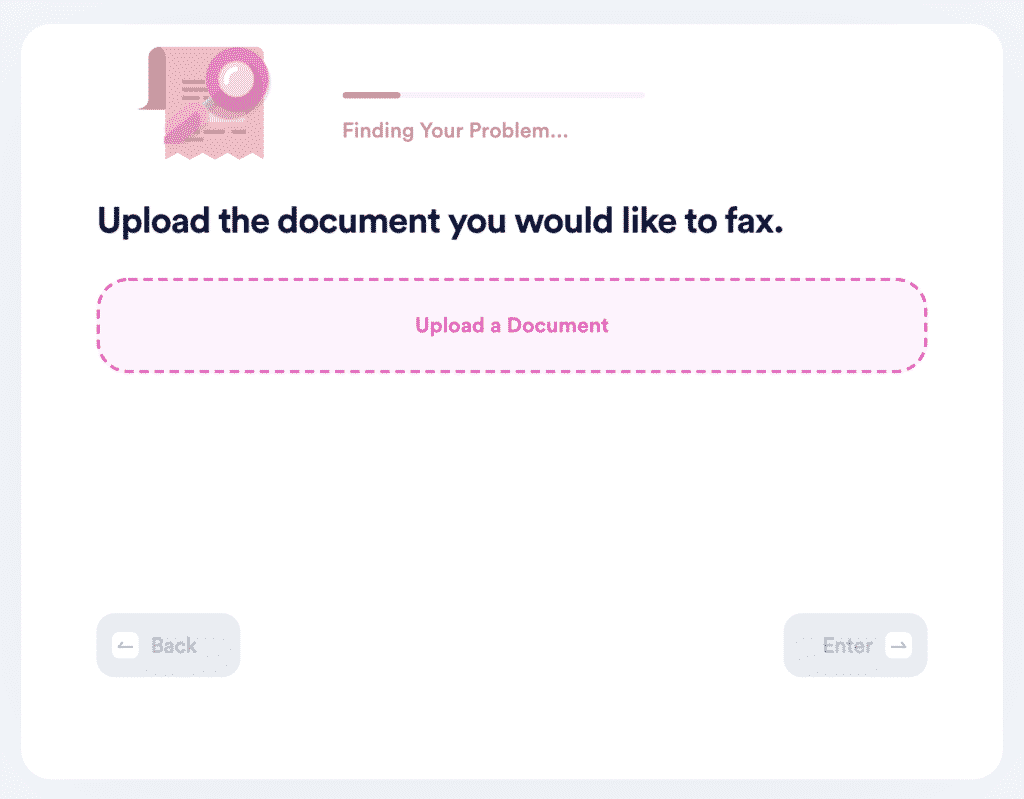 Once your fax is processed, we will send you a confirmation so you know you did everything right! 
Our Robot Lawyer Gets Rid of All Admin Tasks
What makes DoNotPay so unique is that it helps you get back what is rightfully yours in many different ways. You can appeal parking tickets, find unclaimed money, demand a refund for canceled or delayed flights, get help with bills you cannot pay, or get your college application fees waived with the help of our platform.
If you're sick and tired of annoying robocalls, spam emails, copyright violations, text message spam, or stalkers and harassers, DoNotPay can assist you in getting rid of them once and for all.
DoNotPay Can Help You Save Money
Have you ever subscribed to a service's free trial you forgot about after a few days? Many Americans have, which is why DoNotPay has a free trial feature that will help you avoid getting charged once the trial is over.
If you want us to scan all your active memberships and help you not pay for the ones you don't use, connect your email address or credit card to DoNotPay. Our cancel feature will ensure that you don't waste your money on subscriptions you don't even remember exist.
If a merchant charges you once the free trial is over, though, you can use our robot lawyer to request a refund and skip the phone queue when doing so.
In case a company refuses to grant you a refund, you can also use our app to sue them in small claims court.