Can You Fax Without a Fax Machine? Find Out How To Do It Effortlessly
We love to think of emails as a leading business correspondence medium, but that is not the case with every company. What if your business partner uses a fax machine as the primary communication channel? If you don't own this particular piece of technology, how can you fax without a fax machine?
Faxing without a phone line or a fax machine is easier than you imagine. Sign up for DoNotPay and discover how you can get a fax number in three steps and send faxes effortlessly!
How To Send a Fax Without a Fax Machine
Plenty of online fax services are free at first, but their safety is questionable. Since there is no end-to-end encryption, an attacker could easily tap the phone line. This is usually done by sending malware through the fax machine. The malware will give hackers access to your information.
Not only are they not safe, but most online fax services are not really free. After some time, they will start charging you. The fax service fee could amount to $50.
Sending faxes online, even though expensive, is still the easiest option for many. It is the most obvious choice when you don't own a fax machine.
Most fax apps work in the same way—here are some general steps you need to take to fax from an "internet fax machine:"
Sign in to your fax app

Input the fax number of the recipient

Find the field where you can add text or a file

Send your fax

Check whether you received a confirmation receipt
Online Fax Services
You can send faxes online without signing up for a specific fax app. Microsoft Word, Windows, Google Docs, and Google Voice are some of the options you have when you need to send a fax. Faxing is not their primary function, so If you're using Word or Google Docs, you'll need to install a driver for faxing.
If you want a tool created exclusively for faxing, you'll need to install an app or purchase a service. Check out some of the popular online faxing options in the table below:
Faxing Service
Pros
Cons

HelloFax

User-friendly interface

Digital signature

Cloud storage integrations

No app for a phone

Almost no numbers outside the U.S are available

Not mobile-friendly website

eFax

Expensive

One-time setup fee

Weak security during a sign-up

Outdated interface and desktop app

FAX.PLUS—Gmail account faxing service

30-day free trial

Mobile apps

MetroFax

Outdated website interface

Problematic password setup

No support for editing and signatures
Can You Fax Without a Fax Machine
? With DoNotPay, You Most Certainly Can!
While other online services will charge you anything from $10 to $50 a month, DoNotPay won't be the one to burn a hole in your pocket. Our all-in-one virtual assistant brings you the ultimate Online Fax service and so much more!
All you need to do is sign up for DoNotPay, and you'll be able to:
Send faxes using the simplest method online

Fax from your laptop or mobile

phone

automatically

Use our

Snap a Photo

option or upload files the traditional way

Use our

Legal Documents

feature with our

Online Fax

product to generate contracts, sign them, and fax them to someone using the same app

Use our

Notarize Any Document

feature to get any relevant paperwork notarized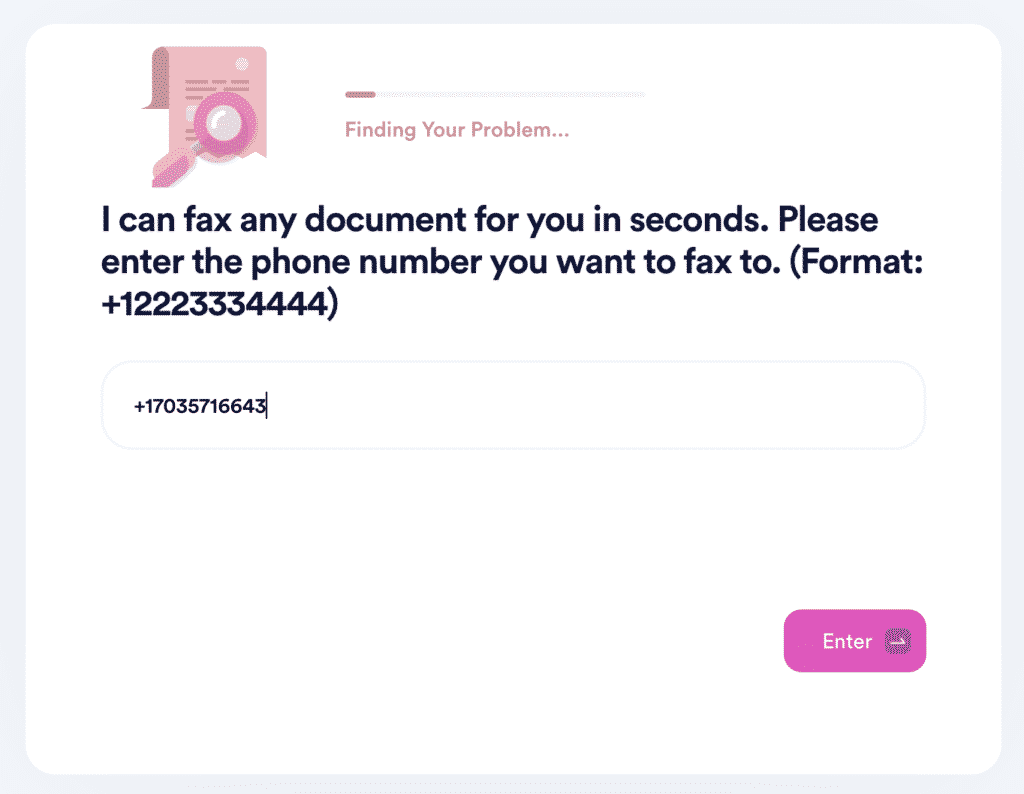 How To Send a Fax With DoNotPay
When you open DoNotPay and sign in to your account, type in Online Fax in the search box and select the option to send a fax.
Here's how to do it:
Upload your file or use the

Snap a Photo

option

Provide the fax number you're sending your files to

Confirm the number

Tap on

Proceed
Our platform will send your fax automatically and provide you with a confirmation receipt.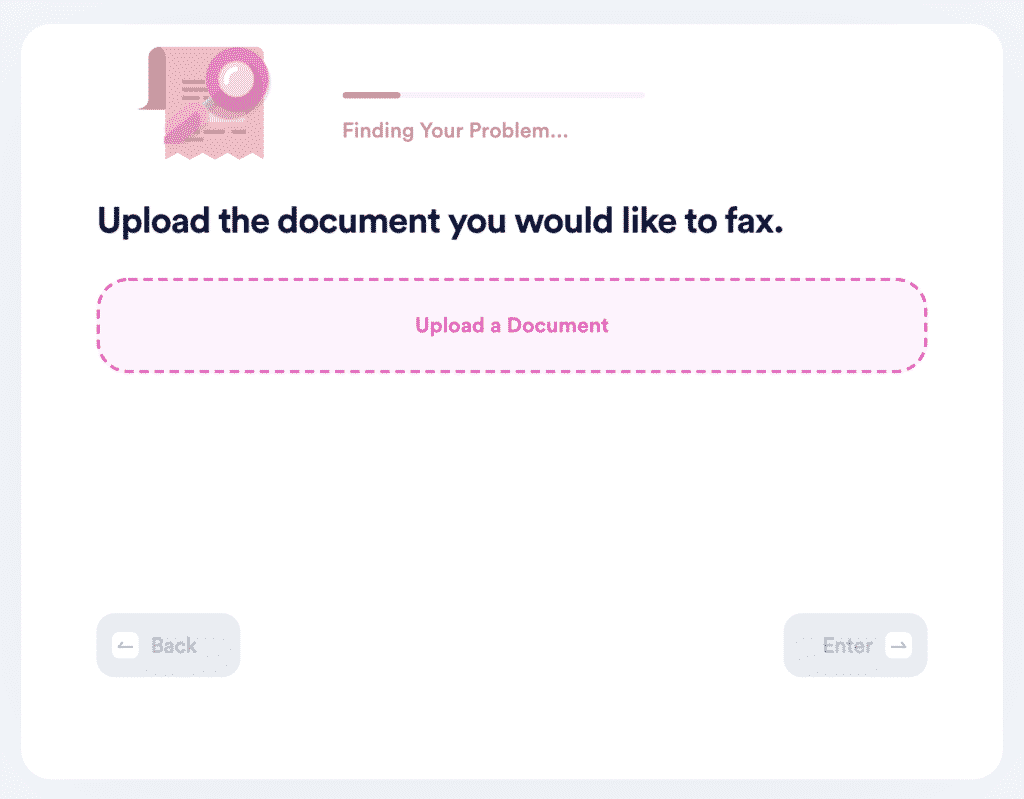 Don't Have a Document Yet? DoNotPay Can Help!
If you need a legal document but can't afford to pay costly lawyer fees, DoNotPay is the best option. In under five minutes, our platform can help you generate some of the most important agreements.
You can find some of them listed below:
Even if DoNotPay can't currently help you with the document you need, we are updating our database constantly. Every day, we make more and more contract templates available for you. When you create your document, you can also use DoNotPay to notarize it before faxing it to the other party.
DoNotPay Has a Product You Might Need Before Faxing Without a Fax Machine
We have established a Notarize Any Document feature that enables you to find an online notary in all the states where remote online notarization is permitted. After you create your document, we'll send a link to your inbox, where you'll schedule a meeting with your notary.
During a live video, they will witness you signing the document and add their signature. Once you notarize your document, you can use DoNotPay to fax it without a fax machine!
Want To Avoid Tiresome Admin Processes? DoNotPay Will Handle Them
Applying for a clinical trial, free trial, copyright of your work, or any service without phone number verification is a time-consuming task many people want to avoid. Fortunately, such processes are DoNotPay's specialty.
If you feel like a company or individual has wronged you, you can sue them in small claims court. DoNotPay will handle the paperwork, and all you need to do is show up in court and win the case!
With our robot lawyer's help, you will also be able to deal with various credit card issues, deal with high bills you cannot pay, and appeal speeding, parking, and traffic tickets in no time.
Report Companies or Individuals That Won't Give You a Break
DoNotPay also makes it easy for you to report and earn off persistent robocalls, email spam, spam text messages, and stalkers and harassers. 
Once you sign up for our handy app, you won't have to deal with any of these. We'll even make it easy for you to schedule a DMV appointment or jump the phone queue when getting in touch with any company's customer service!