Send a Google Voice Fax in a Few Clicks!
Using fax machines is outdated and tiresome. Today, there are many more handy and efficient methods to send a fax. We'll show you how to use the Google Voice fax and several other methods you can go for to start your online faxing journey.
will be your trustful assistant and guide through the entire process!
Why Don't I Use a Fax Machine? Is Online Faxing Better?
Fax machines often cause issues like illegible printing, paper jams, and bad image quality.
Sending your fax online will save you unnecessary stress and trouble. Putting so much work in trying to navigate a fax machine only to send a document seems absurd in the 21st century.
You can turn to the internet and send your faxes in a few clicks—it's that easy.
How Can I Send a
Fax From Google Voice
?
You can send a fax from Google Voice, but the process isn't as easy and efficient as you may think. First, you will have to unlock your current Google Voice number by following these steps:
Go to your

Google Voice

account

Choose the number you want to be transferred to your online fax provider

Select

Continue

Log in to

Google Wallet

and pay $3 for the unlocking process
After you finish the steps mentioned above, it will take a few days for your number to be ready to receive faxes. You won't be able to use this number for voice calls after this—only for sending and receiving faxes. To avoid dealing with such issues, you can always turn to DoNotPay for the most undemanding and streamlined way to send and receive faxes!
Google Voice Faxing
—Pros and Cons
Using Google Voice to fax is an unconventional method of faxing, so you may be iffy on whether it's the right choice for you. To make it easier for you to decide, we will list some of the most common advantages and disadvantages of Google Voice faxing.
Pros
Cons
Environment-friendly

—By using the online fax option, you avoid wasting paper and causing other environmental issues that come with the use of fax machines

Unlocking the number gets complicated

—The process of unlocking your Google Voice number and transferring it through a third party is time-consuming and complicated

Accessible

—In urgent situations when you need to send fax asap, but you aren't around a fax machine, you will most likely have a phone nearby and be able to send your fax via Google Voice

You can't use your number for voice calls any longer

—Once you unlock the Google Voice number, you will be able to send and receive faxes, but using your number for anything else is off the table
Unsure of How To Fax Online? DoNotPay's Fax Feature Comes to the Rescue!
Whether you decide to send faxes with a fax machine, app, phone, or via email, one thing is certain—you will have to take it upon yourself to figure out how to get it done. That is not the case with DoNotPay! We are fully aware that avoiding complicated processes is the number one goal of online faxing.
That is why we came up with our Online Fax feature and prepared a simple, step-by-step guide for you to follow. You can use our fax services with no effort.
If you choose DoNotPay, you will unlock the following benefits:
Option
Does DoNotPay Allow It?

The option to

fax quickly

with the snap of a photo or upload files as you normally would

Yes

Easy

email integration

, so you can see your faxes from your email

Yes

Sending 100 pages monthly

Yes

Faxing automatically from your phone or computer

Yes
How To Send a Fax With DoNotPay
If you want to send a fax, you should visit DoNotPay in your and follow the instructions provided below.
Upload or snap the photo you want to send

Provide the

fax number

of the recipient
DoNotPay will confirm your files have been successfully sent once the process is finished.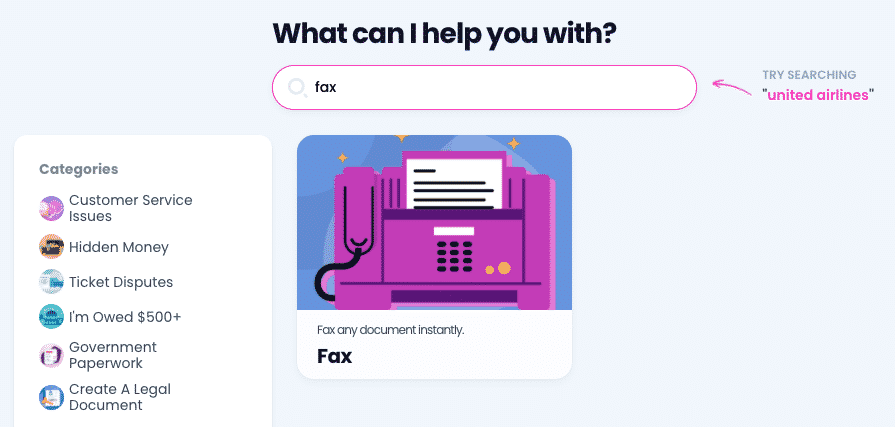 Additional Benefits of DoNotPay's Online Fax Feature
DoNotPay's Online Fax feature brings you additional benefits, such as a more secure way to send your faxes, which is essential for legal or medical documents. When sending important documents, you don't want to burden yourself with thinking whether everything will go according to plan. You want to send your fax and be done with it.
Our Online Fax feature gives you peace of mind and makes sending faxes a piece of cake. In our learning center, you can also find out how to fax with Skype, send faxes from Mac, iPhone, Verizon, Windows 10, and Outlook, send free fax online with no credit card or from Gmail, and test the fax number. Don't hesitate to use it!
Can't Afford a Lawyer? DoNotPay Will Jump In!
Did you know that you don't have to waste money on expensive legal help just to get rid of some minor bureaucratic issues? DoNotPay is here to save you hundreds of dollars with ready-to-use solutions that require mere minutes.
Our AI-powered bots gather the most important information via short questionnaires, draft required legal documents, and provide you with online fax services. If you need specific public records to support your case, we'll point you in the right direction.
With our virtual lawyer's help, you will be able to:
Spend Your Time on More Enjoyable Activities
With DoNotPay's help, you're bound to have more free time. If you're considering a new streaming platform subscription, make use of its free trial without worrying about unwanted charges. Need to get rid of other subscriptions? Use DoNotPay to cancel them without contacting customer support centers.
Don't worry about phone number identification at the signup. With our Burner Phone feature, spam text messages won't be bothering you ever again!