You're Using HelloFax To Receive a Fax? Discover a Better Alternative
Faxing was a big deal during the two last decades of the 20th century, but with the popularity of the internet, faxing seems obsolete. Contrary to that popular belief, faxing is still in. Most government agencies and health care offices still use faxing as the main method of transferring sensitive information.
Faxing apps and services are becoming popular again. If you use HelloFax to receive faxes or send them, you already know that the app has some flaws. You will probably want to consider your other options.
Sign up for DoNotPay and send a fax in a few simple steps! We also provide you with a fax number and options to fax from your phone or a computer.
Can You Use HelloFax To Receive Faxes?
HelloFax enables receiving faxes only to paying customers. This fax software offers the following plans:
Home Office

—With this plan, you'll get 300 pages per month, five senders, international coverage, integrations, email to fax, the option of editing and signing faxes, secure cloud storage, the option to receive faxes, and multiple fax recipients

Professional

—The professional plan provides you with 500 pages a month, ten senders, international coverage, integration, editing and signing your faxes, secure cloud storage, email to fax, the option to receive faxes, multiple fax recipients, and fax number porting

Small Business

—This plan is adjusted to small businesses, so it provides 1,000 pages per month, 20 senders, international coverage, editing and signing faxes, secure cloud storage, email to fax, receiving faxes, sending faxes to multiple recipients, and fax number porting
Is
HelloFax Free,
and Can You Use It To Send Faxes?
HelloFax is free only under certain circumstances. The free plan HelloFax offers includes five free pages and one sender. This free plan also offers international coverage, integrations, editing and signing faxes, and secure cloud storage. You'll need to upgrade if you want to use more than five pages, and here's what you'll need to pay for the services:
For the first ten pages—$0.99 per fax

After the first ten pages—$0.20 per fax 
The downside of these plans is that they are available only for sending faxes. If you want to receive a fax, you'll have to switch to a paid plan. Another drawback of sending faxes with HelloFax is that you can use only one email address.
How To Receive a Fax via HelloFax
To receive a fax via HelloFax, you'll need to upgrade to a paid plan. You'll be able to receive a fax from a computer, fax machine, and other fax services, even if you don't have a phone line. The service doesn't have an appointed mobile app, so you won't be able to receive a fax from an iPhone or other mobile devices.
When you upgrade to a paid plan, you'll need to select your country, state, region, and area code. You'll get an email containing your fax number assigned by the faxing service. You'll be able to see your fax number in the bottom left corner of the page.
When you receive a fax, HelloFax will email it to you, and the fax will be stored on your HelloFax account. Apart from being limited to a paid service, another downside of HelloFax is that you can sign up with numbers from only three countries.
Use DoNotPay for Fast and Safe Faxing
Although online faxing has a plethora of benefits, it also comes with some downsides. Some online services charge up to $50 a month for a subscription, no matter if you need to fax one time or are a regular customer. Other services are free, but you don't get all the necessary options if you don't sign up for a premium plan.
With DoNotPay, you'll get all the online faxing benefits you need without any hidden charges.
DoNotPay is fast and easy to use. When you open our platform in any web browser, you'll have the following options:
Sending faxes in three steps

Uploading your files from a computer or phone or using our

Snap a Photo

option for bills and checks

Faxing from your phone or computer automatically

Using our

Notarize Any Document

tool to notarize your contracts and agreements before faxing them with DoNotPay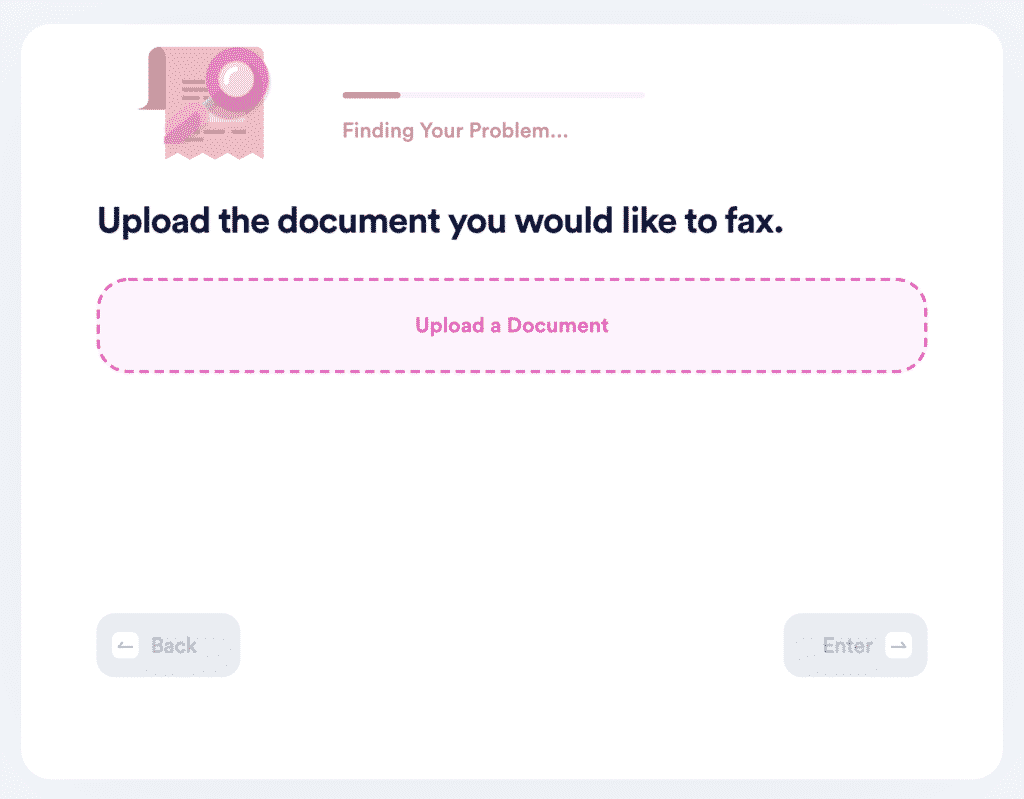 How To Use DoNotPay for Sending Faxes
There are a few simple steps to take if you want to use DoNotPay's Online Fax product. To access it, you only need to open our app in your web browser and enter Online Fax in the search box. After that, follow these steps:
Snap a photo or upload a document

Enter the fax number of the recipient

Tap on

Enter
DoNotPay will send your fax automatically after you complete the steps. We'll also provide you with a confirmation receipt instantly.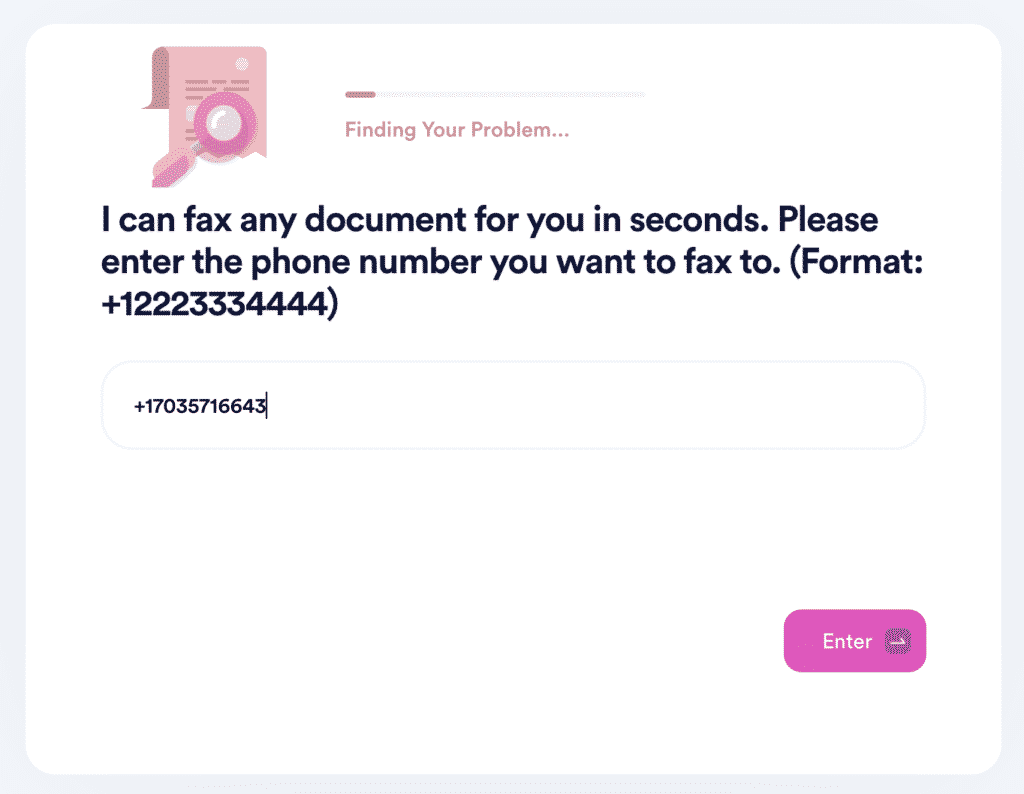 Our App Makes Internet a Safer Place
DoNotPay understands how important it is to avoid dangers lurking on the web. We have come up with numerous easy-to-use features for fighting scam emails, shady SMS texts, and malevolent robocalls. 
With our Virtual Credit Card generator, you can sign up for any free trial without compromising your finances. The Burner Phone feature protects your privacy by hiding your real phone number on various websites. Scared of online stalking? Prevent it with DoNotPay!
When online shopping turns into a nightmare, we will help you get your money back, contact customer support without hassle, or cancel any subscription that didn't live up. 
All that browsing doesn't come for free. If you need help with your internet bill, check out what DoNotPay has in store. 
DoNotPay Is Here To Stay
Our platform offers a vast range of services where anyone struggling with bureaucracy can find a ready-made solution. 
DoNotPay's power is no child's play—with our help, you will be able to demand compensation for canceled or delayed flights, nail difficult government-issued tests, and sue people and companies in small claims court!
Our constantly-growing portfolio includes features like finding the best clinical studies in your area or drafting all kinds of legal documents without hiring expensive lawyers!