Is It Possible To Fax With Skype?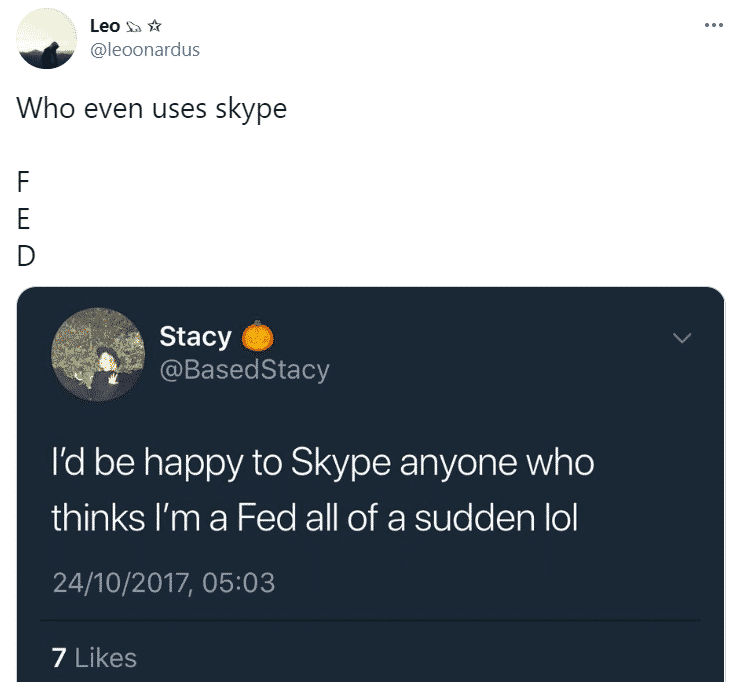 In the golden age of technology, when many apps and services are multifunctional, the question "Can I fax with Skype?" is a valid one. This article will answer it and break down different faxing options you may find useful.
Why Did People Stop Using Fax Machines?
Fax machines were an amazing invention in their time. While many businesses still use faxing, they opt for more convenient methods that don't require an actual fax machine.
Faxing with a fax machine seems complicated now, and people choose different options because a fax machine:
Needs a phone line to work

Takes up a lot of room

Has connectivity issues

Doesn't guarantee high-resolution faxes

Requires original or hard copies of documents

Costs you a lot of money in the long run (the machine itself, ink, paper, repairs, and replacement)
Fax Using Skype⁠—Yes or No?

If you google "fax with Skype," you'll find conflicting or confusing information, at best.
Skype officially doesn't offer faxing services, so why do many people ask about it and believe it does? It's because Skype uses VoIP or Voice over Internet Protocol to make phone calls over the internet.
You can get an online number from Skype and answer incoming calls in the app. This feature leaves people wondering whether they can use the number to send faxes.
Faxing over VoIP is supposed to be possible, but it doesn't always work. It would require a lot of adjusting and configuring the settings, and even then, successful faxing is not guaranteed.
Here's how faxing with Skype would go:
Connect the fax machine to the VoIP system

Type in the recipient's fax number

Send a fax
How Do I Check Whether Skype Can Send a Fax?
If you give faxing with Skype a try, you should know how to test whether it works. Here are your options:
Send a fax to a friend or family member

⁠

—Set up your fax machine with Skype and send a fax to someone to see whether they will receive it

Fax to a

fax test number

⁠—Various fax machine manufacturers provide test fax numbers you can send faxes to
How Do I Send a Fax to a Fax Test Number?
Check out how to send a fax to the HP and Canon fax test numbers:
Send a Fax to HP
Send a Fax to Canon

Prepare a one-page black and white document for faxing

Type in

1-888-HPFaxme (1-888-473-2963)

as the receiving fax number

Add your fax number in the fax header so that HP can send you a confirmation

Send your fax

Program your fax number into your fax machine

Enter

1‐855‐FX‐CANON (1‐855‐392‐2666)

in the required field

Send your test fax

Wait a couple of minutes for Canon to send you your test page back as confirmation
How Does Online Faxing Work?
Since faxing over VoIP comes with a lot of trouble, why not opt for a better method⁠—online faxing? A fax service or app is a much simpler faxing option, and it doesn't involve a phone line. It is available on different devices—a phone, tablet, laptop, or personal computer.
When you choose a fax service and sign up, you can:
Send and receive faxes in different ways, via:
Mobile app

Desktop app

Fax service website
Forget About Faxing via Skype⁠—Use DoNotPay!
Myriads of fax services are available to sign up for. While many of them help you send and receive faxes, they have a lot of shortcomings.
For some, it's an outdated web page; for others, it's the number of pages you can fax. What all of them have in common are the unnecessarily high prices.
If you want to send a few faxes, you may opt for fax services that offer free trials, but they may put a watermark over your faxes or have poor image quality. If you want to fax regularly, you'd need to cough up a lot of money.
Fortunately, DoNotPay is an affordable yet reliable option! With our app, you'll be able to send 100 pages a month. If you don't have time to scan a document or upload it, take a photo of your bill or check and fax it with ease.
Another advantage of faxing with DoNotPay is that we are so much more than a faxing service. We offer numerous features that come in handy on a daily basis. One of them is our Legal Documents feature, which is compatible with the Fax feature. You can generate a contract, e-sign it, and fax it quickly.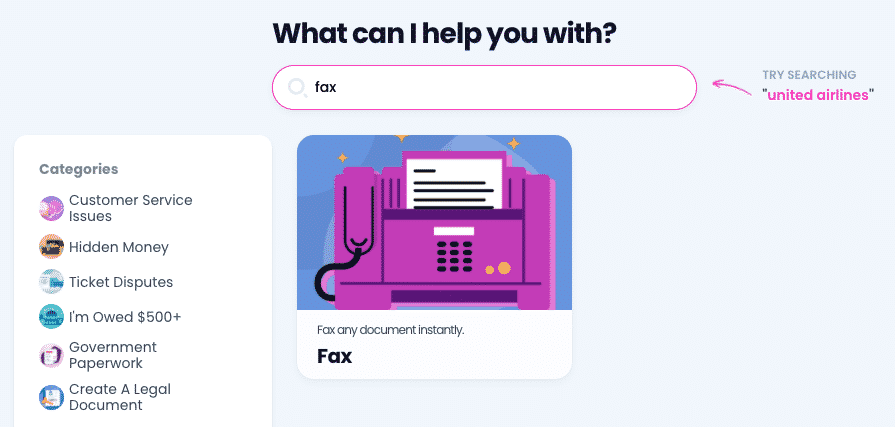 Send Faxes With DoNotPay
You can use DoNotPay to send faxes by following these instructions:
Access our app from a

Enter

Fax

in the search bar

Select the sending option

Upload a file or take a photo of a document

Type in the receiving fax number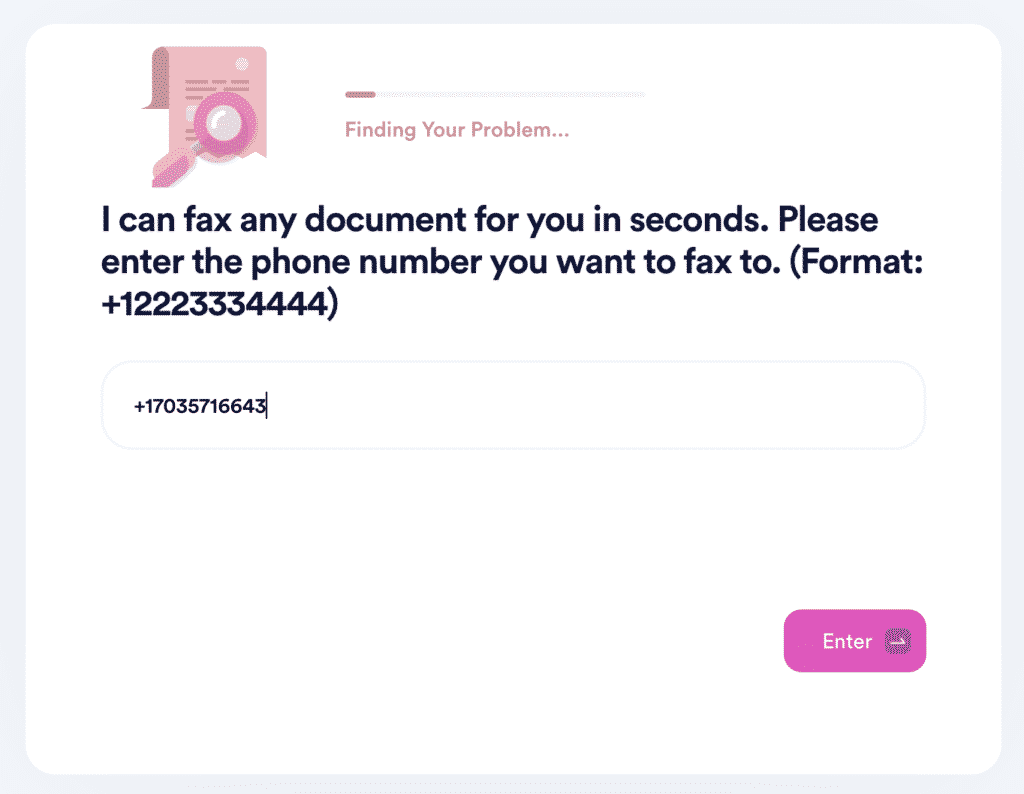 We will send your fax right away, and you'll get a notification once it's delivered.
Admin Issues Giving You a Headache? Resolve Them With DoNotPay!
Scheduling a DMV appointment, applying for clinical trials, requesting refunds from companies, and getting in touch with your loved ones in prison are all difficult and time-consuming tasks. You have to take many steps before you can get any of these over with, and that's why our robot lawyer app is here to help.
No matter if you need assistance with appealing parking tickets, signing up for free trials, canceling various subscription services, or maybe preparing for government tests, DoNotPay will provide you with easy solutions.
Having Financial Struggles? Rely on the World's First Robot Lawyer
Many Americans struggle to make their ends meet at the end of each month. With that in mind, we've created plenty of features that will save you both time and money in the most efficient way.
Using our AI-driven app, you can get help with bills, get refunds from airlines, find unclaimed money in any state, or earn off annoying robocalls or stalkers and harassers. If you want to fight for your right, DoNotPay will also assist you in suing any person or company in small claims court.
No matter the admin task at hand, our robot lawyer will provide swift and effective assistance.