Safe Business Communication With a Free International Fax Service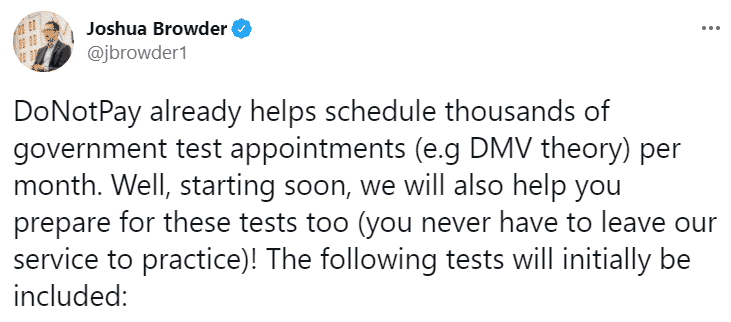 Working with international clients has never been easier, thanks to various tech innovations. You can use your computer and phone for many business-related activities.
If you need to send a document to a foreign country, it will take days or even weeks to arrive. Emailing it might not be safe, so you can opt for a free international fax service via your phone or computer.
DoNotPay shows you how you can fax files within the USA or internationally without a fax number and offers helpful reviews of different fax apps.
Should I Use a Fax Machine?
If you have a fax machine at work, you can use it to send documents. You should be aware that sending files internationally via fax can get quite expensive.
Apart from costs, another disadvantage of fax machines is that they tend to malfunction or run out of paper and ink. To send a document via a fax machine, you will need to:
Print out a document from a computer

Dial a fax number

Wait on hold if the fax number is busy
To avoid the hassle, opt for a more convenient and affordable way—faxing via your computer or phone.
Send Sensitive Documents Abroad
Sending documents via email might be the fastest way, but there is a security issue related to this communication channel. Emails can be hacked easily, your official files intercepted, and sensitive information compromised.
Specific sensitive records and information still require more secure channels, as you need to ensure they turn up at the right address without interference. Using regular mail is a wiser option when it comes to legal and official files, but it takes a lot of time and money to mail a few pages of documents abroad.
How about using an online fax service to maintain the same level of security and save money and time? It's the most convenient solution since modern communication demands speed and efficiency as much as security. can be your reliable and speedy faxing assistant.
How To Send International Fax Online
Some online fax providers give you a fax number enabling you to receive faxes to your email. Should you want to send a fax, you can do it via an online form, computer, or phone app.
You only need an internet connection to fax files from and to any location. There are lots of online fax providers but make sure to check whether they offer a way to both send and receive faxes. DoNotPay can show you how to fax using:
Despite providing a convenient and fast way of faxing, most providers require you to sign up and pay a monthly installment from $10 to $50.
Faxing within the USA and to Canada can be free. Should you opt for international fax services, some providers charge considerable amounts.
Make sure to find out about the payment plans as most charge significant sums for volume faxing, i.e., for larger files.
Use DoNotPay To Send International Faxes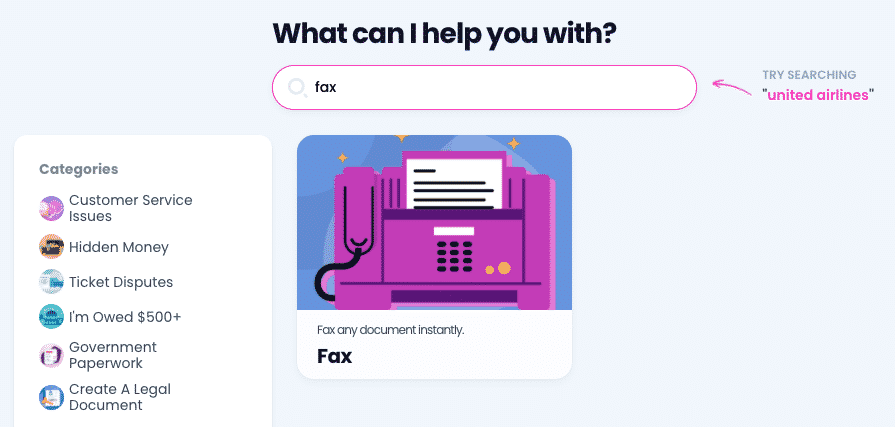 With DoNotPay, you can send faxes at any time and place. Here is why you should choose our app as your reliable fax provider:
| | | |
| --- | --- | --- |
| Feature | DoNotPay | Other Fax Providers |
| Send files | Yes | Yes |
| Via phone | Yes | Few |
| Via computer | Yes | Yes |
| Take and send a photo | Yes | Few |
| Upload and send a file | Yes | Some |
| Review faxes from email | Yes | Few |
| Create, e-sign, and send a file | Yes | Few |
Sending International Faxes With DoNotPay
We understand how fragile business cooperation can be. To gain the trust of potential foreign clients, you need to show them they can count on you.
Nobody wants to see their confidential business data end up in the hands of their competitors.
DoNotPay has your back! Negotiate a deal, draw up a contract, sign, and fax it to your business partners securely.
Here is how you send international faxes:
Open DoNotPay in any

Choose the

DoNotPay Fax

feature

Indicate that you would like to send a fax

Take a photo or upload a document

Enter the receiving fax number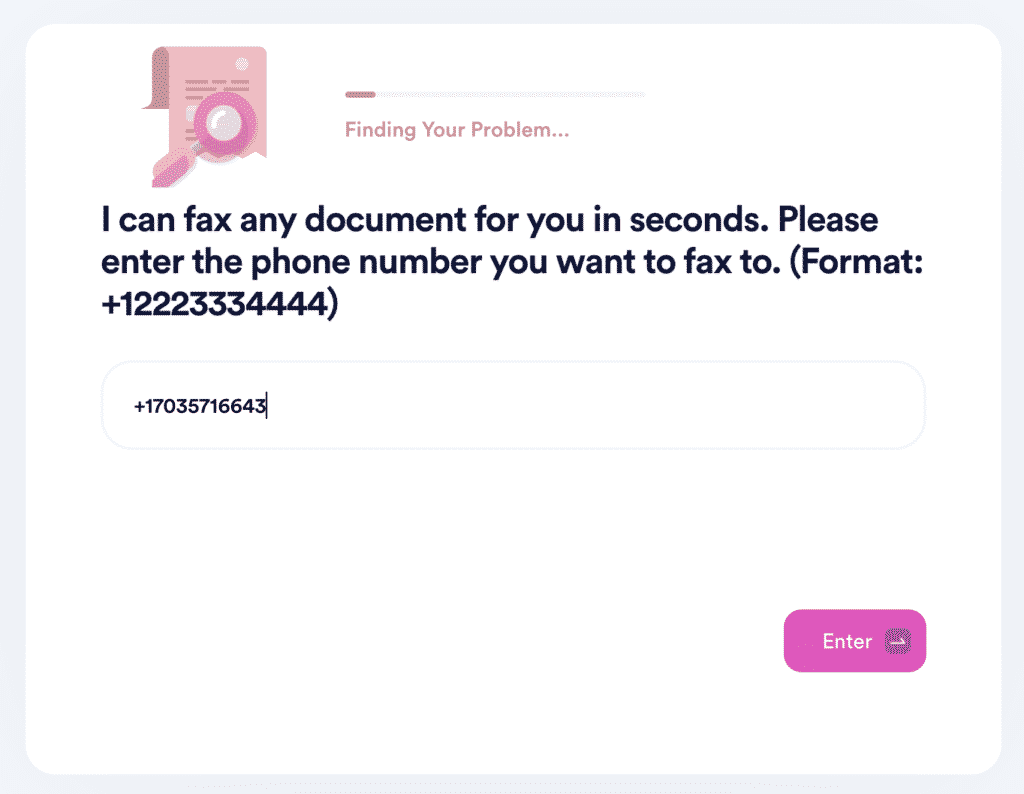 Wait for DoNotPay to send a confirmation once the file has been sent, and that is all!
When you are commuting, stuck in traffic, at the seaside, in the mountain resort, or a local cafe, send faxes quickly.
Not only do we provide a secure transfer of your sensitive data, but we make sure the other party receives the entire document in a matter of seconds.
Subscription Issues? DoNotPay Can Help!
If you are looking to test out a service, think twice before disclosing your payment info. Companies will often ask you for your credit card details even when signing up for a free trial—they charge you once the trial expires.
Use our virtual credit card, and don't worry about unwanted charges!
Our credit card gets automatically approved for any free trial, but it rejects any real charges since there is no money on it.
DoNotPay will locate and cancel all your unwanted subscriptions without you having to deal with customer service reps.
We can also help you request refunds from companies or take them to small claims court if they refuse to cooperate.
Clear Out Your Daily Tasks Fast With DoNotPay
Are your parking tickets piling up, but the process of appealing them is way too complicated? Do you struggle to pay your bills but are not sure how to get an extension? Is it time to extend your driver's license, but reaching DMV is a nightmare?
DoNotPay will turn all of these dreadful tasks into easy-to-do items you can check off your agenda quickly!
Get rid of spam emails, texts, and calls quickly using our AI-powered app!
Learn how to secure compensation from airlines, get your college fees waived, claim your lost funds, or reduce your property tax—all with a few clicks!