Is It Possible To Receive a Free Fax and How?
Many people still swear by fax service despite its old-fashioned nature, as it's the best option for handling confidential paperwork. Those who use it daily know how huge faxing supplies and phone line costs can be, and they usually look for more affordable alternatives.
The purpose of this article is to introduce you to several ways to receive free fax and teach you how to fax your documents from your phone or any other device at less cost! DoNotPay can show you how to test your fax number, get a fax number you can use for sending and receiving important documents via Gmail or Outlook, and much more!
Can You Receive Faxes for Free?
Yes, there are a few options you can use if you are looking for free fax service.
Popular Ways To Send and Receive Faxes for Free
The following table shows several ways to receive faxes for free:
Method
Details

Disadvantages

Online fax apps—free trials

Online fax apps usually have paid versions, but many of them offer free trials. By signing up for the service, you get a chance to try out some app features free of charge, including fax composing, sending, or receiving

Limited duration

Limited features

Monthly membership fee is usually required unless you cancel the free trial on time

Windows Fax and Scan is an integrated faxing program that comes with Windows operating systems. You can access it for free on your PC

Successful free-of-charge fax reception available only if the device is configured properly

Mandatory fax modem, which is an additional expense before you can send your faxes for free
Despite the convenience of standard online fax services, sending and receiving faxes for free is usually complicated and has certain drawbacks. Fax app membership costs at times exceed $50 per month, which is a huge amount for the limited number of faxes—usually not more than 10 or 20.
Kiss Faxing Machines Goodbye—All You Need Is DoNotPay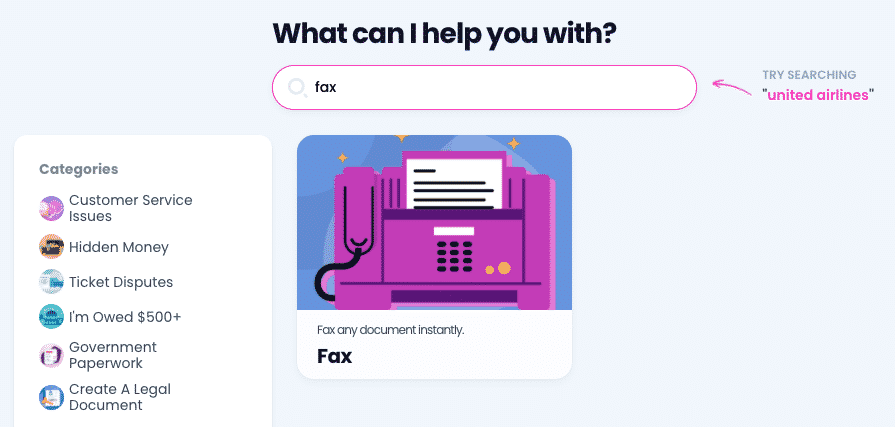 is the most affordable option when it comes to online faxing. Our app allows you to send up to 100 pages per month from any device you prefer—a PC, iPhone, or MacBook.
Our cost-effective service helps you:
Use the existing scans, snaps, or photos for faxing

Integrate your email address with our app and handle all your faxes easily

Create contracts or other types of documents and sign them electronically before you fax them, completely avoiding paperwork
How To Send or Receive Faxes With DoNotPay
If you find the regular faxing annoying and too complicated, and apps are too expensive or convoluted, you're in luck. DoNotPay is here to make this ancient practice quick and help you avoid unnecessary complications. Thanks to our user-friendly interface, you'll be done with the annoyance of faxing in next to no time.
Sending a Fax With Our App
Here are the instructions you should follow to fax a document using our service:
Log in to DoNotPay using any

Locate the

Online Fax

service

Upload a scan or photo of the document you wish to send

Enter the desired fax number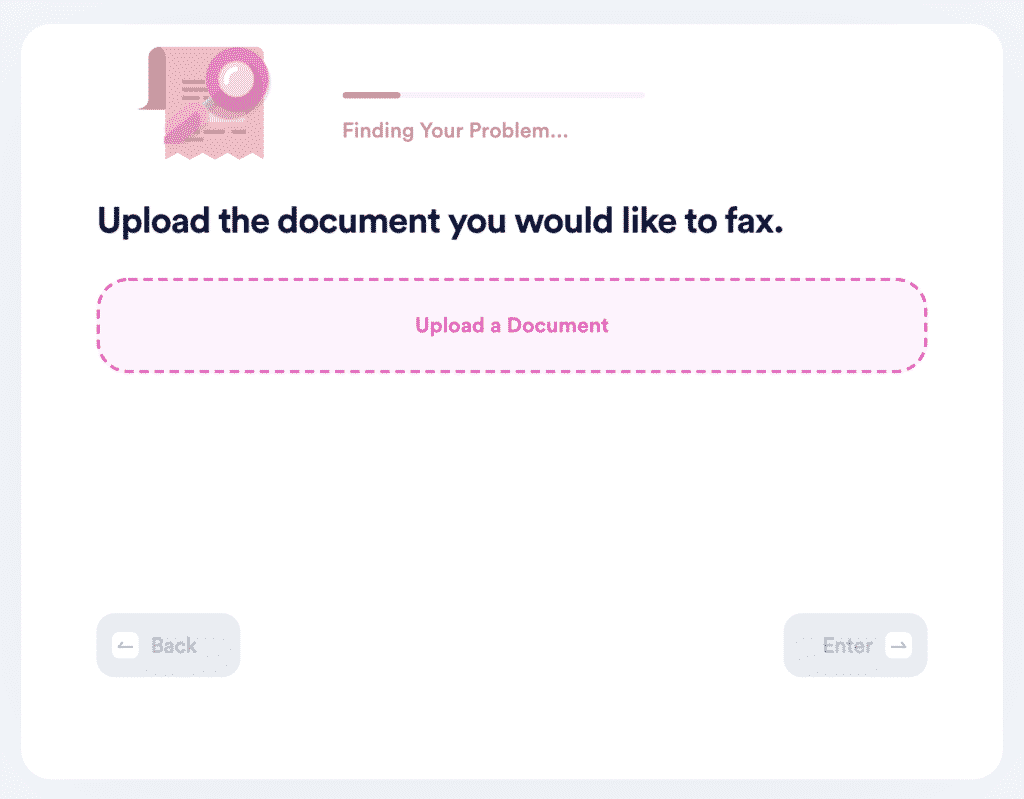 Our app will fax the chosen file in your name and inform you once the procedure is completed.
Why Online Fax Is a Much Better Idea Than a Fax Machine
Fax machines have played a significant role in the history of document exchange, but they are slowly becoming outdated. Like other similar devices, they are subject to various breakdowns and malfunctions, which makes their lifespan shorter.
Online fax is more convenient for you because it:
Is much easier to set it up and use it

Doesn't require a connection with a phone line

Lets you fax your paperwork from your laptop, mobile phone, etc.

Allows you to check whether you've received a new fax at any time—even when you aren't in your workplace or next to your faxing machine

Is more eco-friendly—doesn't require high paper consumption like fax machines

Allows you to keep track of all your faxed documents and manage them properly

Doesn't affect the image quality—fax machines can ruin it, especially the older models

Takes less time to send a fax as you don't need to scan your documents—you already have them on your device
Need Help Fighting Bureaucracy? Use DoNotPay!
As the world's first robot lawyer, DoNotPay can help you resolve a plethora of tedious administrative issues. Our app will assist you in getting justice in small claims court, getting refunds from merchants, reporting annoying spam emails and text messages, reporting copyright infringement, bypassing phone number verification, and so much more!
You can also rely on DoNotPay's help when it comes to subscriptions. If you want to sign up for a free trial, cancel a service you no longer use, and skip the phone queue when doing so, our app will provide its assistance.
Our App Saves You Time and Money
Are you unable to pay your bills? Use the world's first robot lawyer app to cover them! Do you want to appeal your traffic or parking tickets? DoNotPay will help you appeal them in the blink of an eye.
Our app can do so much more than that, though—with DoNotPay by your side, you can sign up for clinical trials, ace government tests, claim any type of warranty, schedule an appointment with the DMV, and handle any other bureaucratic task.