Can I Fax With MagicJack? DoNotPay Knows the Answer
MagicJack is a small USB adapter that you can connect to your modem and use to make phone calls via Voice over Internet Protocol (VoIP). The device enables you to avoid traditional telephone lines, which significantly reduces your phone bill.
"Can I fax with MagicJack?" is a question on everybody's mind. DoNotPay will provide the answer and compare the device to other online fax apps and services.
How To Fax With MagicJack
MagicJack offers many perks, including faxing. While you can use the device to fax documents, the process may not be as easy as making online phone calls. 
Take a look at this step-by-step guide to faxing documents via MagicJack:
Connect the device to your computer using the USB port

Choose the

Normal (High Speed)

operation from the menu 

Attach your fax machine to the device

—one end should be plugged into the

Input

port on your fax and the other into the

Output

socket of your MagicJack 

Find the MagicJack phone number—you will be able to see it while connecting MagicJack to your computer 

Repeat the set-up process by loading the fax machine with a trial transmission gear

Dial the receiver number and hit

Send
What Are the Downfalls of Faxing With MagicJack?
MagicJack relies on the internet to deliver its services, which makes faxing possible. While you can fax your documents via this device, there is no official faxing support or a set-up guide from the company. Faxing isn't one of MagicJack's official features, so there are limits to using the device for that purpose. 
Here are the main disadvantages of faxing via MagicJack:
Lack of possibilities for simultaneous use

—

there aren't enough ports to use MagicJack as a fax line and as a phone line at the same time

Limitations of the VoIP technology

—there isn't enough capacity to transmit the document with text and images and convert them into digital format. Even if the fax comes through, it will probably not go beyond a few pages

Flaws of the printing/scanning machines

—some machines work well with MagicJack, but some need an additional Digital/DSL filter installed on the line so you can fax
Why Is Faxing via Online Fax Services Better Than Faxing With MagicJack?
Everyone has to fax once in a while, especially when some sensitive documentation is involved. You don't have to resort to cheap but unreliable methods—they will bring you nothing but stress and complications.
By paying for an online fax service, you will gain so much more. Fax apps
are mostly easy to set up and use and provide safe transfer of your documents. They send the documents directly to your inbox, which makes filing them much easier.
The flexibility of online fax services allows you to fax from any device, such as smartphone, Mac, or tablet.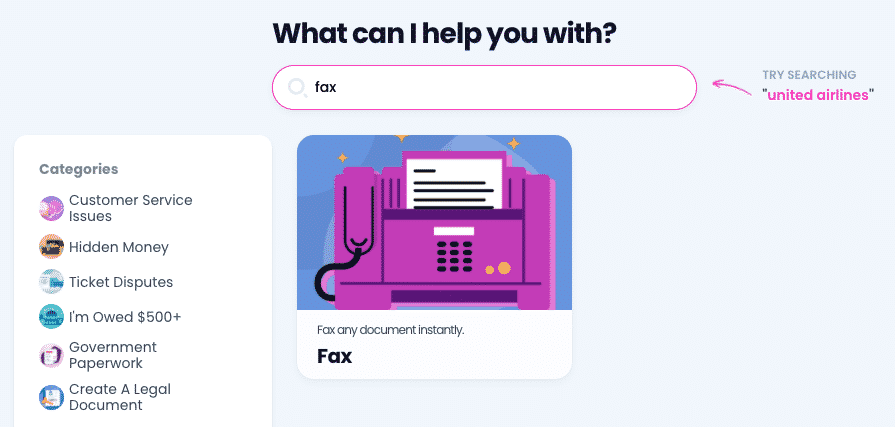 Online faxing services have their disadvantages as well. They can be pricey—most of them charge between $10 and $50 for a monthly subscription. 
Luckily, there is a more affordable solution on the market—DoNotPay!
The Advantages of Faxing With DoNotPay
Out of all online fax services on the market, the best choice by far is DoNotPay. Our app provides all the benefits of online faxing at an affordable price. 
By accessing DoNotPay from your web browser, you will be able to use our Fax feature for:
Snapping a photo and faxing it

Uploading files and faxing them easily

Faxing documents from your phone, tablet, or computer

Sending as many as 100 pages a month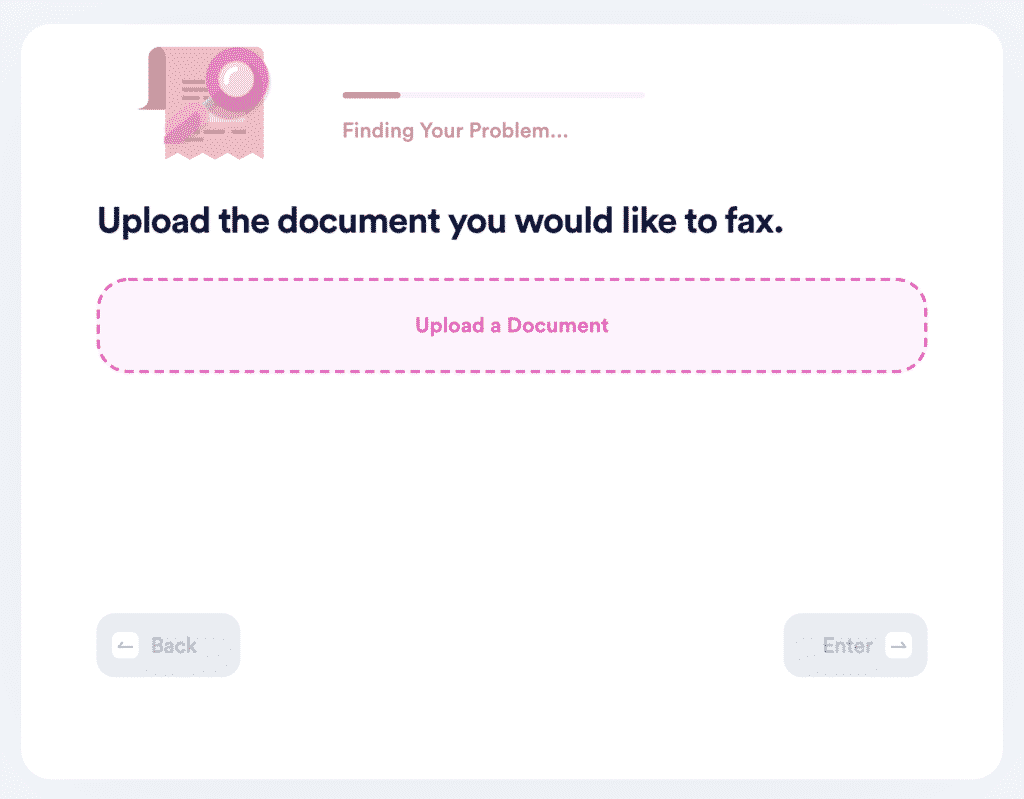 We provide some additional perks to make your faxing experience even more enjoyable. 
You can pay without a scanner—access our photo snap option, take a picture of your check or bill, and you are all set!
If you need to send legal documentation, you will find our service invaluable. Integration of DoNotPay's fax feature and legal documents feature allows you to create, sign, and send a contract without any trouble!
How Can I Send Faxes With DoNotPay?
With DoNotPay, faxing becomes no more difficult than texting! You don't have to waste time on all the annoying traditional ways of sending files. Instead of that, you need only:
Access our app from a

web browser

Type in

Fax

in the search field

Select

Send a Fax

Upload a document or snap a photo

Enter the receiving fax number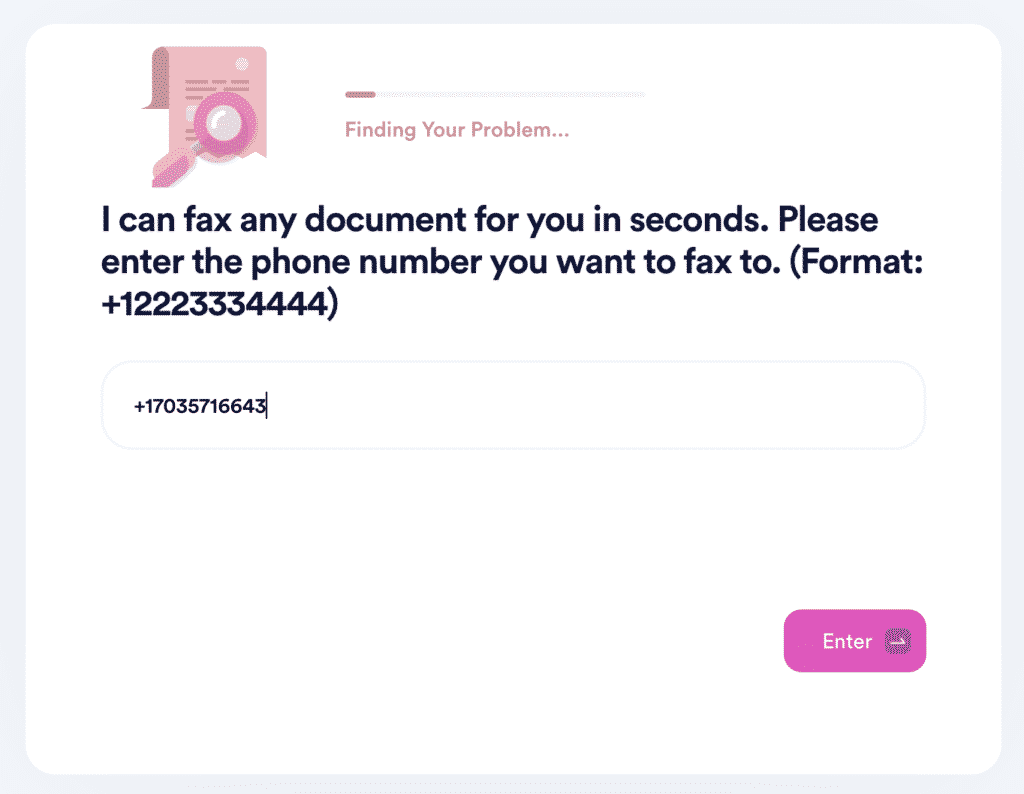 That's all! All you have to do now is wait for DoNotPay to notify you that the fax is on its way to the receiver.
DoNotPay Keeps Your Privacy Intact
DoNotPay can help you surf the web safely and securely. No need to provide your personal information to every company whose service you'd like to take for a test drive. Our Virtual Credit Card and Burner Phone products shield your data from prying eyes and dishonest merchants.
Feel like subscribing for a free trial? Make it truly free and avoid automatic membership renewals with our card. It can also help identify spammers and potential scammers who send bothersome robocalls and robo texts your way. As soon as they act on the virtual card number, DoNotPay will unmask them and demand compensation!
DoNotPay Can Help You Bring Any Business to Justice
Should a company refuse to grant you a refund or compensation, our app will help you take them to small claims court! 
We'll help you cancel the service in question to avoid any future charges, and we'll call their customer service so you can get info on your denied request. We'll draft the relevant court documents for your jurisdiction and give you instructions on filing them.
More Nifty Features That'll Make Your Day
You may not have breach of privacy issues or reasons to bring someone to court, but you surely have ample motivation to save or earn a few dollars here and there—especially if we catch you unawares!
DoNotPay can show you how to reclaim funds that you didn't know were under your name or make a denied warranty appeal to any company. We streamlined the processes of requesting refunds, college fee waivers, airline flight compensation, parking infraction dismissals, as well as applying to clinical trials that pay!