Ditch the Fax Machine—Use a Fax App Instead!
Despite what people may think, faxing is not extinct! Banks, businesses, medical, and government institutions prefer faxing over any other method of corresponding. The problem is that fax machines lost their value and are no longer as useful as before.
Online fax services took the place of fax machines fast with a multitude of apps on the market. In this article, you can find out how to fax online and what fax app to use for the fastest and safest document transfer experience!
What Is the Problem With Fax Machines?
Technology is developing fast, new gadgets and apps are introduced every day, and everything is available on the internet. We can upload and send files while gardening or walking our dogs, which made fax machines lose their value. What was considered invaluable once is now useless.
Some of the reasons why fax machines are inconvenient include:
Taking up a lot of space

Not being eco-friendly

Requiring phone lines to work

Taking a lot of time to send faxes

Not being cost-effective
If you have to send or receive a fax, don't buy a machine yet. We can show you how to use apps to get a number and send a fax from your phone!
Why You Should Consider Apps for Faxing
According to research, 81% of the American population owns some kind of smartphone. The average person spends almost three hours on the phone. That being said, it is safe to assume anyone would rather receive important documents right away than wait by the machine.
Faxing over the phone requires no waiting and paper wasting. If you send a fax from your phone, you won't need to worry about the quality of the photo or document. Best of all, there are myriads of faxing apps available, and we offer the best one—DoNotPay.
What Fax Apps To Use To Send a Fax From Your Phone
There are countless faxing apps available for Android and iPhone users. Most use similar principles but have different price ranges. Take a look at the following table to see the most commonly used apps and their prices:
Fax App
Important Information
Pricing

iFax

Works on iOS and Android

Supports PDF, DOC, XLS, JPEG, and more

Does not offer a free version

Proves difficult to cancel

From $5 a month

Works on iOS and Android

Supports PDF files

Has a 14-day free trial

From $16.95 a month

Works on iOS and Android

Offers first five pages for free

Bugs a lot

From $12.95 a month

FaxFile

Works on iOS and Android

Supports PNG, JPG, and PDF files

Works on a credit system

Doesn't support receiving faxes

From $2.99 to $49.99 a month, depending on the number of credits
Many people turn to free fax apps after seeing the prices of paid options. If you decide to get a free app for faxing, keep in mind they too have some disadvantages:
A limited number of pages you can send

Poor quality of pictures and documents

A restricted offer of formats you can send

App crashes and bugs
Use DoNotPay To Send a Fax From Your Phone at Any Time
Free fax apps are not the most reliable option for sending important files, such as contracts, medical records, and legal documents. Some of the other apps offer way too little for what they are charging. 
If you need a fax app, but you don't want to get ripped-off, DoNotPay has a solution for you. With our easy-to-use Fax feature, you have access to:
Automatic faxing from your phone or laptop

Sending and receiving up to 100 pages a month

Instant faxing with a snap of the photo

Easy and fast file upload

Email integration
How To Send a Fax From My Phone Using DoNotPay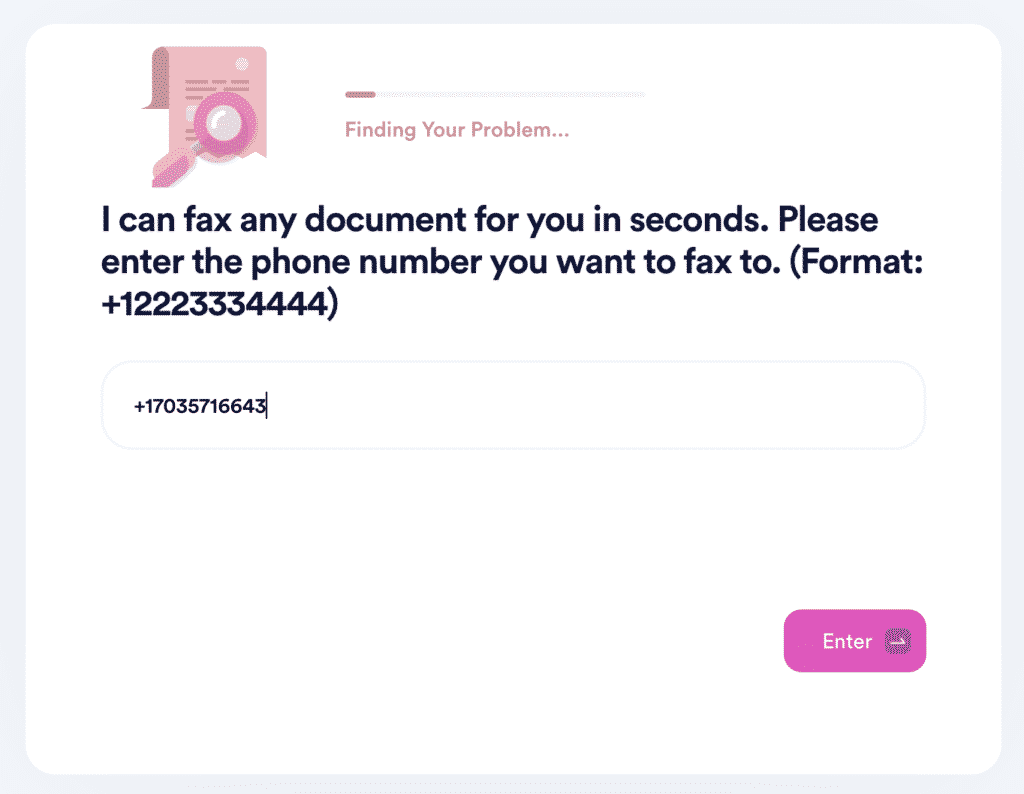 Sending important and confidential documents requires a fast, simple, and reliable service. DoNotPay checks all the criteria and offers more!
If you want to send a fax the easiest way possible, follow these steps:
Access DoNotPay from your preferred

web browser

Find the

Fax

feature

Specify that you want to send a new fax

Upload the desired file or snap a photo

Type in the number you want to send a fax to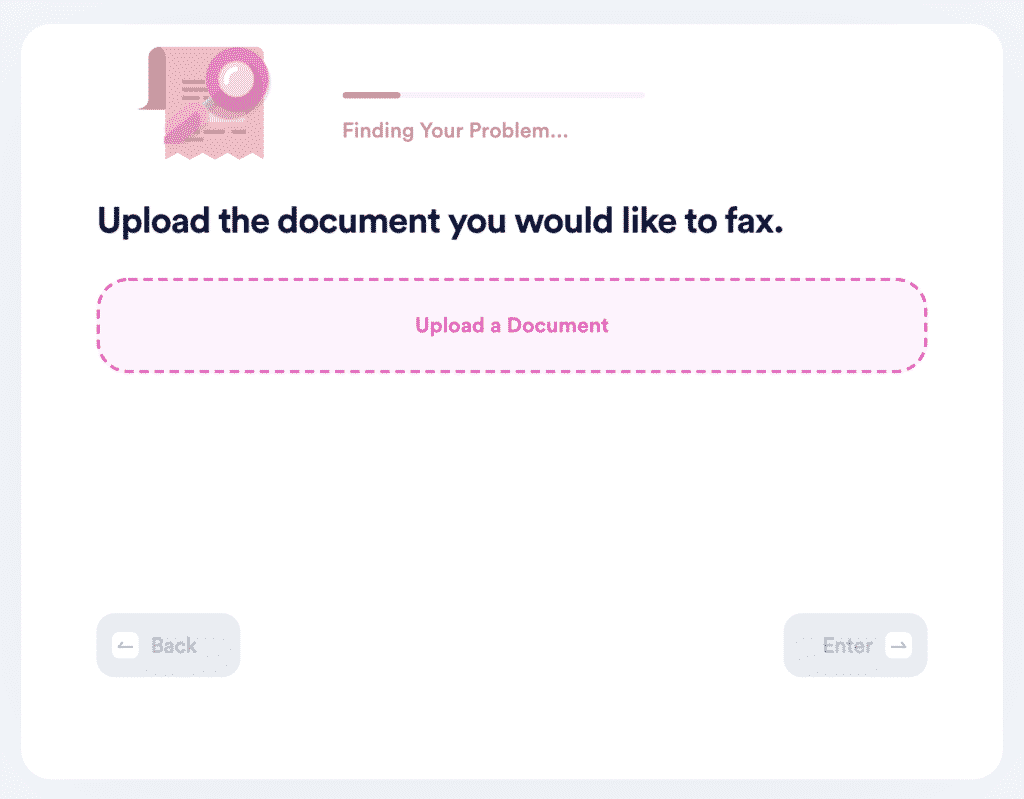 Once we send your fax to the provided number, we will send you a confirmation.
DoNotPay Is an Ultimate Money-Saving Assistant
Our app can help you manage bills that are too high to pay, but there are plenty of other money-saving possibilities out there we can help you with.
Want to challenge a parking ticket? DoNotPay can dispute parking citations in any city! Is someone getting revenue from your creative work? Cut the thieves off with DoNotPay!
We can also help you get your college application fees waived, file any insurance or warranty claims, locate unclaimed funds in your name, or earn some extra cash from paid clinical trials in your area.
No More Risky Free Trials With DoNotPay
Do you love free trials but tend to forget to cancel your subscription before the trial ends? If this is the case, check out DoNotPay's virtual credit card for a risk-free experience.
With our virtual credit card, you can sign up for any service without worrying about unwanted charges. DoNotPay will even provide you with a random email address, which will help keep your inbox clean from spammy emails from the company.
Our app can also get in touch with the company's customer service, request a refund from them, or even escalate your issue to small claims court if the company is challenging to communicate with.