The No.1 Online Fax Service
People consider fax machines the artifacts of the past, which isn't entirely true. Many businesses and sectors of the U.S. government, like health care and financial services, still consider faxing to be the safest and most reliable way of document exchange.
If you need to send or receive a fax, don't go running out around buying a fax machine—it is now possible to fax without a machine or phone line.
This article will show you how to fax using online fax services.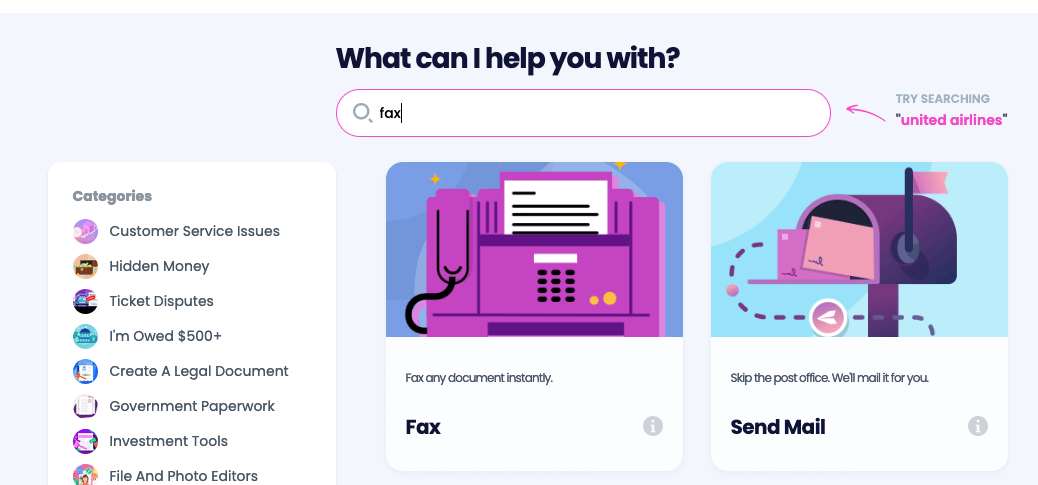 Why Are Fax Machines So Inconvenient?
Not so long ago, people relied on fax machines to send and receive documents, especially legal ones, like contracts. With the internet and technology development, fax machines became pointless.
Banks, companies, and government sectors still use this secure way of transmitting documents, only now they do it with fax apps, suitable for iPhone and Android phones. There are myriads of reasons why people don't rely on fax machines as much as before:
They are not cost-effective

It takes quite some time to send a fax

The quality of pictures is poor

They are not eco-friendly

Not everyone has an option to receive a fax

They require a phone line to work

Replacement parts may not be easy to find

They take a lot of space

Maintenance expenses can become too high
If you're considering buying a fax machine, we recommend you to look into more useful options and learn how to send a fax from your phone.
What Is the Purpose of Online Faxing Services?
Fax machines don't have any technical advantages, but companies and services still need to send and receive confidential documents. The demand for a better document exchange method brought internet faxing into the picture.
Internet faxing services use the same principles as fax machines but have many advantages. When you sign up for an e-fax service, you get a fax phone number for transmitting documents. You can use the number to send a fax via email, and your correspondent can send faxes to that number.
How To Send Online Faxes on Your Own
The internet offers countless online faxing apps and websites, but you have to be careful. Businesses prefer faxes over emails because they are more secure. That is why you should think twice before deciding what fax service you'll use.
We recommend you consider all the benefits and disadvantages before making a final decision. The following table can provide you with several e-faxing options:
Fax Service
Features

Suitable for tablet, computer, and smartphone

Large online storage

Add-free

International faxing service

Free

Included in every version from Vista to Windows 10
GotFreeFax and eFax services can be useful, but they are not easy on the wallet at all. Microsoft's Fax and Scan feature is free but requires you to have a PC connected to a phone line. Don't let the downsides of these services discourage you and make you go back to traditional faxing—use DoNotPay instead!
DoNotPay Has the Best Online Fax Service
Online faxing services are light years ahead of fax machines, but be prepared to set aside some money for their monthly subscriptions—up to $50 in some cases. They don't always pay off, especially if you need them to send or receive fax once.
With DoNotPay, you won't have that problem, whether sending faxes is in your job description or a one-time event.
Our practical and affordable Fax feature enables you to:
Send 100 pages per month

Fax automatically from your laptop or smartphone

Instant fax with a snap of a photo or upload files regularly

Integrate with email for an easy access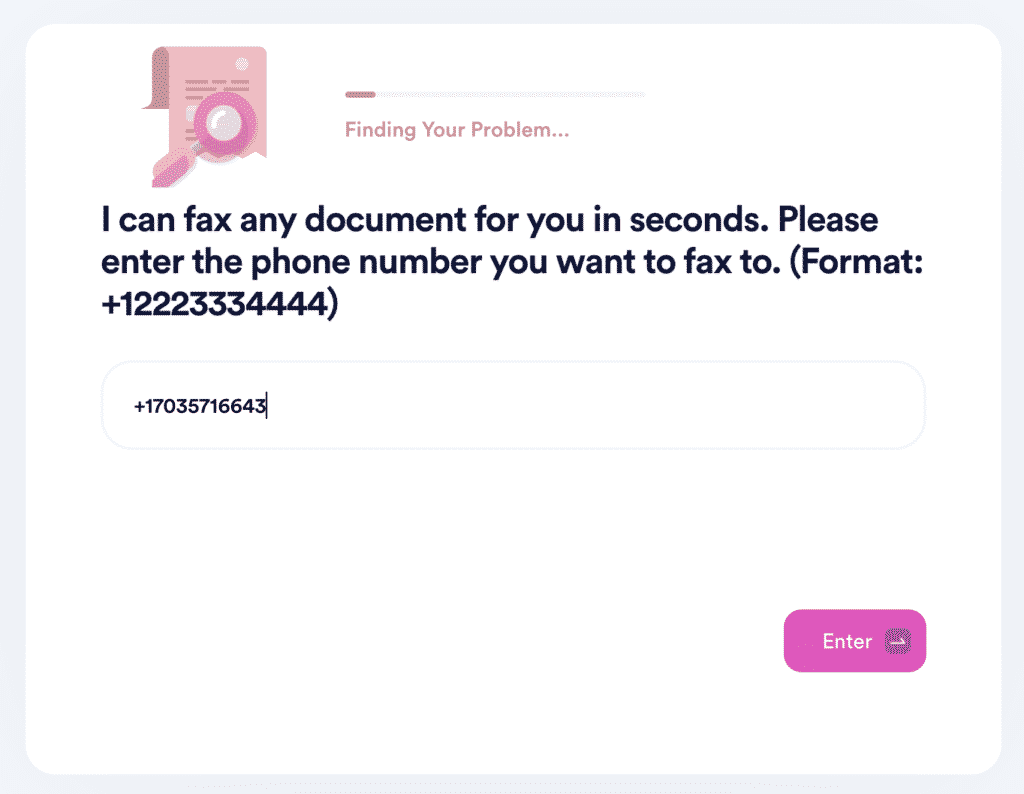 How To Send Secure Fax Online With DoNotPay
DoNotPay is well-known for being user-oriented. We strive to offer the most user-friendly features, and this one is not an exception. Our Fax feature does not require you to have a landline, and you won't have to pay an arm and a leg to use it!
All you need to do is follow these steps:
Open our app in your

web browser

Choose the

Fax

feature

Select

Send a Fax

Upload a file or take a photo

Enter the number you want to send a fax to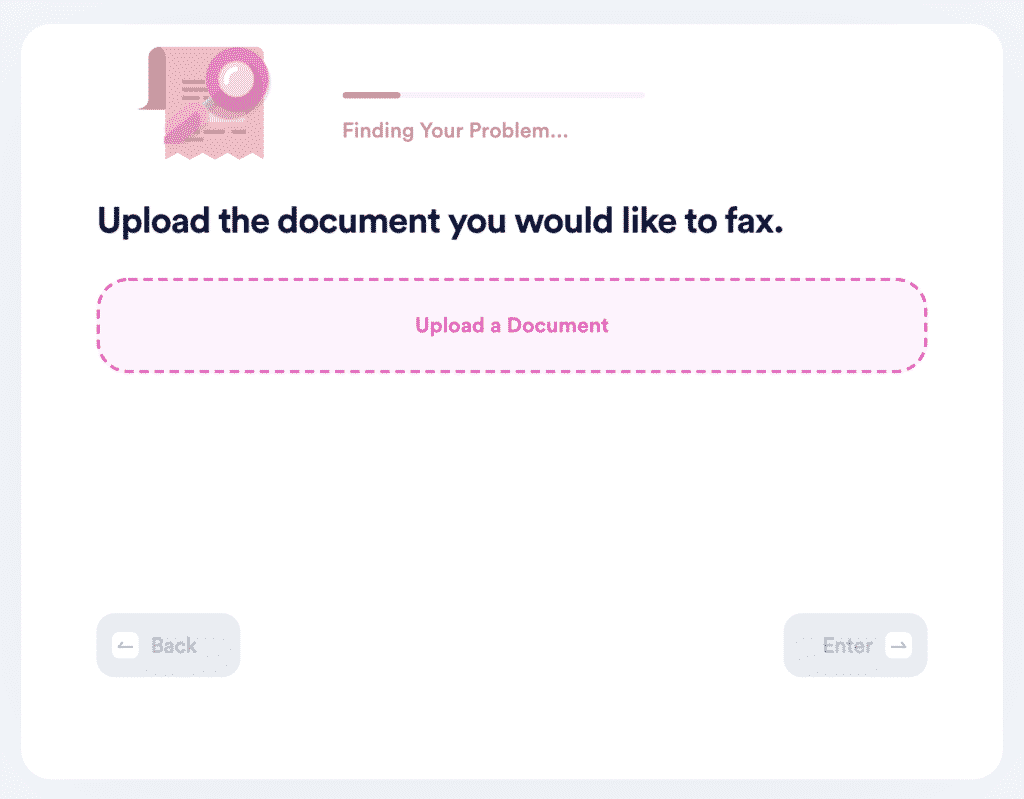 We will send a fax on your behalf and inform you once the procedure is complete.
Keep Your Data Safe With DoNotPay
Do you love free trials but are reluctant to disclose your credit card details, phone number, or email address?
Our app lets you try out different subscriptions in a risk-free way!
Use DoNotPay's Burner Phone feature to sign up for services without providing your phone number! We'll make sure robocall scammers and text spammers cannot harass you!
With our virtual credit card, you can sign up for any free trial and not worry about canceling it! Since the card is not linked to your bank account, no one will be able to charge you once the trial expires. An additional perk is that the card comes with a free email address, which means no spam emails from the company. 
DoNotPay Helps You Fight for Your Consumer Rights
Did you know that companies often reject first-time warranty claims?
You're probably familiar with how complicated the process of appealing parking tickets is. Trying to get a refund for an unsatisfactory purchase or a delayed flight has likely made you mad at least once.
Not anymore! DoNotPay makes all these issues go away in less than five minutes, and that is not all we can do for you!
You don't have to deal with customer service reps of any company on your own anymore—we do it all for you!
DoNotPay bypasses any bureaucratic obstacle for you—scheduling DMV appointments, delaying bill payments, getting in touch with your incarcerated loved ones, filing lawsuits in small claims courts, and claiming insurance policies.