Ways To Send Faxes From a Mac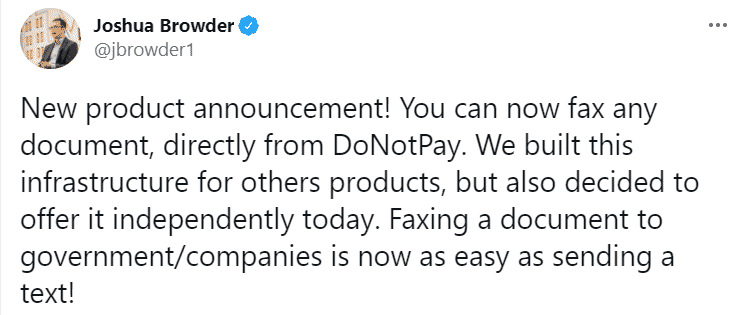 While fax machines are mostly extinct, faxing has evolved to keep up with the technological advancements. You may have noticed that many businesses and organizations still include a fax number along with other contact info on their websites. This doesn't necessarily mean that they own a fax machine and that you should too if you need to send or receive any documents.
This article will show you how to send faxes from your Mac computer and explain why DoNotPay is the best option for you.
Why Do People Still Send Faxes?

Faxing is important even today, especially to law firms and healthcare, financial, and government organizations. Faxes are more secure and reliable than emails, and they are faster than regular mail. A faxed signature or document is considered legally-binding, whereas this is not always the case with emails.
The healthcare industry values fax due to the Health Insurance Portability and Accountability Act (HIPAA). This is a federal law that aims to protect the patient info and documents, which is why faxes are a safer option than easily-hacked emails.
If you are thinking of getting a fax machine because you need to send or receive faxes, think again. Here's what downsides come with a fax machine:
It is clunky

The fax image quality is poor

You need to set it up and later troubleshoot or replace

You have to get a phone line if you don't already have one
Fortunately, you can forget about purchasing a fax machine because there are ways to send and receive faxes on your Mac.
How To Send a Fax From a Mac

You can fax from a Mac in different ways, and they all come down to two types:
The first option includes a fax modem and a phone line. Newer Macs don't have a built-in fax modem, but you can purchase an external USB one. The second option is much simpler as you only have to choose an online fax service.
How To Fax From a Mac With a Fax Modem
If you didn't have a built-in fax modem and you've purchased one, here's how to set it up:
Plug one end of the modem USB cable in the external USB fax modem

Plug the other end into a USB port on your Mac

Start the

Apple Menu

Tap on

System Preferences

Click on

Print & Fax

Tap on the plus sign and select

Fax

Choose your fax modem from the list and hit

Add

Type in your fax number

Click on

Receive Options

and tick

Receive Faxes on This Computer

Choose the number of rings before your Mac answers a call

Follow the prompts to finish setting up the modem
Once you complete the set-up, you can start sending and receiving faxes on your Mac computer. Here's how both of these processes work:
Sending Faxes on a Mac
Receiving Faxes on a Mac

Open the document you wish to send

Click on

File

Select

Print

Click the

PDF

button

Tap on

Fax PDF

from the drop-down menu

Type in the receiving fax number in the

To

field

Choose the

Use Cover Page

option and enter your message if you wish

Click on

Fax

Don't put your Mac is in sleep mode because it cannot receive a fax that way

Make sure your Mac picks up the call before your answering machine does by choosing an appropriate number of rings
What Is a Mac Fax App?
Many fax services are available to use online in their web apps, and you can download most of them to your phone or computer and fax from there. A Mac has a limited number of options when it comes to desktop apps, but you can always use a fax service on its website.
Whether it's a web fax app or desktop software, the process is pretty much the same. You need to create an account, get a fax number, and start sending or receiving faxes.
The problem with many fax apps is that they are expensive, ranging from $10 to $50 a month.
DoNotPay provides high-quality faxing services even though we are by far the most affordable option compared to other fax apps.
Sending a Fax From a Mac Using DoNotPay
DoNotPay offers a user-friendly Fax feature with nifty perks, such as fast upload and email integration. With our app, you'll be able to send 100 faxes a month.
https://twitter.com/i/status/1336521319676973057
Check out how sending faxes works once you open DoNotPay in any web browser:
Find our

Fax

feature

Take a photo or upload your file

Type in the receiving fax number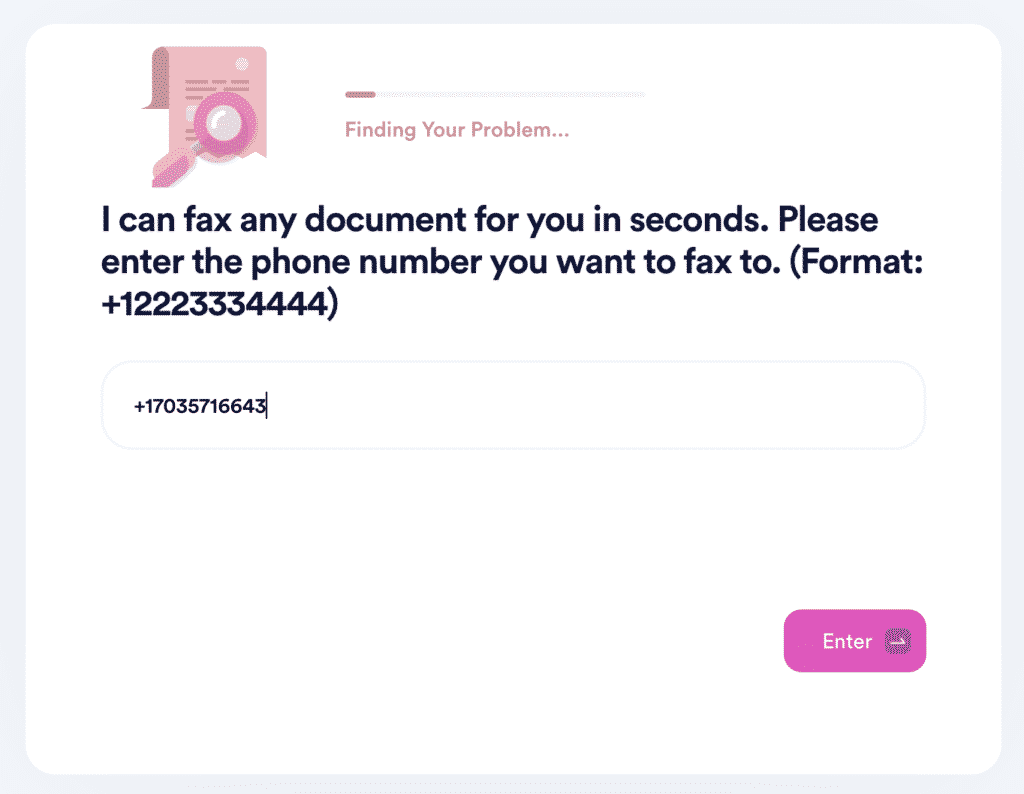 Your fax will be on its way immediately. We will send you a confirmation when the fax is received.
Use Our Robot Lawyer To Eliminate Pesky Tasks
Administrative tasks are often time-consuming, which is why many people give up on them before even trying to tackle them. Requesting refunds, canceling services, signing up for clinical trials, reporting stalkers and robocalls, and trying to find unclaimed money are all processes that would usually take a long time to resolve.
With the help of DoNotPay, though, all of these admin hurdles become a piece of cake. In just a few minutes, our app can assist you in appealing parking tickets, getting in touch with your imprisoned loved one, getting an extended warranty, reporting copyright infringement, and so much more!
Don't Break the Bank—Sign Up for DoNotPay!
Our app can save you lots of money by helping you get a refund from any airline, sign up for a free trial without your credit card info, earn off persistent and illegal spam emails, and get an application fee waiver for a college you apply to.
With DoNotPay, you can even schedule a DMV appointment or jump the phone queue when getting in touch with a customer service representative without breaking a sweat!