How To Fax From a Phone the Easy-Breezy Way
People may think that faxing is a thing of the past, but it's prevalent even today in the golden age of technology. Many businesses, especially the ones in the financial and healthcare industries, still use fax services.
Does this mean you have to go out and buy a fax machine? No, it doesn't! Faxing without a phone line or a fax machine is possible.
This article will show you how to fax from a phone in the most convenient way!
Say Goodbye to Fax Machines—Fax From Your Phone
While faxes in different shapes and forms are still used today, fax machines are becoming a thing of the past. At the time of its invention, the fax machine was a novel and brilliant idea that transformed how businesses worked.
From today's perspective, all the bells and whistles that go with the fax machine are too much trouble:
You need a phone line for the fax machine to work

The machine takes up a lot of room

The quality of images is bad

It may take a lot of time to send a fax

You can't check whether you received a fax in an instant on your phone

The machine may need troubleshooting or replacing over time
A Cell Phone vs. a Fax Machine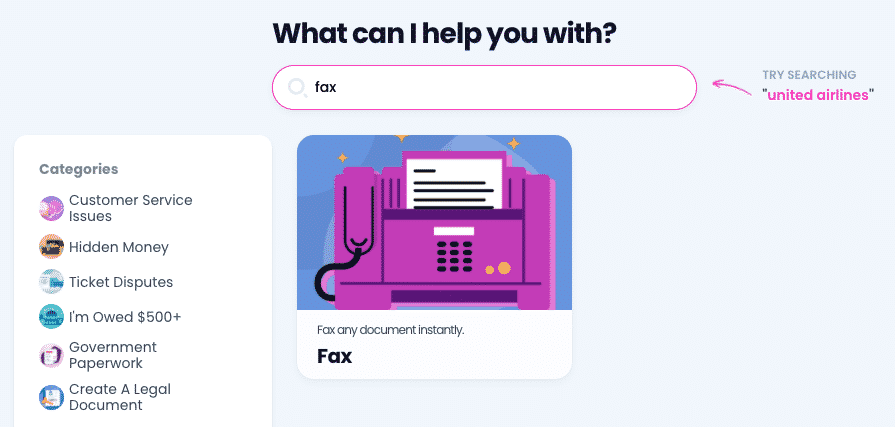 Emailing and file-sharing from your cell phone might seem like the easy option, and you may wonder why you need to fax something in the first place.
One of the reasons companies use fax machines and require clients or customers to send faxes is security. Bank, legal, or medical documents, for example, are of vital importance. Companies don't want to risk sharing them via email.
Many businesses don't accept emailed documents because they don't view them as official documents.
If you need to send or receive a fax but you don't want to spring for a fax machine, you can find ways to fax from your cell phone.
Can You Fax Using a Cell Phone?
A cell phone cannot work as a fax machine or a dial-up modem on its own. You need an online fax service or a fax app on your phone.
Googling "fax app" will list out numerous options, all claiming they're the best ones for you. Here's an overview of the most popular apps you can use to fax from your phone:
Fax Service
Pros
Cons

eFax

Available on a smartphone, computer, or tablet

Online storage

High prices

Additional charges when you go over your monthly setup

MetroFax

Useful for large files

Good fax quality

Outdated web interface

Complicated sign-up

HelloFax

Digital signatures supported

User-friendly software

No mobile app

Pricy plans
In case you're already using any of the fax services from the table and you're not satisfied, we can help you get rid of them in no time. You can use DoNotPay to cancel eFax, MetroFax, or HelloFax.
How Does Faxing From a Cell Phone Work?
Most fax services allow you to send and receive faxes on the website by creating an account. Your account would be like your email inbox, but only for faxes. Instead of typing in an email address you want to send something to, you should enter a fax number.
You can also download a mobile app, if the service has it, and fax from there.
The Benefits of Faxing From a Phone Using DoNotPay
Whether you want to send faxes often or use a fax service occasionally, the last thing you want is a costly subscription.
DoNotPay is the perfect tool for both the occasional faxer and the regular one. You can choose how to use our app:
Have a permanent monthly

fax number

—send faxes at any time

Choose a temporary fax number—send faxes in the first 30 minutes before the number expires
We combined the best traits of online fax services and ditched the drawbacks.
Our many perks include:
Easy-to-follow steps

Fast upload of files for faxing

Automatic faxing from your phone or computer

Instant faxing with the snap of a photo of checks or bills

Successful sending of 100 pages per month

Nifty email integration
How Can I Send a Fax From My Phone With DoNotPay?
DoNotPay is all about fast-tracking convoluted processes. All you have to do is:
Open DoNotPay in any

web browser

Type in

Fax

in the search bar

Select

Send a Fax

Upload a file or take a photo

Enter the receiving fax number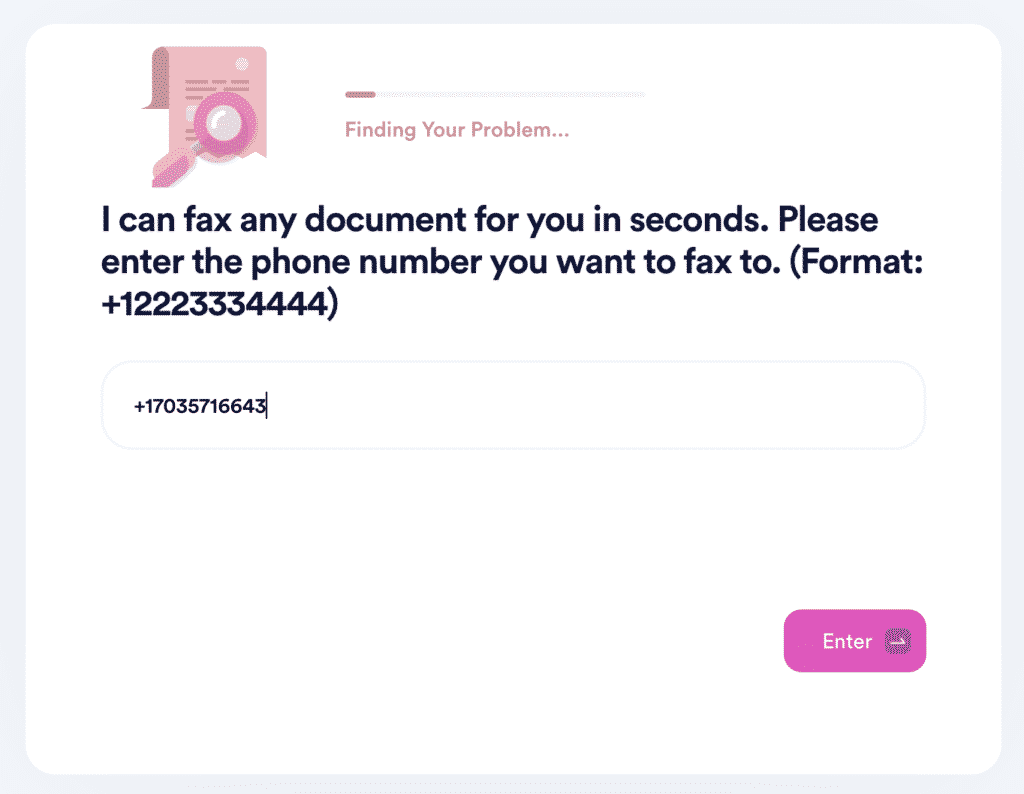 Our app will send a fax on your behalf straight away. You will receive a confirmation as soon as we send the fax.
Tired of Companies Not Taking You Seriously? Use DoNotPay To Put a Stop to It
If you're sick of companies that violate your consumer rights, DoNotPay is here to help. If you're struggling with reporting robocalls, requesting a refund, claiming any type of warranty, scheduling a DMV appointment, reporting spam text messages, or anything else, our robot lawyer will help you sue any firm or individual in small claims court.
With DoNotPay, you can also sign up for any free trial, cancel any subscription, avoid getting charged after your free trials end, and much more!
Want Your Money Back? DoNotPay Is Here To Help
Are you looking for your missing money? Do you want to get a refund for a delayed or canceled flight? Are you trying to flip the script on illegal robocalls and earn money off them? DoNotPay will assist you in dealing with any of these pesky issues!
We can also help you bypass phone number verification, sign up for clinical trials stress-free, ace any government test in a jiffy, and block spam emails for good.