Easy Ways To Fax Without a Phone Line

Sending faxes has been done over a phone line for years—that's the faxing process we are all used to. Considering that fewer and fewer people have landlines, you may be looking for a way to send your fax using a different method.
With DoNotPay, you can send faxes without a phone line effortlessly and get familiar with numerous other fax services!
The Common Issues With Fax Machines and How To Avoid Them
Using a fax machine can be problematic in numerous ways. It can cause poor image quality, communication errors, illegible printing, and paper jams. The good news is that all of that can be avoided by online faxing!
Online faxing can save you a lot of time and money and offer countless other benefits. You will not have to stress about sending and receiving faxes, and you will even be able to do it from your mobile device or computer.
DoNotPay presents a feature that makes online faxing a piece of cake!
How Does Online Fax Without Landline Works?
Operating a fax machine is especially troublesome for newer generations because they are not used to it, and the internet is their playground. But more than that, using a fax machine is unnecessary and inconvenient when there are so many easier options.
Using fax machines is also environmentally unfriendly—the excessive power consumption and paper waste lead to issues that we should work on avoiding.
Online faxing offers you the convenience of faxing from any location and at any time. You will not have a fax machine or a landline at hand whenever you need to fax a document, so faxing online is always the most suitable option.
Wondering How To Fax From a Computer Without a Phone Line? Use DoNotPay!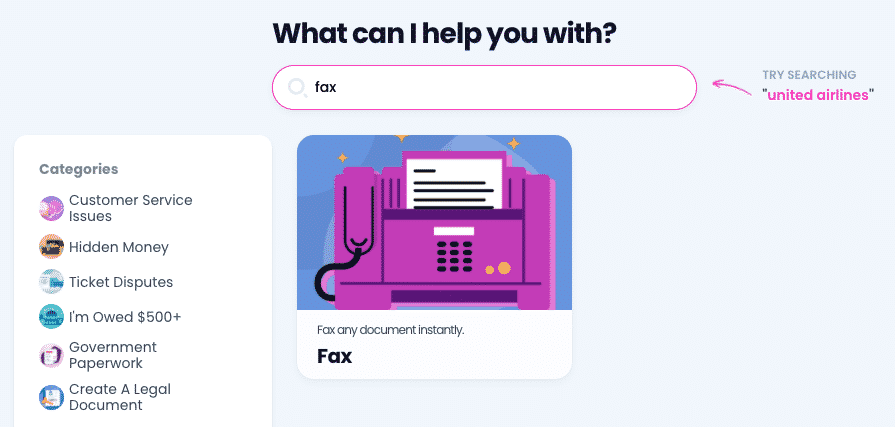 Are you unsure of how you can send a fax without using a landline, and you don't know what the best faxing option is? DoNotPay is your fastest and most convenient solution for sending faxes online. 
It does not have to be a complicated and annoying process, so choose wisely and go for a simpler option. With our app, you can learn how to fax in only a few minutes, stress-free!
If you opt for DoNotPay's Fax product feature, you will be getting these benefits:
| | |
| --- | --- |
| Benefits | Covers |
| | ✓ |
| The option to fax instantly with the snap of a photo (or upload files normally) | ✓ |
| Easy email integration so you can view your faxes straight from your email | ✓ |
| Sending 100 pages per month | ✓ |
Use DoNotPay To Fax Without a Landline
Faxing with DoNotPay is a piece of cake! You don't have to get lost in the complicated process of operating a fax machine—we will help you send a fax in a few super-easy steps!
This is how it works:
Go to DoNotPay from your

web browser

Select the

Fax product

feature and choose to send a fax

Upload a photo or document you want to send

Provide the receiving

fax number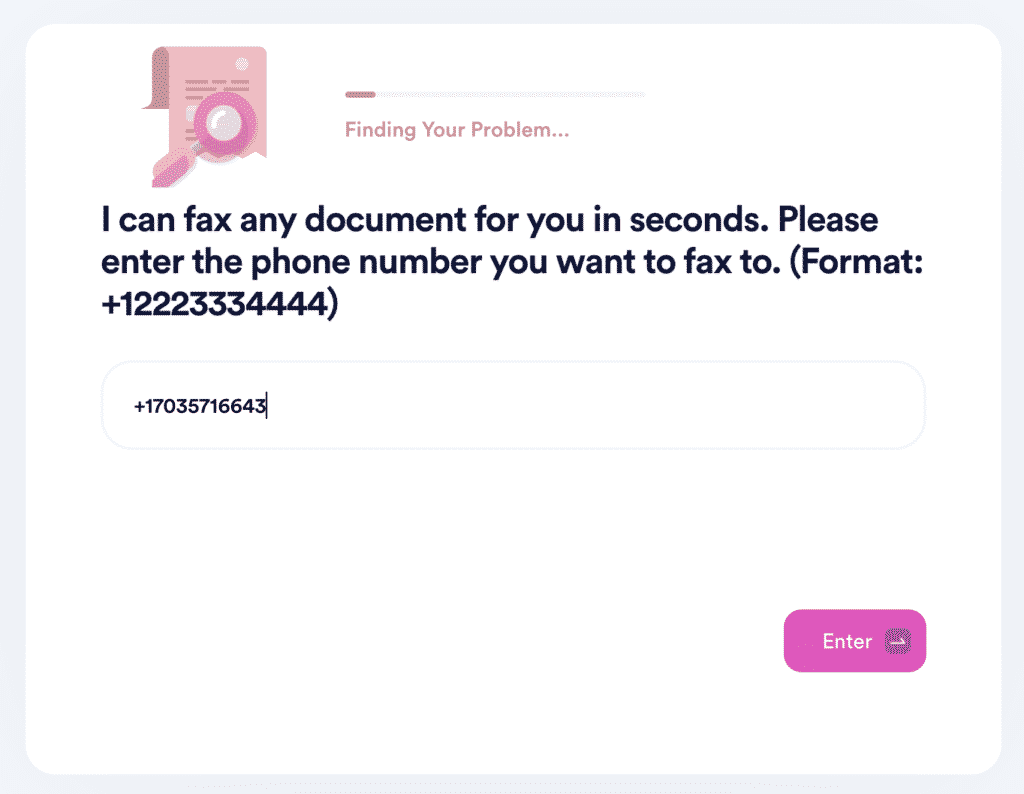 DoNotPay will send you a confirmation once your file is successfully sent.
Ways To Send a Fax by Yourself
In case you want to send a fax using a different method, you can use some of the mobile fax apps available online. Using mobile fax apps can be quite problematic and inconvenient. They are often pricey and difficult to navigate. Another downside of using online fax apps is that they are full of ads.
How To Fax a Document With an App
You can use numerous apps to fax your documents, but most of them are not cheap. You will be able to send a couple of faxes for free, but almost all the apps will ask you to pay for their service once that free trial period ends. If you want to send more than a handful of files or documents, using fax apps is not the best solution.
DoNotPay can help you test the fax number, receive free fax, send faxes from Mac, iPhone, Outlook, Verizon, and Windows 10, as well as send free fax online with no credit card or to Gmail, show you how to fax with Skype, and so much more!
Get Back at Greedy Corporations With DoNotPay
How many times have you tried reaching out to an airline regarding your canceled flight? Did you ever spend hours trying to contact customer service reps only to be refused your refund request?
Big companies tend to make certain processes complicated for their customer in hopes they would give up on pursuing their goals.
This is why your warranty claims often get denied the first time or why canceling a gym membership can be an administrative hell.
Our AI-powered app is here to help you sort these problems out. 
Whether you're trying to file an insurance claim, schedule your driving test, start a free trial without disclosing your payment info or a phone number, or get access to public records, we've got you covered.
DoNotPay Is the Virtual Assistant You Need
DoNotPay is the first robot lawyer in the world created to simplify complex tasks. We can help you with anything from appealing your parking citations to filing lawsuits in small claims court.
In case you need to save up some money, our app will show you how to get an extension on your bill payments, sign up for paid clinical trials, or avoid paying your college application fees.
DoNotPay can also report robocallers, text spammers, and email phishing attempts, and real-life stalkers with a few clicks.