How To Send Files From Your Computer Using Different Fax Software Solutions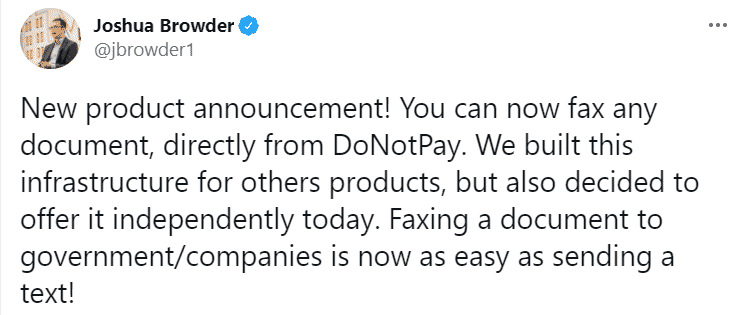 In these times, it would be strange not to use all the tech advantages we're offered. One of the handy novelties is that people don't need to use a fax machine to fax documents any longer.
You can use different fax software options to send paperwork to your business partners from a computer or phone in no time.
Sending various documents securely is of the essence, and different fax services and apps provide such a service.
What Is Fax Software?
Fax software offers you a way to fax docs using a computer, mobile app, or email.
Fax machines are obsolete and outdated. You don't need one if you have fax software transforming your computer into a fax machine in the blink of an eye.
Unlike emails, fax software ensures documents are sent to a fax number, not an email address. This is what makes the whole process more secure than emailing the files in the attachment.
If you already have a fax number, you can transfer it to the fax software you'll start using.
A proper fax solution should:
Enable you to send and receive faxes from your computer, cell phone, or the email account

Provide a document editing and signature feature

Offer a fax number and email integration
Fax machines might be a thing of the past, but faxing isn't. Lots of people are turning to fax software solutions allowing them to send and receive electronic files without jeopardizing data security.
Why Do You Need Faxing Software?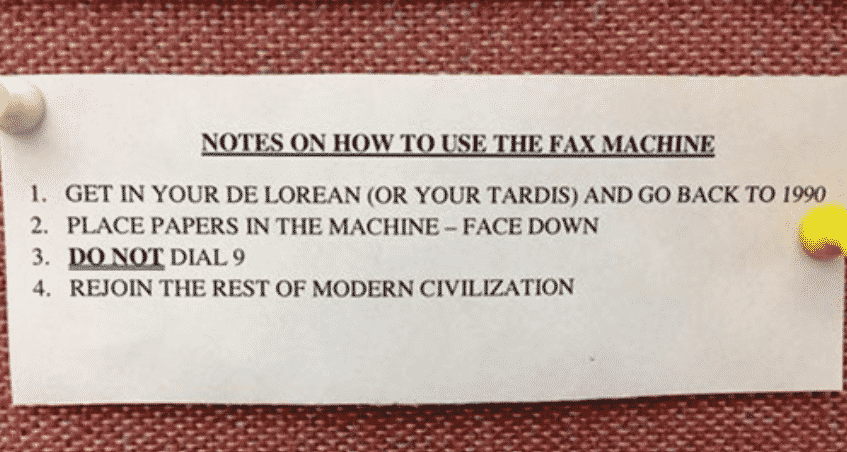 Being able to send faxes from your computer or phone saves time and money you'd need to invest in:
A printer

A fax machine

Ink

Sufficient amounts of paper

Maintenance of the machine
Apart from being time- and cost-effective, it's also quite convenient. We spend lots of time in front of a computer, so it's easier to make a few additional clicks to send or receive fax than to stand up, turn on the machine, insert paper, and wait in front of the machine if the fax line is busy. Computer fax software deals with a busy-fax-line nuisance for you.
Let's see how much paper you'd need to use to send a file via a fax machine. You print out a document before you send it, but it must be printed out again on the receiving end.
Good fax software solutions, such as , enable you to create, edit, and e-sign a document without having to print it out first.
You don't always have access to a printer or a fax machine, and sometimes you need to fax something urgently. DoNotPay offers a handy way to send files via fax using nothing more but your laptop or phone.
Use DoNotPay's Fax Software To Send Documents Smoothly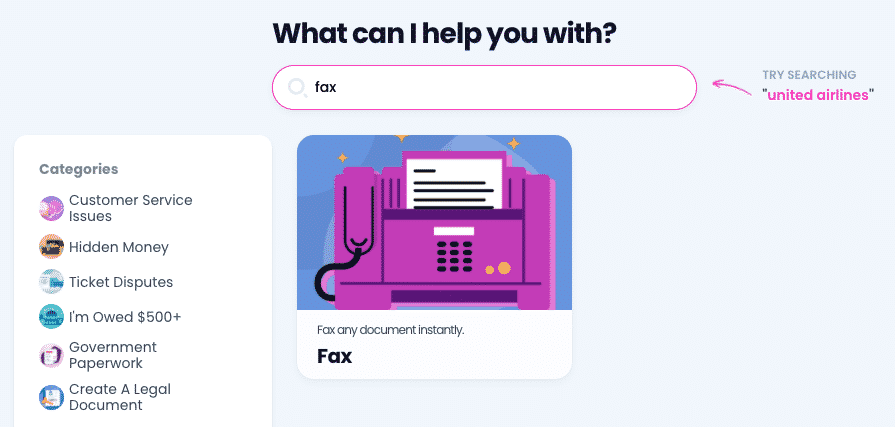 Knowing how important it is to ensure your confidential documents don't fall into the wrong hands, DoNotPay has designed a secure and easy-to-use fax product.
Here's why you should opt for DoNotPay for fax-related issues:
DoNotPay Fax Product Offers a Way To
DoNotPay Shows You How To Fax Using

Send 100 pages every month

Automatically fax from your laptop or cell phone

Quickly fax with the snap of a photo

Upload necessary files from your PC, phone, or cloud

Review faxes from your email
We offer information on plenty of fax alternatives you can use for file exchange between you and your business partners, friends, or any other recipients.
With DoNotPay, you can both send all your paperwork securely. Send any contracts to your lawyer, and don't worry whether someone might get a hold of your confidential information.
Send Your Files via DoNotPay's Fax Product
Stop fretting over busy lines, whether there's enough paper in your fax machine or if the file has been sent. Our app sends you a confirmation for each sent file.
You should only open DoNotPay in a and follow these steps:
Go to the DoNotPay

Fax

feature

Indicate that you'd like to send a fax

Take or upload a photo

Enter the receiving fax number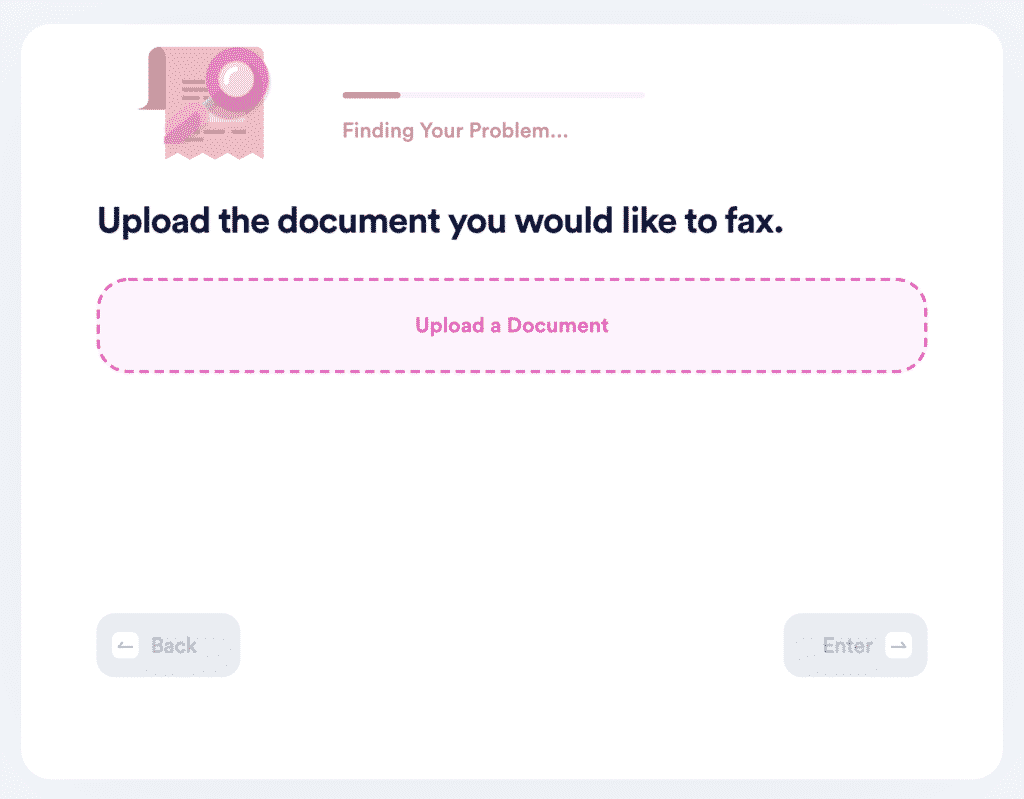 You're but a few clicks away from faxing whatever you need, and you'll get a confirmation each time.
Use Fax Online Software

Online faxing services are becoming the easiest way to send documents securely. Not only do these services save money, but also the nerves you would need to set up and maintain a fax machine.
Most fax internet software solutions offer an online fax form you should fill out by providing the following information:
Your name

The name of your company

Email

Phone number
Besides your contact data, you should enter the recipient's name, company's name, and fax number. You need to attach the file you are sending and, optionally, type in a cover message.
Some online faxing services might ask you to enter a suggested code to confirm you are human.
Unlike most free fax software, DoNotPay will fax your files without putting a brand logo or ads on the cover page.
Clear Out Your Daily Tasks Fast With DoNotPay
Are your parking tickets piling up, but the process of appealing them is way too complicated? Do you struggle to pay your bills but are not sure how to get an extension? Is it time to extend your driver's license, but reaching DMV is a nightmare?
DoNotPay will turn all of these dreadful tasks into easy-to-do items you can check off your agenda quickly!
Get rid of spam emails, texts, and calls quickly using our AI-powered app!
Learn how to secure compensation from airlines, get your college fees waived, claim your lost funds, or reduce your property tax—all with a few clicks!
Subscription Issues? DoNotPay Can Help!
If you are looking to test out a service, think twice before disclosing your payment info. Companies will often ask you for your credit card details even when signing up for a free trial—they charge you once the trial expires.
Use our virtual credit card, and don't worry about unwanted charges!
Our credit card gets automatically approved for any free trial, but it rejects any real charges since there is no money on it.
DoNotPay will locate and cancel all your unwanted subscriptions without you having to deal with customer service reps.
We can also help you request refunds from companies or take them to small claims court if they refuse to cooperate.