Can You Send a Fax Over Wi-Fi?

You may be asking, "can you send a fax over Wi-Fi" if you've never used a fax machine, or you need to send a fax to someone who doesn't have one. While the physical fax machine has become a Yeti, fax services have adapted, and we no longer need a fax machine or a phone line to fax—only the internet.
We'll show you how to fax over Wi-Fi, answer any questions you may have, and suggest the best solution.
How Can You Fax Through Wi-Fi?
Fax services operate using Wi-Fi and don't require a phone line like the obsolete fax machine does. If you have access to Wi-Fi, all you have to do is choose a fax service.
You can online fax in different ways depending on the provider, but typically, faxing via some of these methods is available:
Fax web app (your account on the provider's website)
How Can You Fax Wirelessly via Email?
If a fax service has an option to fax via email, you have to enter a fax number the service created for you instead of an email address and add the provider's name after the @ sign. Your email's subject and body will become the fax cover sheet, and the attachments will be the main body of your fax.
Faxing From the Fax Service Website
To send and receive faxes online, you need to create an account with your chosen fax service provider. Most fax services use an interface similar to email, so it's easy to navigate. Sending a fax is similar to sending an email. You can type out a message and attach the documents you want to fax. You can also check your received faxes in your inbox on the website.
Faxing From a Mobile App
Using a fax app to fax from your phone is similar to faxing from the website. Faxing from a mobile app lets you take a photo of a document and send it right away without the need to scan it and upload it separately.
Can I Fax Over Wi-Fi Using DoNotPay?
You have a lot of fax services to choose from, but they all pale in comparison to . Some fax services don't have a mobile app, and many of them also have an outdated web interface.
What most of them have in common are their steep prices. Even if you plan on faxing regularly, you shouldn't have to spend so much money—from $10 to $50 a month—on a fax service subscription.
DoNotPay is your best choice of an online fax service in terms of convenience and affordability.
Our Fax feature also includes the following benefits:
Taking a photo and faxing it quickly

Uploading files for faxing with ease

Faxing from your phone, tablet, or personal computer

Sending 100 pages a month

Using our

Legal Documents

feature combined with the

Fax feature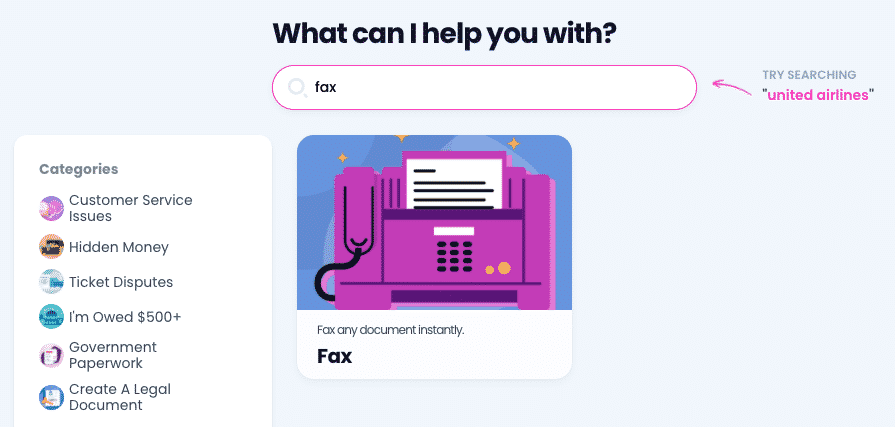 Secure faxing is of utmost importance if you need to send any contracts or agreements. This is why we have integrated the Legal Documents and the Fax features.
Here's how to use them:
Find the document you want to create by typing in the search bar (e.g., a

prenuptial agreement

or a residential

lease agreement

)

Generate the agreement with DoNotPay's assistance

E-sign it if you wish

Fax it
Send Faxes With the Help of DoNotPay
To send faxes using DoNotPay, follow these instructions:
Access our app in any

Enter

Fax

in the search bar

Choose

Send a Fax

Upload a file or snap a photo

Type in the receiving fax number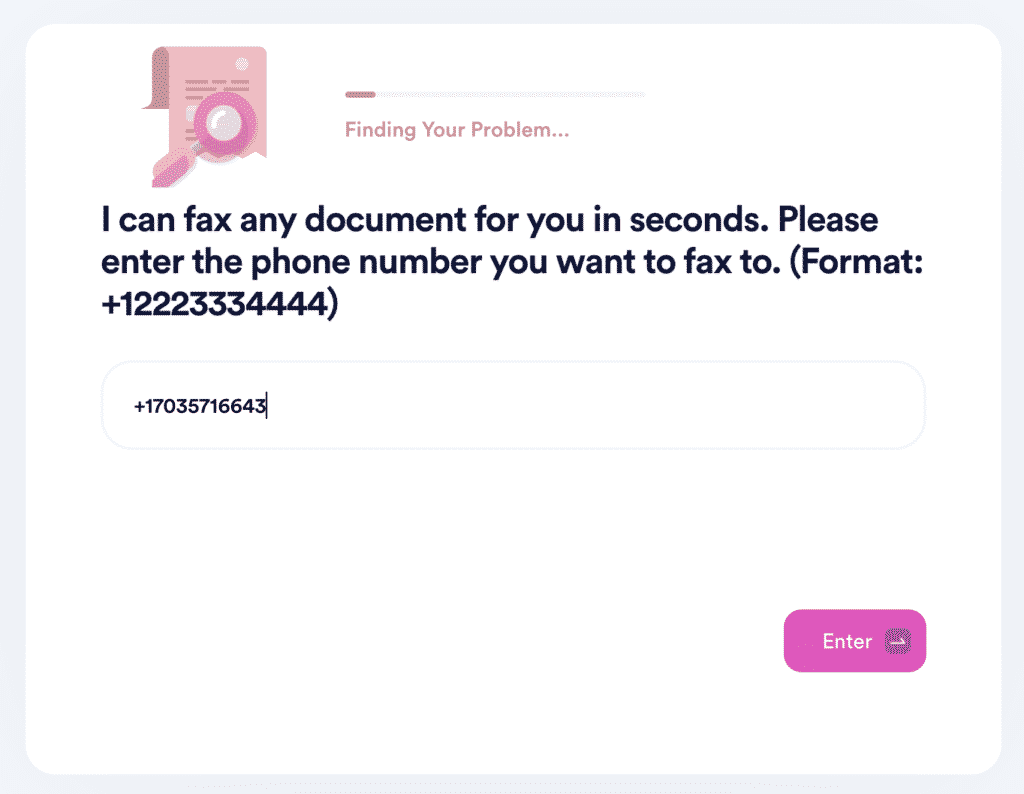 DoNotPay will fax your message and/or file immediately. We will notify you as soon as we send the fax.
How Else Can I Fax Without a Fax Machine?
Another method of faxing is using Windows 10 Fax and Scan program. For this option, you will need:
Computer with Windows 10

Landline phone line

Modem or fax board
The Windows 10 Fax and Scan doesn't use the internet to send and receive faxes. It relies on the phone connection.
Here's how to use this program:
Sending Faxes
Receiving Faxes

Type in

Windows Fax and Scan

in the search bar next to the

Start Menu

Select

New Fax

from the toolbar

Create your fax

Enter a fax number

Tap on

Send

Receive faxes automatically:

Open the

Windows Fax and Scan

program

Hit

Tools

Tap on

Fax Settings

Click on the

General

tab

Choose the

Allow Device To Receive Fax Calls

option under

Send/Receive Options

Choose

Automatically Answer After (number) Rings

Click

Ok

Manually receive faxes:

Activate

Windows Fax and Scan

Click on the

Fax

option

Tap on

Receive a Fax Now

Wait for your computer to receive the fax once your phone rings
Tired of Companies Not Taking You Seriously? Use DoNotPay To Put a Stop to It
If you're sick of companies that violate your consumer rights, DoNotPay is here to help. If you're struggling with reporting robocalls, requesting a refund, claiming any type of warranty, scheduling a DMV appointment, reporting spam text messages, or anything else, our robot lawyer will help you sue any firm or individual in small claims court.
With DoNotPay, you can also sign up for any free trial, cancel any subscription, avoid getting charged after your free trials end, and much more!
Want Your Money Back? DoNotPay Is Here To Help
Are you looking for your missing money? Do you want to get a refund for a delayed or canceled flight? Are you trying to flip the script on illegal robocalls and earn money off them? DoNotPay will assist you in dealing with any of these pesky issues!
We can also help you bypass phone number verification, sign up for clinical trials stress-free, ace any government test in a jiffy, and block spam emails for good.