Can You Fax at the Public Library?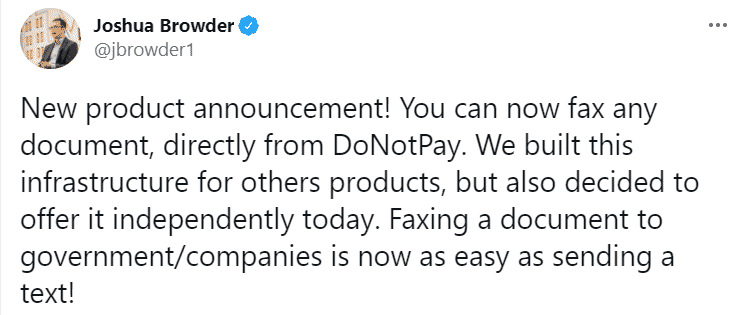 Even with emailing and messaging via numerous social networks, sometimes you have to send a document via fax. If you don't need to fax often, you probably don't want to spring for a fax machine that will later gather dust.
If you're wondering whether you can fax at a public library, we've got the answer! We'll also give you the scoop on different public places where you can fax and show you how to fax from your own home without a fax machine or a phone line.
Do Public Libraries Have Fax Machines?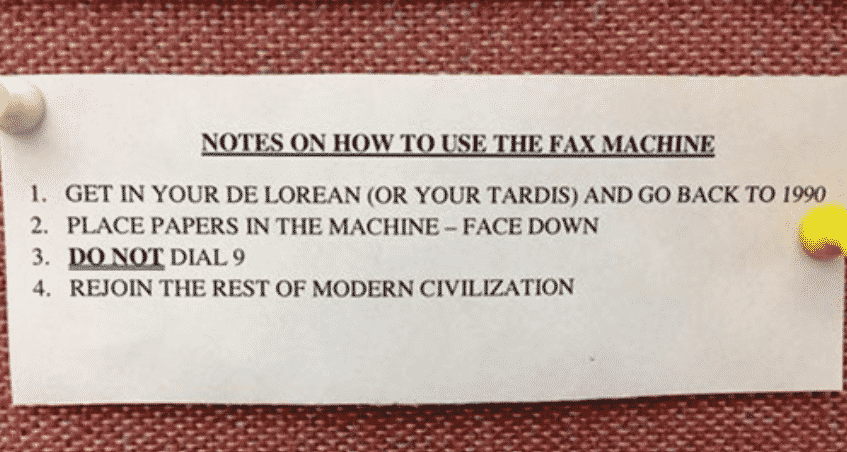 Public libraries typically have fax machines, but they don't always extend fax services to the public. You can check with your local library whether it has a fax machine for staff use only or it also allows customers to use it.
In case the public library offers fax services, you should ask about the details because not every library is the same.
How Do I Use the Public Library Fax Machine?
Usually, you can only send faxes at a library and not receive them. Sending faxes is allowed to local and toll-free numbers only. Some libraries have employees fax for you, while others offer self-service for customers.
If you don't have a hard copy of the document you wish to send, you may be able to scan or print it out at the library.
As for pricing, you usually have to pay between $0.25 and $1 per faxed page. Some public libraries offer free faxing.
If it's your first time using a fax machine, feel free to ask an employee to give you a hand or fax your document for you. Here's how to fax from a fax machine:
Check whether it's plugged in and turned on

T

urn the confirmation page setting on, set up a fax heading, and choose the receiver mode

Prepare your documents in the order you want them to be received

Place the documents face-up in the feeder tray

Enter the recipient's fax number

Press the button that says

Fax

or

Send

Check the confirmation message on the screen
Where Else Can I Fax Besides at the Library?
Many places, such as office supply stores, let people send and, sometimes, receive faxes. Check out an overview of different places where you can fax in the table below. Some details may vary depending on your location.
Place
Price

$1.79 to send one-page local fax and $1.59 per page for additional pages

$2.39 to send one-page long-distance fax and $2.19 per page for additional ones

$1 for a received fax

$2 for a one-page local fax ($1 per additional page)

$2 to for a one-page long-distance fax ($1 per additional page)

$1 to $2 to send a one-page local fax ($1.50 per additional page)

$2.50 to send a one-page long-distance fax ($2 to $3 per additional page)

$1.89 to fax one page locally ($1.59 for each additional page)

$2.49 to fax one page nationally ($2.19 for each additional page)
Some other places you can visit and ask about their faxing services are:
Banks

Hotels

Grocery stores

Travel agencies

AAA travel and auto clubs (if you're a member, you might fax there for free)
Forget the Library Fax Services—Online Faxing Is Better
To fax over Wi-Fi, you don't need a fax machine or a phone line. Another perk of faxing online is that you can do it from any device. All you have to do is:
Sign up for an online

faxing service

Obtain a

fax number

Start faxing
No Library Fax Machine Necessary When You Use DoNotPay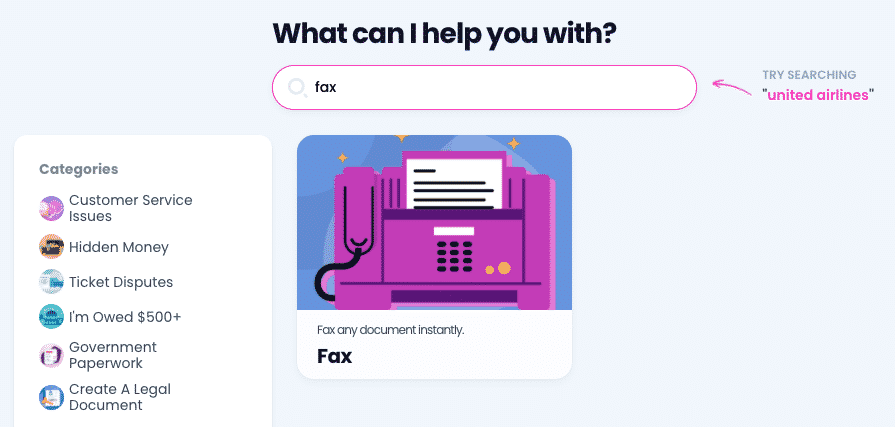 Why leave the house to fax when you can do it sitting in a chair from your phone, tablet, or laptop? Although around $1 per faxed page at the library seems cheap, it's really not if you have to send faxes regularly.
Compared to other fax apps on the market, DoNotPay is by far the most affordable option, and it provides excellent faxing service. We offer 100 pages you can send via our Fax feature. If you don't have time to upload a file, you can snap a photo and fax it instantly.
What's more, our Fax feature is integrated with our Legal Documents feature so that you can easily:
Generate an agreement or contract

E-sign it

Fax it to the other party
Send Faxes Using DoNotPay
Here's how to send faxes once you access our app from a web browser:
Type in

Fax

Select the

Send a Fax

option

Upload a file or take a photo of the document you want to send

Enter the receiving fax number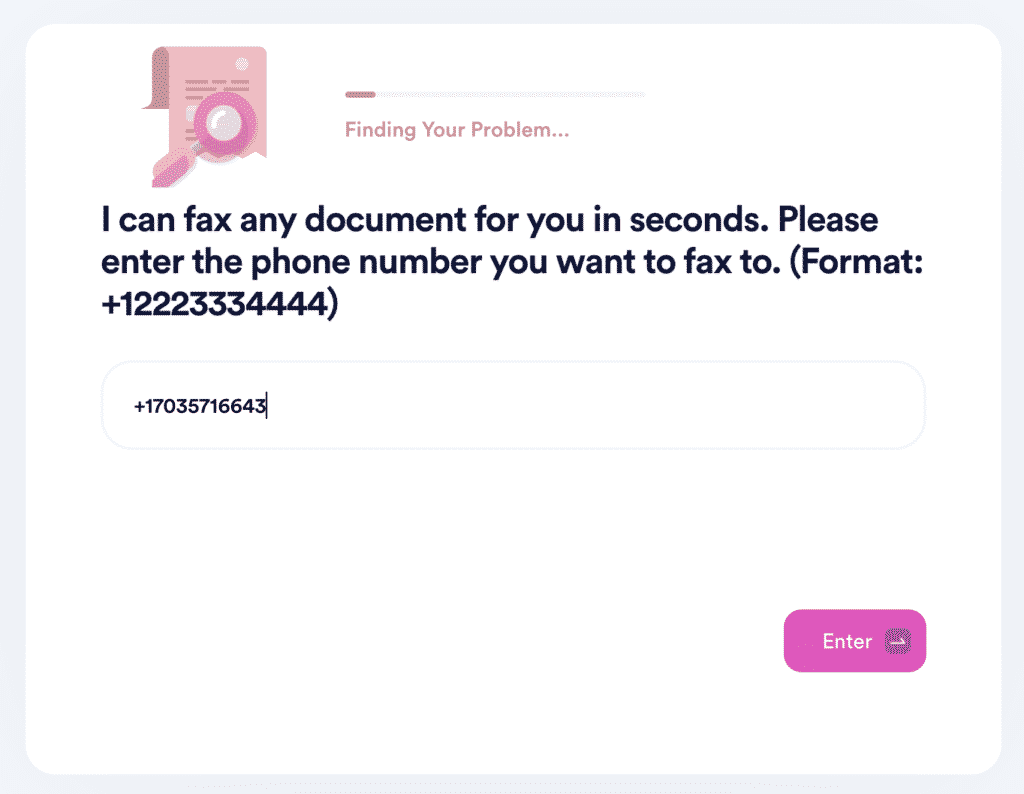 DoNotPay will send your fax on the spot. You'll get a notification once the fax is delivered.
Use Our Robot Lawyer To Eliminate Pesky Tasks
Administrative tasks are often time-consuming, which is why many people give up on them before even trying to tackle them. Requesting refunds, canceling services, signing up for clinical trials, reporting stalkers and robocalls, and trying to find unclaimed money are all processes that would usually take a long time to resolve.
With the help of DoNotPay, though, all of these admin hurdles become a piece of cake. In just a few minutes, our app can assist you in appealing parking tickets, getting in touch with your imprisoned loved one, getting an extended warranty, reporting copyright infringement, and so much more!
Don't Break the Bank—Sign Up for DoNotPay!
Our app can save you lots of money by helping you get a refund from any airline, sign up for a free trial without your credit card info, earn off persistent and illegal spam emails, and get an application fee waiver for a college you apply to.
With DoNotPay, you can even schedule a DMV appointment or jump the phone queue when getting in touch with a customer service representative without breaking a sweat!