Send Faxes Using the Google Fax Service
It may seem like faxing is not a common method for sending documents today, but some companies still use it. Emails are easily interceptable and unreliable, so if you are sending sensitive documentation, faxing is the way to go.
The days of using a phone line to fax are behind us! Luckily, there are many Google fax services available to make the job easier. Stick with DoNotPay and learn how to fax easily and what the best online faxing methods are!
What Does Google Fax Service Entail?
One of the perks of faxing your documents online is not having to deal with the fax machine. Fax machines are unsafe, impractical, and expensive to maintain.
You can avoid complications by faxing from your computer via the online fax service of your choice. If you are always on the go, online faxing works from iPhones and Android phones as well.
An online fax service converts your faxes into digital documents. The web-based company that you choose can integrate with your email and send the documents straight to your inbox.
How To Send Fax From Gmail
Sending a fax online is not difficult. It requires you to have a Gmail account and a Google fax number. The rest of the process is straightforward:
Sign up for a Gmail account, provided you don't have one already

Select a

fax app

Log into your Gmail account

Select

Compose Email

option

Type the fax number in the required field

—make sure to add a fax company extension

Enter a cover page message—add information such as your name, address, and fax and phone number

Attach the document to the body of your email

Click

Send
What Is a Google Fax Number?
Google fax number is an online number that automatically forwards all the faxes you receive directly to your inbox. Google numbers are convenient because they don't require any physical setup before you start using them.
Google doesn't assign fax numbers. You can obtain one from the online fax service you decide to use.
Once the fax number is activated, it will deliver your faxes automatically. You will also receive notifications of the upcoming transmission on your phone.
How To Get a Gmail Fax Number
Online fax companies integrate well with all email services, especially Gmail. When you choose an online fax provider, getting a Gmail fax number is a piece of cake. All you have to do is:
Choose an online fax company

Sign up and fill out the form

Select a local or a toll-free fax number

Connect the number to your Gmail account

Add email addresses from which you will be receiving your faxes
Is Choosing a Free Online Fax Service the Best Option?
Paying the online fax company to fax your documents may seem like a waste of money, especially if you don't fax often. If you are tempted to look for free solutions, have in mind that they come with limitations.
Take a look at the table below for reasons why free faxing is not the best choice:
Paid Online Fax Services
Free Fax Solutions

Allow you to fax and receive numerous documents

Provide notifications for incoming faxes

Guarantee a great document resolution

Deliver complete and reliable service

Allow you to send faxes to multiple numbers

Are often unreliable—some documents never come through

Allow you to fax a document per day

Have low document resolution

Withhold the cover page

Offer a limited choice of file formats
While opting for a free fax service is not the best solution, going for the most expensive company is equally unnecessary. The trick is to find quality service at an affordable price, which is why DoNotPay is the best solution!
Use DoNotPay To Send a Fax Online
provides the easiest and most affordable method of faxing your documents. There is no need to go with overpriced web-companies for a service that you will not be using every day.
By choosing our app, you will be able to:
Fax from any digital device

View faxes from your email

Send or receive 100 pages per month

Fax with the snap of a photo (or upload files normally)

Pay without using a scanner by snapping photos of checks and bills

Choose between a permanent monthly subscription or a temporary fax number

Take advantage of our

legal documents feature

to create, sign, and send contracts from one place
How To Fax a Document Online With DoNotPay
With DoNotPay, faxing requires next to no effort. All you have to do is:
Access our app from your

Open the DoNotPay Fax feature

Upload or snap a photo

Enter the receiving fax number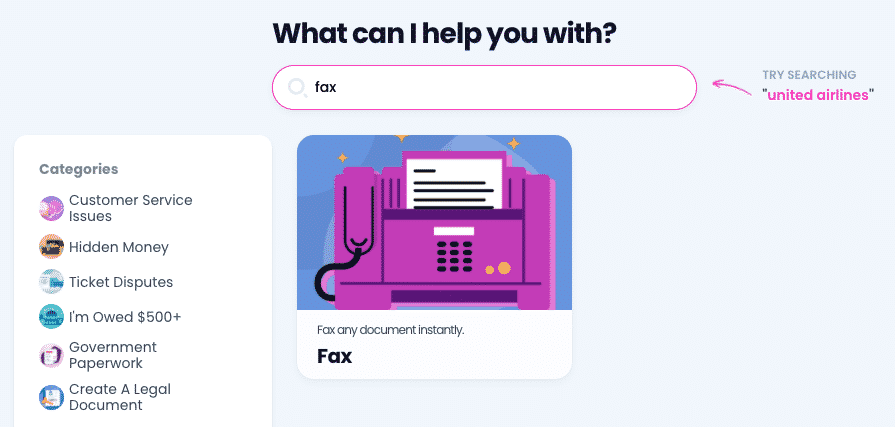 They only thing left to do is wait for the DoNotPay's confirmation that the file is on its way!
Forget About Bureaucracy With DoNotPay
There's no end to what our app can help you do. From drafting legal documents and asking for bill extensions and reducing property taxes to connecting with an inmate in a federal prison and contesting parking citations, DoNotPay can handle it all and cut through the red tape.
Need to pass a government test? Use our practice tests database to nail it. Looking to file an insurance claim? You've come to the right place. College applications drained your accounts? Request college fee waivers with our assistance.
The DoNotPay app is so versatile that it can easily locate any unclaimed funds under your name or any clinical trials that you're eligible to participate in. We can also schedule DMV appointments and take care of your small claims court documents.
Check Out What Else DoNotPay Has in Store
DoNotPay never stops upping the game. You can explore some of our latest features and see how you can access public records, receive free online fax, submit a warranty claim, or get compensation if you were a victim of a crime.
Alternatively, check out some of our most popular products that aim to reclaim your funds—from getting airline flight compensation and submitting refund and chargeback claims to canceling your unused subscriptions and getting class action cash from email, text, and robocall scammers.