Google Docs Fax—Is It Possible To Fax From Google Docs?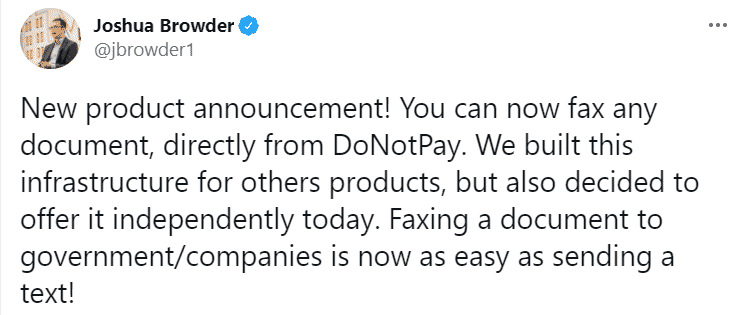 When it comes to faxing, there are several different methods you can use, one of which is Google Docs. While you can learn how to fax using Google Docs, we will provide you with a simpler solution for faxing—DoNotPay.
How To Fax From Google Docs
Google Docs is a useful online tool for creating documents. There is also a way to send those files via fax. This is not a simple solution because you cannot use Google Docs on its own to fax—you'll need an email address or a third-party plugin.
Here is how it works:
How To Fax From Google Docs Using Gmail
How To Fax ​Using a Google ​Drive Fax Add-On

Log in to your Gmail account

Compose a new message

​Type in the ​recipient​ fax machine's number in the

TO

section

Enter

@ ​

and the domain value specified by your fax service after the number (111111111@faxdomain.com, for example)

Find and select the docs you want to fax on your

Google Drive

Attach the files

Click on the

Insert Files Using Drive

button

​Select

Send

Install an add-on

Accept the authorization to access your Google account

Open a document in Google Docs

Select

Add-Ons

from the

Top Menu

Choose the service you installed

Fill out the form with the recipient's details

Send the fax
This way of faxing comes with a disadvantage—such fax services are usually paid per page or ​per fax, which can end up being pricey.
Use DoNotPay To Fax With Ease
If online faxing seems too complicated, don't worry. You don't have to trouble yourself with all the steps and requirements of other online fax services—use instead. Our app has made e-faxing as easy and fast as sending an email.
Here are all the benefits that come with using DoNotPay's Online Fax feature:
Faxing automatically from a

phone

or laptop

Sending as many as 100 pages a month

Choosing to fax with the snap of a photo or by uploading files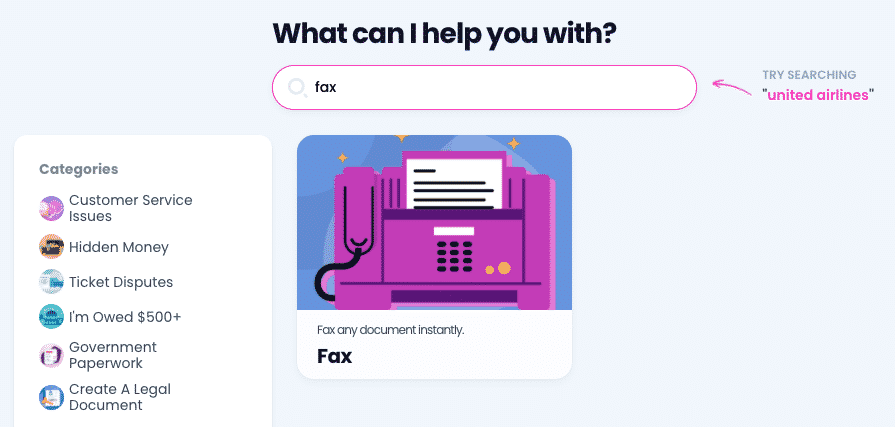 The Snap Photo feature and the integration with our Legal Documents product come with many perks. You can use the Snap Photo option to take photos of bills and checks and pay them without a scanner. The integration allows you to generate any document, e-sign it, and fax it to the address of your choice.
DoNotPay can tell you if faxing is secure and whether you can fax online one time. We also know where you can find fax cover letter examples. Find out if it is possible to fax with:
How To Send a Fax Using DoNotPay
Sending faxes with DoNotPay is a straightforward procedure. You only need to open our app in your and follow these directions:
Upload or snap a photo

Type in the fax number of the recipient

Wait for us to notify you that the file has been sent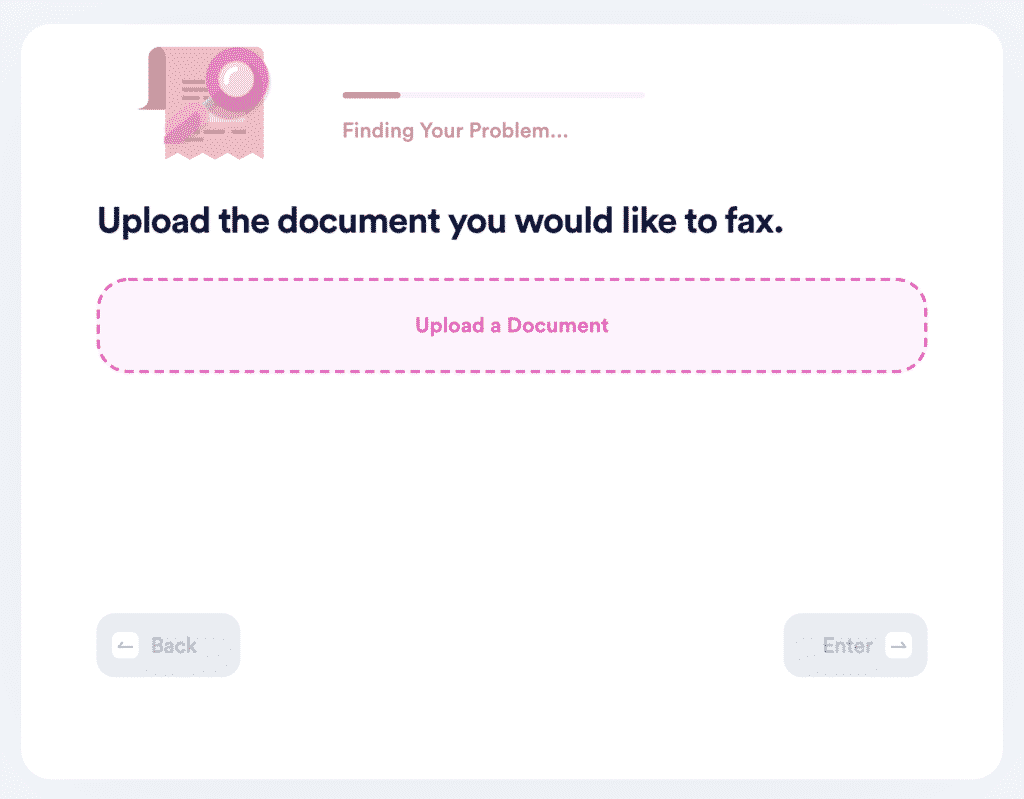 If you are wondering how you can get a fax number, you can count on DoNotPay for an answer. We can tell you how to send a fax over Wi-Fi and how fax software works. Your virtual assistant also has the answer to how long a fax takes to be sent.
What Are Your Other Options for Sending a Fax?
You can send a fax using other methods, but they are either expensive or complicated. Here are your choices:
Online fax apps
Fax Machines
What You Should Know About Faxing Using Fax Apps
If you want to send a fax using a fax app, you should be prepared to spend a lot of money on this service. Fax apps cost as much as $300 per year. Each app has its system of sending faxes, so you'll also need to take the time to find out how it works.
What You Should Know About Faxing Using Windows Fax and Scan
Windows Fax and Scan is another option for sending a fax. To use it, you'll need to connect your laptop or computer to a phone line. This service does not use the internet and is not as fast as online faxing. The procedure of faxing via Fax and Scan is also complicated because you need to have all the required parts, such as internal and external fax modems and a phone cord, and connect them on your own.
What You Should Know About Faxing Using Fax Machines
There are numerous reasons why you shouldn't use a fax machine to send faxes, but the most important one is that it is much slower than online faxing solutions. There are multiple faster and more reliable options available. Fax machines can't even use data encryption because it's not available on analog technology, making them less safe.
DoNotPay Is Your Pocket-Sized Treasurer
To pay or to DoNotPay—that is the question! Our nifty app finds money where you didn't even know you had it.
With our app, you can avoid college application fees, cancel unused subscriptions, explore free trials, and get out of paying for unfair parking tickets.
We can also help you with high bills by composing due date extension letters or reducing property taxes, just as we can locate missing money that you can reclaim in any state you've ever lived.
To top it all, we'll even assist you in requesting compensation from any airline—whether it is for poor in-flight Wi-Fi, a delayed, or a canceled flight.
Can't Find Your Head in All the Paperwork? DoNotPay Sorts It Out for You!
You no longer have to cash out on pricy legal advisors to do simple paperwork for you—our app can draft legal documents for you in a matter of minutes!
We can write small claims court scripts, dispute letters for chargebacks and refunds, personalized letters to connect with inmates, DMCA takedown notices for copyright protection, and cease and desist letters for stalking and harassment protection.
If you need to get a DMV appointment before taking a driving exam or any other government test, we're there to schedule it in your stead!