A Hassle-Free Way To Send a Fax Online One Time 
Faxing is not a thing of the past. Everybody needs to fax from time to time, especially when sensitive documents are involved. Fortunately, you don't have to use a fax machine—today's array of online fax services make the process much safer and easier. 
If you need to fax online one time, there are ways to do it without trouble. DoNotPay will teach you how to fax online regardless of how often you need this service. 
How Can You Send a Fax Online?
Most people don't have to fax regularly. When the situation calls for you to fax a document, you need to find a fast and simple solution. Today, online faxing services have replaced impractical fax machines. They offer numerous ways of faxing a document online, including:
Sending a fax via email

Downloading a mobile

fax app

Using an account on a web-based fax company's website 
To send a fax online, you generally need to subscribe to one of the faxing services and get an online fax number. 
You can send faxes by accessing the online faxing service's website or via an email, attaching the document you wish to fax, and entering the recipient's fax number in the required field. Your file is encrypted during the transfer and safely stored in the recipient's inbox upon receipt.
Can You Send a One-Time Fax for Free?
If you have to send a fax just one time, you may think that subscribing to an online fax service is a waste of time and money. Many online faxing companies offer a free trial that you can use to fax sporadically. They all require you to perform a few simple steps, and the general procedure looks like this:
Choose an online fax service

Sign up for the company's free account

Find a section called

Send a Fax

or something similar

Type in the recipient's

fax number

in the

To

field

Tap on the

Add Text

to type a short document description 

Click on

Add a File

button to attach the document

Click on

Send
Faxing a document via the company's free trial offer may sound practical, but it does involve risks. Most individuals who tried faxing for free via any online faxing service complained about the low resolution, failure to deliver all documents, and the restricted number of pages you can fax. 
If you want to ensure a quality service, you should skip faxing for free and consider other options.
Is There a Pay-as-You-Go Online Fax Service?
Another way to go is to use one of the pay-per-use faxing services. That option allows you to pay only for faxes that you send, instead of charging you a monthly fee. There are not many pay-as-you-go online fax services to choose from since that is not a profitable solution. 
Before you decide on one of the pay-per-use online fax providers, take a look at some of their pros and cons:
Pay-per-Use Online Fax Services

Pros

Cons

Affordable

Practical for occasional users

Simple to use

They are often unreliable

You can fax a small number of pages a day

You can use a limited number of features 

They have a low document resolution

You can send a limited number of file formats
It is difficult to assess which online fax company to use. Most of them offer a complete service only to monthly subscribers. Those that provide excellent quality are too pricey. If you want to avoid paying a hefty price but still have all the advantages of online faxing, turn to DoNotPay!
Why Choose DoNotPay's Online Fax Feature?
DoNotPay provides an online fax service that everybody can afford! You can send faxes and enjoy amazing perks at a low cost. It is safe to assume you will be sending more faxes in the future, so subscribing to our app is a smart and practical decision. Take a look at some of the benefits we offer:
Snapping and faxing a photo 

Uploading and faxing files with ease

Faxing from any digital device, including your PC,

Mac

, tablet,

iPhone

, or

Android phone

Sending as many as 100 pages a month

Taking photos of your checks and bills to avoid scanning
If you need to send confidential legal documents, we can make the process super easy. Our fax feature can integrate with the legal documents feature and enable you to create, sign, and fax a document from one place!
Send Faxes With DoNotPay
Faxing with DoNotPay goes like this :
Access our app from your

web browser

Locate our

Fax

feature

Select the

Send a Fax

option

Upload a document or snap a photo

Enter the receiving fax number in the required field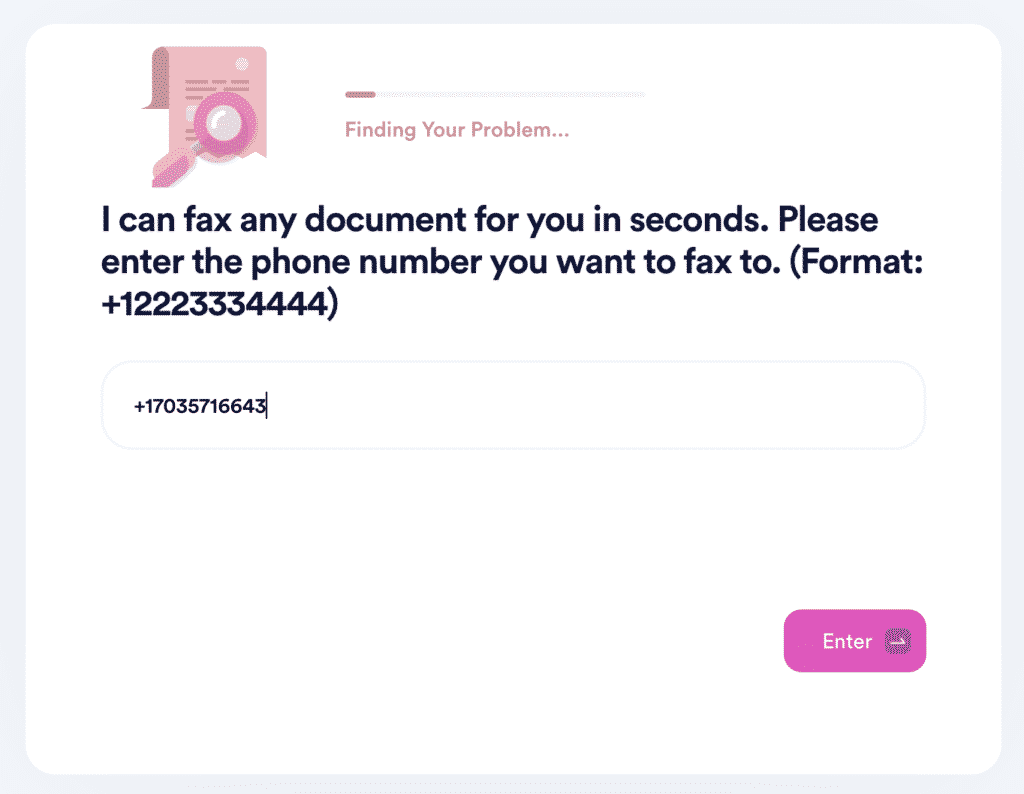 You will receive a notification from DoNotPay that the fax is on its way to the recipient!
DoNotPay Leads the Way Against Spammers
Browsing the internet has never been more popular than today, but you must not forget to keep your private and financial information safe. You know you can cancel any streaming service or magazine subscription easily, but that won't stop them from using your personal details for marketing purposes.
DoNotPay has a solution for that! 
Is a company pestering you with incessant robocalls, spam emails and text messages? Use our Virtual Credit Card to catch them in the act and claim compensation for your troubles. 
To prevent that from happening ever again, use our card to sign up for free trials—not only will you not pay a dime for the service, but you will be automatically unsubscribed as soon as the trials are up! 
If you want to avoid revealing your personal phone number, we'll generate a temporary burner phone for you so the company won't have any way to reach you.
Already Been Scammed? DoNotPay Knows the Way!
If you've already made the mistake and divulged your personal info to the wrong party or experienced any other kind of crime or injustice, you don't have to sit tight and suffer the consequences. DoNotPay can assist you in taking anyone to small claims court!
We'll help you gather evidence—correspondence proving stalking or harassment took place, customer service call recordings, denied chargeback and refund claims, online fax transcripts, or proof of copyright violation. Then, we'll fill out the relevant legal documents for you and draft a court script that you can use in your hearing.