Home Depot Return Declined—Reasons and Solutions
You bought a Home Depot item, weren't satisfied with it or changed your mind about it, and got declined when filing for a return? Not all is lost because the DoNotPay can help you return your item AND get a refund!
To help you understand why your Home Depot return was declined and prepare for future attempts, we'll go over some of the essentials and obscure parts of the company's return policy.
The Basics of Home Depot Return Policy
One of the common reasons why Home Depot returns get declined is because the items' designated return-by date is overdue.
You can return most unopened Home Depot items within 90 days of purchase. There
are certain exceptions to this rule.
Items that you can return within 30 days of purchase include:
Furniture
Area rugs
Gas-powered equipment
Generators
Consumer electronics
Make sure you understand which of these categories your item belongs to! If your return request got declined, the reason for that may be that you exceeded the 30-day return deadline—so be wary of this next time you plan on returning an item to Home Depot.
How To Return or Exchange Your Home Depot Item
Home Depot allows free returns or exchanges at any local store, not only the one you bought the item at!
It's enough to take your item back to any Home Depot retail location to get your money back or exchange it for another item.
To complete a successful return/exchange, you need to bring your:
Item receipt and/or a copy of the shipping information email
Credit card you bought the item with
Valid ID
If you try to conduct an in-store return but can't find the time during working hours, you can opt for the scheduled online return. In case you haven't tried this out already, the vendor will send a shipping label via email to all eligible online return requests.
You need to print and attach this label to the package you're returning and drop it off at your local UPS Access Point location.
Alternatively, you can also contact the Home Depot customer support representatives at 1-800-430-3376 to help you schedule your item return.
Returns can be:
Refunded in cash
Credited to your account using the original form of payment
Refunded via Home Depot store credit
How Many Times Can You Return an Item to Home Depot Without a Receipt?
If you are returning a Home Depot item without a receipt but with a valid ID, you can receive a store credit. There are no limits for returning items without a receipt.
More Potential Reasons Why Your Home Depot Return Is Declined
For some Home Depot items, the Terms and Conditions contain the clause that explains instances in which the item may be non-returnable. This applies to:
Major appliances
Hazardous materials
Plants
Major Appliance Returns
If you detect any damage or defects on major appliance products (refrigerators, dryers, washers, microwaves, etc.), you have 48 hours within the pick-up/delivery time to report the damage to Home Depot. Complaints after this time frame will not be accepted.
Hazardous Material Returns
Home Depot items that use flammable gases or liquids, such as lawn mowers and leaf blowers, cannot be returned through the mail. You can only return them to your local Home Depot store.
Plant Returns
You have three days to contact the Home Depot customer support in case you received damaged or dead trees, shrubs, and other plants. Return claims made after the three-day deadline will be declined.
What Home Depot Items Are Non-Returnable?
You may have tried to return a Home Depot item that is non-returnable, resulting in a declined return request.
Make sure you're not trying to return any of the following non-returnable and non-refundable items:
Major appliances after the initial 48 hours
Gift Cards and store credits
Whole house and stationary generators
Utility trailers
Cut flowers and floral arrangements
Labor, delivery, and/or installation services
Product samples (e.g., paint, flooring, fabric, and wallpaper)
Custom products
| Can You Initiate a Return With Home Depot Via | Yes/No |
| --- | --- |
| DoNotPay | Yes |
| Email | No |
| Phone | Yes |
| Mail | Yes |
| In person | Yes |
DoNotPay Takes Care of All Your Return Requests!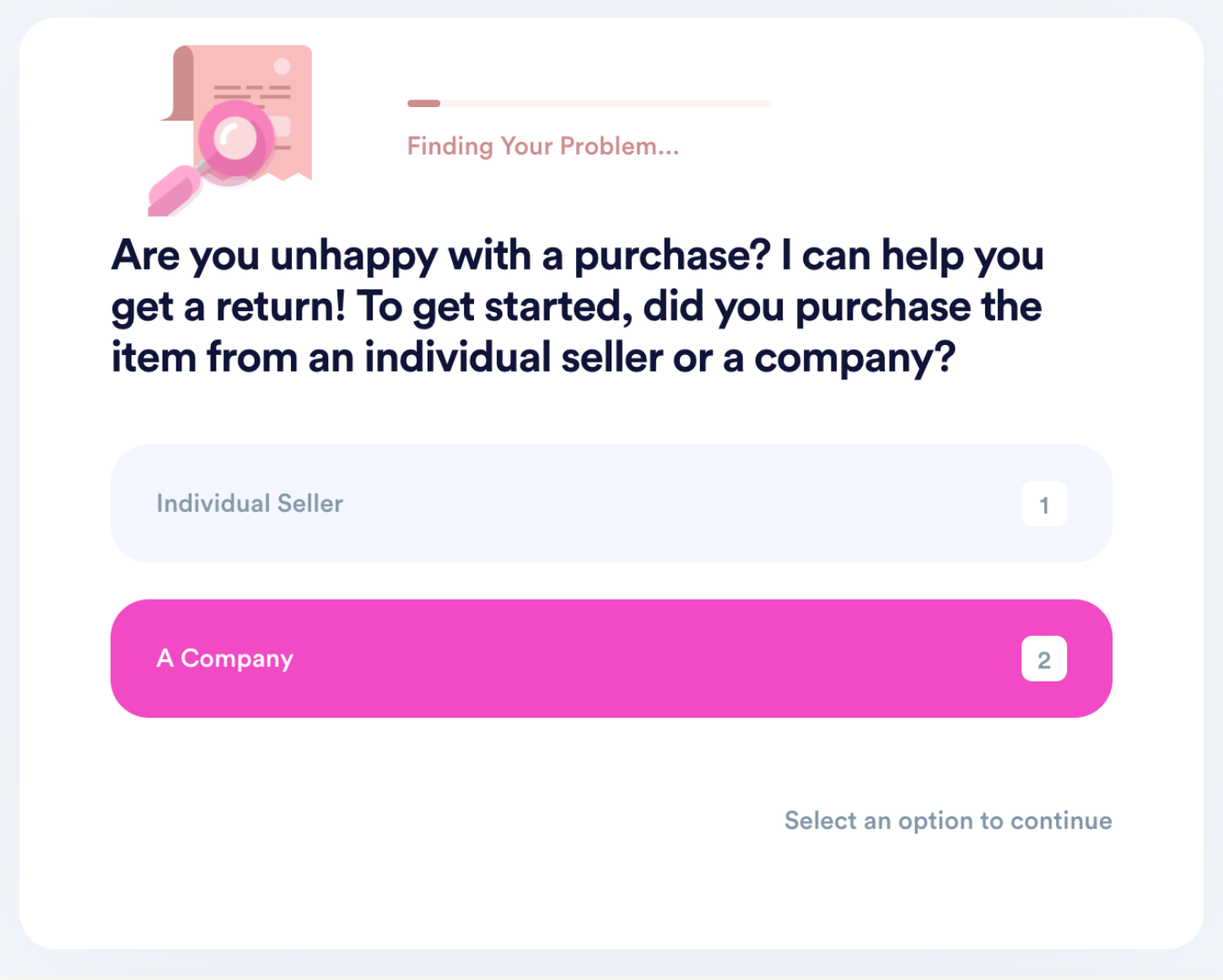 If having your Home Depot return declined stresses you out, rest assured DoNotPay has your back!
In our app, you have a reliable assistant that successfully cuts through the legal mumbo-jumbo and focuses on the positive outcome. To draft your Home Depot item return request with DoNotPay, follow these steps:
Choose the Return My Purchase feature
Answer a few chatbot questions (optionally, you can upload the photo of a product if it has certain defects)
Tap Submit
With DoNotPay, you can return items to a wide array of brands, including the ones in the table below.
Don't Let Companies Trick You
Companies are known for tricking their customers into making bad purchases, and then they don't even deal with any repercussions. That will no longer be the case once you sign up for DoNotPay—we will protect you from corporations' malicious intents. If you've ever taken up on a free trial offer that turned into a paid subscription automatically, you know what it feels like to be tricked. With our app, you don't need to worry about that happening ever again—we'll help you make the most of your trials without getting charged by providing you with a virtual credit card. Too late for that? Use our nifty product to cancel the subscription in a split second and demand a refund. The company refuses to issue one? Sue it in small claims court! We'll help you generate any legal document you may need for the case, get it notarized online, and fax it instantly.
Curious To See What Else We Can Do?
As soon as you sign up for our robot lawyer app, you'll get access to a plethora of useful products that save you time and money and protect you from companies' and individuals' difficult attitudes. Check out how we can assist you in: