Can You Return Paint to Home Depot? DoNotPay Has the Answers
Can you return paint to Home Depot? This is what you're probably asking yourself if you've realized that your fresh paint looks odd on your living room walls.
Home Depot has a pretty standard return policy, but rules for returning paint differ slightly.
Returning items (paint included) to Home Depot doesn't have to be tricky—DoNotPay is here to make it a breeze!
We'll show you how to return your paint and other items to Home Depot and help you understand the company's return policies in no time!
Home Depot Return Policy in a Nutshell
If you return items within 90 days of purchase, Home Depot will accept returns of most new and unopened products.
Some items can even be returned within 365 days as long as they were purchased using:
The Home Depot Consumer Credit Card
The Home Depot Commercial Revolving Charge
The Home Depot Commercial Account
In these cases, you can get a full refund or an exchange.
Items that are non-returnable and non-refundable are:
Major appliances
Paint samples
Various services
Custom products
Gift cards
Store credits
Whole House and stationary generators
Utility trailers
Flowers and floral arrangements
Can You Return Paint to Home Depot?
Paint doesn't fall under the standard Home Depot return policy. If you're unsatisfied with the paint you bought at Home Depot, you can return it within 30 days of purchase. You must provide a receipt, and the can of paint must be unopened.
To return your paint to Home Depot, you'll need to:
Use the store locator to find a nearby Home Depot
Visit the closest store to you
Give the paint to a Home Depot employee
Explain the situation to them and ask for a return
Can You Return Mixed Paint to Home Depot?
You can't return a can of mixed paint to Home Depot, but you can bring it back for readjustment along with the original receipt within the first month of purchase. The company's representatives will adjust it with a shot of pigment.
Home Depot doesn't offer refunds for paint, whether it's mixed, tinted, or opened.
Note that this option only works if the paint wasn't mixed properly or has other quality issues. You cannot return a can of mixed paint because you changed your mind about the shade.
Other Home Depot Return Policy Exceptions
Apart from paint, several other items are exempted from the 90-day or one-year rule, such as:
Power tools
Lumber
Used and opened items
Equipment containing dangerous materials
Home Depot Return Policy for Power Tools
Most power tools can be returned to Home Depot within 180 days of purchase. The company has an exception for gas-powered tools, which must be returned within a month.
Can You Return Lumber to Home Depot?
The Home Depot accepts lumber returns within 180 days. To return the lumber, it needs to be in new condition with the Universal Product Code (UPC) label attached.
Home Depot Return Policy for Used Items
Whether Home Depot will honor your warranty and accept used or opened merchandise depends on the wear and tear. According to the Home Depot return policy, opened items cannot be returned if the damage doesn't fall under warranty. The company does require you to:
Have the original packaging and receipt
Return the item within 90 days of purchase
Can You Return Items Containing Hazardous Materials to Home Depot?
Items that use flammable liquids or gases can only be returned to the local Home Depot Store. Note that it is not allowed to use mail to return these products even if the hazardous material has been drained.
These products include:
Lawnmowers
Leaf blowers
Items that use flammable liquids or gases
Note that the store also considers paint to be a hazardous material item that needs to be processed in a special way after the return, so the same rules may apply to your paint purchase.
What if I Lost My Receipt?
In case you lost your receipt, you're in luck because Home Depot offers store credit for item returns without a receipt. Check out the table below for details:
Payment Method
Details
Cash or Home Depot gift card
Bring your ID as the employee will need it to track your return history
Credit card, debit card, or check
You can return your item within 90 days of the purchase
Other Methods:

The Home Depot Consumer Credit Card
The Home Depot Commercial Revolving Charge
The Home Depot Commercial Account

You have a 365-day window to return your item without a receipt
Returning Items Doesn't Have To Be a Hassle—Use DoNotPay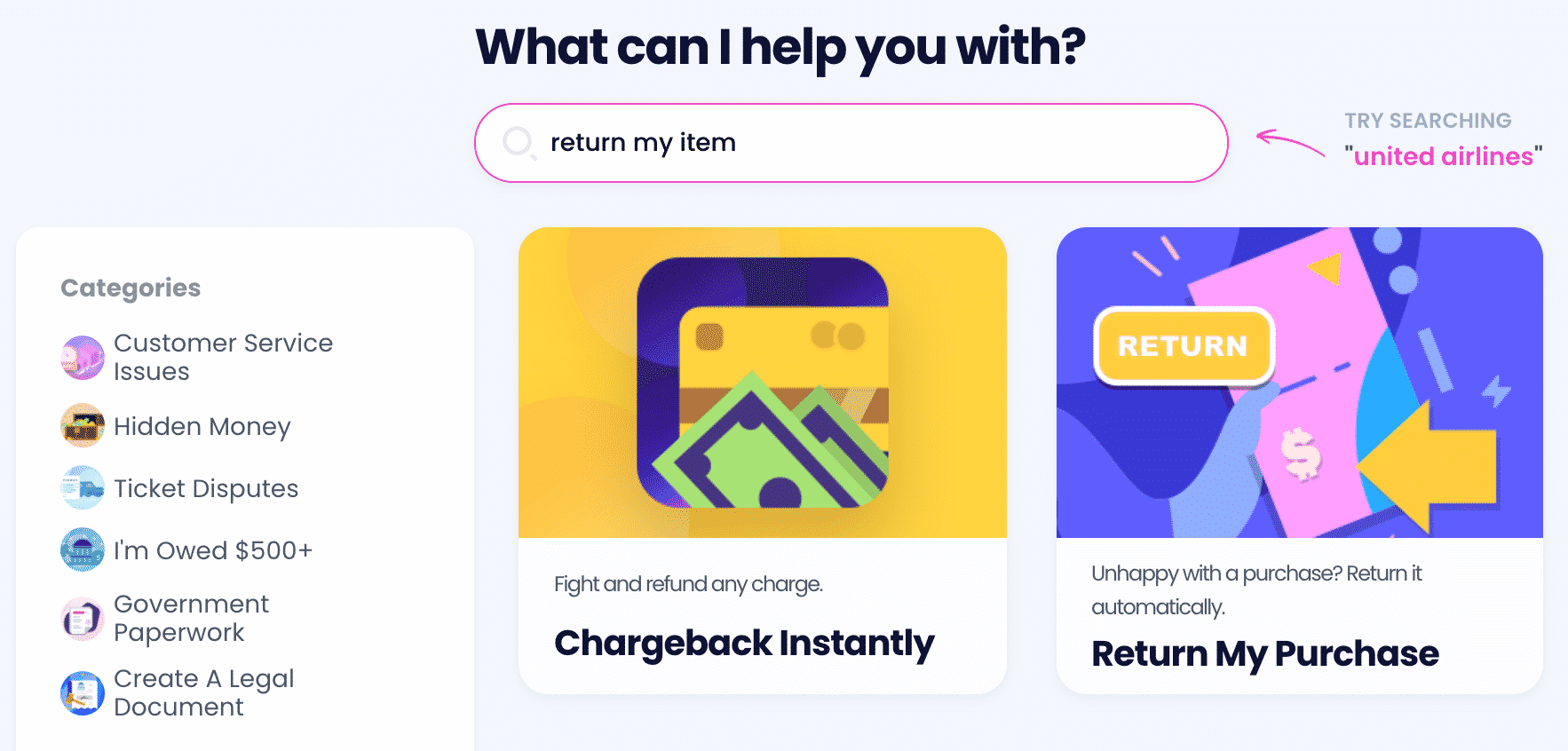 If you want to return an item to Home Depot without visiting the company in person or using UPS services, DoNotPay can help! With our Item Return Request product, you'll be able to get your return approved in a record time. Here's the drill:
Select the Item Return Request product
Answer a few simple questions about your purchase
Add photos (if applicable) and submit your request
We'll generate a customer return request automatically and forward it to Home Depot. The letter will let Home Depot know why you're returning your item and whether you want a refund or a replacement.
DoNotPay can send return requests in your stead to other companies as well, including:
How Long Do I Have To Wait for Home Depot To Process My Return?
Home Depot may take two to ten business days to process your return. If you use DoNotPay to send your return request, we'll demand that the company processes your request by a specific date.
Wasted Your Money on a Non-Returnable Purchase? There Are Other Methods To Earn It!
Don't feel down if the item you got isn't returnable—DoNotPay has many more tricks up its sleeve that will help you earn some money!
From helping you enter sweepstakes, decrease your property taxes, and lower your utility bills to assisting you in earning off email or text spammers and robocalls, waiving your college application fees, submitting a college financial aid appeal letter, and getting a refund from any company or airline, we can do it all!
DoNotPay Is Always at Your Disposal
Our app's mission is to take everyday admin and legal tasks off your plate so you don't have to waste any of your precious time. If you want to appeal your parking tickets, draw up a legal document, get any agreement notarized, get a tourist visa, keep a sex offender at bay, mail anything without waiting in line, or get in touch with a loved one in prison, DoNotPay will resolve any of these with ease.
Too busy to track your memberships? You don't need to worry about canceling your free trial on time before it turns into a paid subscription if you use our virtual credit card.
With DoNotPay, you can tackle any otherwise annoying chore stress-free.