How Does the Home Depot Plant Return Policy Work? DoNotPay Has the Answers
Did you order plants from Home Depot for your home only to find out that you got the wrong ones? Or did you buy some indoor plants that you don't really like anymore? Not to worry—we'll help you with the return. Although Home Depot has a standard return policy, it differs slightly when it comes to plants.
In this article, we will explain everything you need to know about the Home Depot plant return policy. Once you return your item, we can also help you get your money back!
The General Home Depot Return Policy
The Home Depot standard return policy allows you to return most new and unused items within 90 days of purchase (extended to 180 during the pandemic). In some cases, you have a return window of up to a year, as long as the items were purchased with:
The Home Depot Consumer Credit Card
The Home Depot Commercial Revolving Charge
The Home Depot Commercial Account
The general home depot return policy does not include:
Furniture
Area rugs
Tractors
Generators
TVs and computers
Damaged major appliances
Home Depot Plant Return Policy Explained
You can return most plants, such as roses, hibiscus, lavender, and hydrangeas, to Home Depot within 90 days of your purchase. For trees, shrubs, perennials, and landscaping plants, you have up to a year to return your order if you are not satisfied with it.
If your order consists of smaller house plants like tulips, you have a 30-day window to return it. In case you skip the time window for returns, Home Depot reserves the right to reject your return request.
How To Return Your Order to a Home Depot Store
To return plants and trees, you need to provide valid proof of purchase and take the following steps:
Use the store locator tool to find a Home Depot near you
Pack your plant and take it to the store
Hand the item(s) and your receipt to the store manager
Ask them to initiate a return request, providing a reason for returning the item
You will only receive a refund if you return the plant within the standard return window. If you return your order after the return period has passed, you won't be entitled to a refund and will either have to exchange your plant or get store credit.
How To Return a Damaged Plant That You Ordered Online
If you ordered plants online that have gotten damaged along the way, you should take the following steps:
Contact Home Depot's customer support at 1-800-430-3376 within three days of delivery
Inform them that the plant has been damaged or has died in transit
Provide proof if they require pictures
The customer support department will escalate your issue, and the company will ship out a replacement for free once your request has been approved.
Please note that this applies to plants and trees but not to flowers or floral arrangements.
How To Make a Home Depot Plant Return if You Lose Your Receipt
In case your receipt is lost or damaged, Home Depot offers store credit when returning an item. If you paid in cash or used a Home Depot gift card, bring your ID so that the store manager can track your return history through the company's refund verification system.
Keep in mind that if you keep trying to return items without a receipt, Home Depot may start rejecting your return requests.
Return Items Without a Hassle With the Help of DoNotPay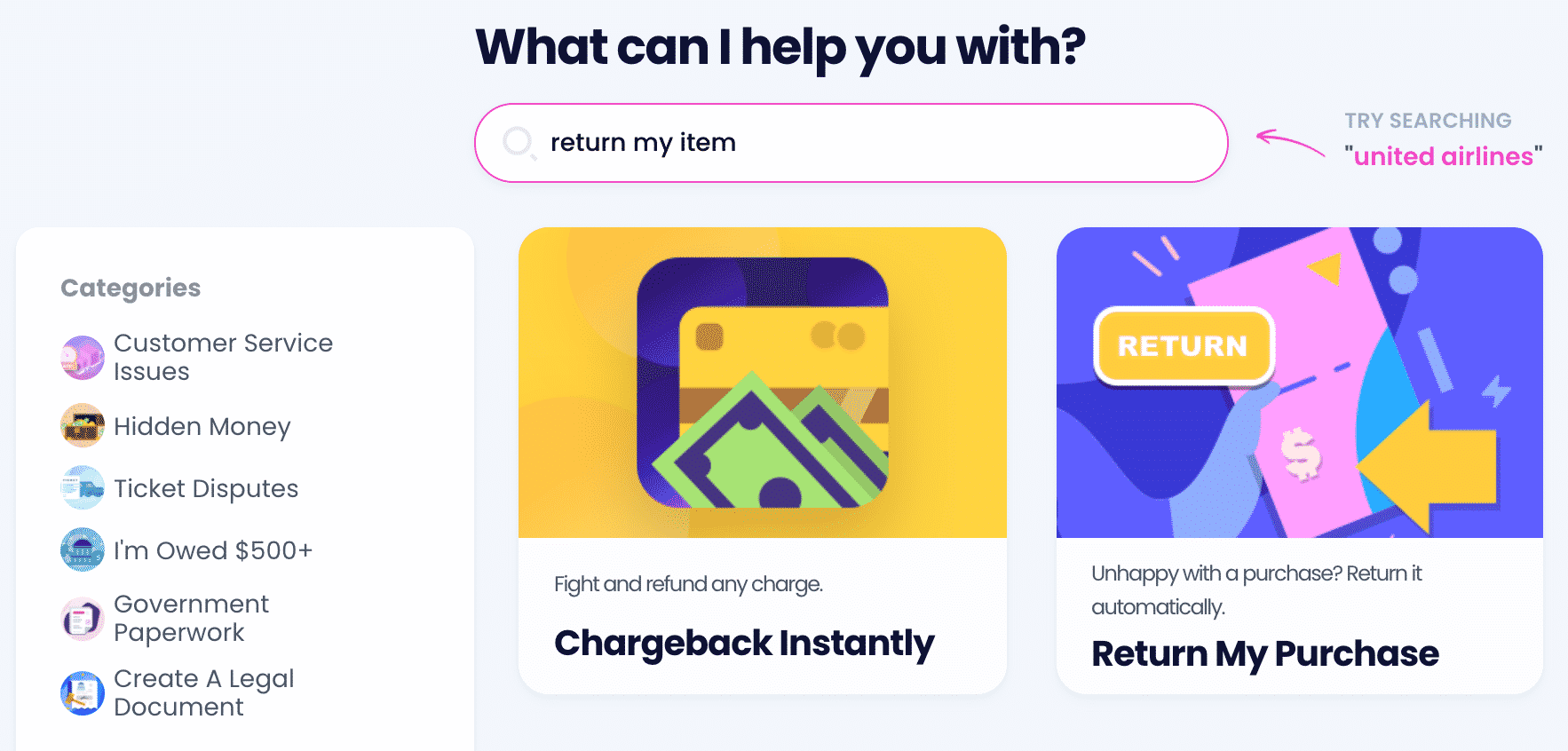 Did you have a bad experience ordering products from retailers and want to return the unwanted items as soon as possible? Look no further because DoNotPay has got you covered. With our Return My Purchase feature, we can expedite the return process and help you get your money back fast!
All you have to do is follow these instructions:
Open DoNotPay in your web browser
Choose the Return My Purchase feature
Answer a few questions about your order
Upload a photo if possible
We will automatically generate a customized return request letter and send it to the company's customer service department on your behalf.
If you need to return more products, we can help with numerous companies, such as:
Can't Get Your Money Back? Use DoNotPay To Demand a Refund
Has Home Depot or another company refused to give you a refund even though the received item was returned properly? Use our app to ask for your money back by following these steps:
Search for the Chargeback Instantly feature
Select Get Protected
Provide a few details about your product
DoNotPay Is a Master at Getting What's Rightfully Yours
Are you dealing with a company that refuses to approve your return? Once we submit a refund request in your stead, we can also prepare all the paperwork you need to sue the merchant in small claims court and win your case.
Need a legal document for the lawsuit? Draw it up with our handy tool. Want to get any document notarized and fax it to someone? We have products that can do that for you as well.
Has an airline rescheduled your flight, or is your package damaged or missing? Demand compensation with DoNotPay!
Do you believe that you may have some unclaimed assets? Count on us to find and get them for you.
It Doesn't End There!
Use DoNotPay whenever you need to tackle any sort of mundane task. If you're sick of wasting your time in long phone queues or the ones at the DMV, we'll help you skip them. Do you want to apply for a college fee waiver or clinical trial? Are you looking to enter a sweepstake or get a passport photo or a tourist visa? We'll do it all in your stead!
If you want to send a letter of warning to a persistent harasser or loud neighbor or want to get compensation for victims of crime, workplace discrimination, or robocalls, let us know and we'll tackle the issue momentarily.