What Benefits Can You Have With a Google Temporary Phone Number?
Have you ever been worried about your privacy? A recent survey shows that about 80% of Americans are reluctant to leave their private information, including phone numbers to random companies. This is why they use burner phones and fake phone numbers.
Google uses private information for targeted advertising, which is why people want to keep their information safe and undisclosed. Google asks for your number when you're creating an account so that they can send you a verification code via SMS. You can verify a Google account without a phone number, though—you can use a fake phone number app.
Google will ask for your number also when you sign up for Google Voice, which is a feature that enables you to create a burner number.
DoNotPay can help you generate a temporary phone number that you can use to verify your account on any service, including Google!
What Is a
Temporary Google Phone Number
?
Google offers a feature called Google Voice that enables the users to have a single virtual phone number that is connected with all the devices the user owns. This goes for mobile, desk, and work phones and also for VoIP lines.
With Google Voice, you can send free SMS, personalize voicemail, get text transcripts of your voicemail messages, and more. Once you sign up for Google Voice, you'll be able to receive all phone calls to one number. The majority of Google Voice features are free, but some of them are available only with the paid subscription, such as call recording.
| | |
| --- | --- |
| Supported By | Yes/No |
| Chrome OS | Yes |
| Apple macOS | Yes |
| Microsoft Windows | Yes |
What Can You Use a
Google Fake Phone Number
For?
The downside of Google Voice is that you can't protect your privacy from Google. Since your number is linked to your Google account, Google already has the majority of your private information.
Another downside of Google Voice is that it's not a real temporary number—it doesn't get deactivated on its own, and even when you delete it, it stays active for another 90 days.
Although Google Voice isn't a real burner phone number, it comes with some great features. You can use Google Voice for:
Routing calls

Blocking calls

Recording calls

Messaging for free

Making conference calls

Switching devices during calls

Listening to voicemails before you answer a call

Customizing your phone number list (determining who can and can't call you)

Getting voicemail transcripts

Getting notifications for voicemails over your email or a text message

Calling from a PC to a phone

Calling from a PC to a PC

Having affordable international calls
How To Get a
Fake Google Phone Number
You'll need to have a Google account if you want to sign up for Google Voice. You'll also need a U.S. phone number that can forward calls. Google Voice is available only in the U.S.
You can set up a Google Voice number on your:
Computer

Mobile device
Setting up
Temporary Phone Number
With
Google Voice
on Your Computer
Follow these steps to set up Google Voice on your computer:
Go to the

Google Voice page

Log in to Google

Read the Terms of Service and Privacy Policy

Click on

Continue

Find your new number by city or area code

Choose the number you want and tap on

Select

Follow Google's further instructions
Google Voice doesn't offer numbers that start with 1-800.
How To Set Up a
Fake Phone Number
on
Google
Using Your Mobile Device
To install Google Voice on your Android device, do the following:
Download the Google Voice app and open it

Log in to your Google account

Scroll through the Terms of Service and click on

Continue

Tap on

Search

to find a suitable phone number

Search for a number by area or city code

Choose your number and click on

Select

Follow the further instructions Google gives you
With DoNotPay, You Can Have More Than One Temporary Number

DoNotPay offers a Burner Phone feature that enables you to get a temporary phone number. The number DoNotPay will generate for you is a one-time number, and it is active for 10 minutes. We will deactivate it after the 10 minutes are up.
We also enable our users to have multiple phone numbers during the course of one month. You can use DoNotPay's temporary numbers for receiving texts with verification codes while still protecting your privacy and not becoming a target of robocalls and spam text messages.
To use our feature, open DoNotPay in your , set up your account, and follow these steps:
Sign in to your account

Search for the

Burner Phone

feature

Enter the name of the company you need your number for

Click on

Create a Temporary Number
After you complete these four steps, DoNotPay will generate your new temporary phone number. Type it in the field where the company requires a phone number to send a verification code. Wait for the text with the code and use it before the 10 minutes expire. Once the phone number is deactivated, your text messages and all phone history will be deleted permanently.
The best part about our feature is that it's included in your subscription. Some companies charge $50 a year for a single temporary number, while DoNotPay doesn't charge extra—we're one of the most affordable services out there.
The Best Part About DoNotPay's Fake Phone Number Is Its Versatility
Plenty of apps and services require phone number verification. While two-step authentication is a great way to ensure that nobody else can log into your account, you may not always feel comfortable giving something as private as your phone number to big corporations.
If you want to test out the service, but are reluctant to provide your actual phone number, you can use DoNotPay's randomly generated phone number instead. Here are some instances in which DoNotPay can help you bypass phone verification:
Sign Up for Free Trials Without Risking Automatic Charges by Using Our Virtual Credit Card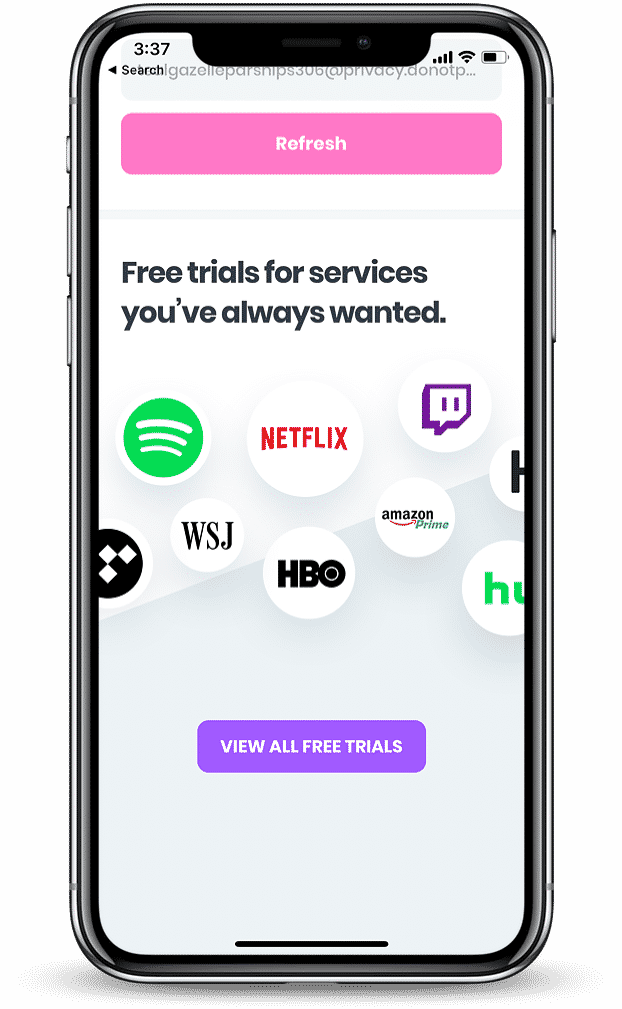 DoNotPay has another awesome feature—the free virtual credit card. If you can't remember which services you signed up for, and you constantly get charged after free trials, then our free trial card is the solution you need.
Virtual credit cards aren't connected to your bank account, and they don't contain any deposit. You can create them through a virtual credit card generator. They have a unique credit card number with an expiry date that seems valid to the vendor—this is why they get you instant approval on services.
Here's how virtual credit cards stop the auto-renewal after the free trial expires:
They get approved by the service because they seem authentic

They contain no money, so the company can't charge you

The company will cancel your account automatically
Why DoNotPay Is the Best Personal Assistant You've Ever Had

Our app has a variety of features that, once you start using, you won't be able to say goodbye to. We try to make your life easier every day. DoNotPay cares about your safety and rights. On top of that, we have an array of features that are going to save you some time and money.
You don't know how to block spam text messages on your Android or iPhone? DoNotPay will assist you with that.
Open our app in your , and we will help you with:
Disputing speeding citations

Appealing traffic citations