George Mason Financial Aid From A to Z
George Mason University (GMU, Mason, or George Mason) was founded in 1949 in Virginia. There are almost 40,000 students attending this public research university. If you wish to be one of the individuals enrolled at GMU, you'll need to consider paying $12,564 or $36,024 for in-state and out-of-state tuition, respectively.
In case you'd rather lower the education expenses, you have the option of applying for George Mason financial aid. Use DoNotPay to understand the application process and file a financial aid appeal if you have to.
How To Apply for George Mason Financial Aid
To properly apply for financial aid, you need to complete the mandatory steps of the application process within the set deadlines. Follow these instructions:
Create an FSA ID—You need to keep this info safe because you'll need it when applying for aid every year
Fill out the Free Application for Federal Student Aid (FAFSA)—The info you provide on this form is used to determine your financial aid eligibility. You should submit it no later than January 15 of the calendar year for which you are applying for aid. You can complete the FAFSA as early as October 1 of the preceding year
Submit the FAFSA to Mason by entering the school code—003749
Review your Student Aid Report (SAR)—After you submit the FAFSA, you'll receive your SAR, and you need to check for any errors
Respond to any requests for additional information—You will get an email from the OSFA if additional information is required to process your file
View and accept your award package—You can choose to accept or decline your financial aid offer when it arrives
George Mason University Financial Aid Office Contact
Any financial aid questions you may have will be answered if you get in touch with the George Mason Office of Student Financial Aid (OFSA). You can contact the staff in the following ways:
Over the phone—Call 703-993-2000
By mail—Send a letter to Office of Student Financial Aid, George Mason University, 4400 University Drive, MS 3B5, Fairfax, VA 22030-4444
In person—Visit the OSFA is at Student Union Building 1 on the first floor (suite 1100)
Via online form—Complete the online form available at the school's official website with required info
If you choose the last option, you'll get a response to your Mason email inbox.
Types of Financial Aid You Can Apply for at George Mason University
A few types of financial aid are available for George Mason students. The form of financial assistance you receive will determine how much aid you get. The type of aid also sets the time you can keep receiving it. Here are your options:
Loans
Scholarships
Grants
Work-study programs
Student Loans You Can Apply for at George Mason University
If you decide to apply for student loans, you should know that this type of aid requires repayment. Your options include:
Emergency Loans
Federal Direct Parent PLUS Loan
Private Loans
Federal Direct Graduate PLUS Loan
Federal Direct Student Loans (subsidized and unsubsidized)
Scholarships at George Mason University
Scholarships do not need to be repaid and are mostly awarded based on student performance. At GMU, you can apply for:
Mason Merit Scholarships (incoming, first-time freshman students)
Mason Foundation Scholarships (continuing students)
Outside (External) Scholarships (all students)
Grants Offered at George Mason University
Grants are known as "gift aid" because they do not have to be repaid. They are also only awarded based on financial need. You can apply for:
Federal Pell Grant
Virginia Guaranteed Assistance Program (VGAP)
Federal Supplemental Educational Opportunity Grant (FSEOG)
Institutional Aid Programs
Virginia Commonwealth Award
District of Columbia Grants
Mason Need-Based Grant
Stay Mason Student Support Fund
Out-of-State Grant
Virginia Two-Year College Transfer Grant Program
Work-Study Program Information You Should Know
Federal Work-Study (FWS) is a financial aid program that offers eligible students an opportunity to earn money for educational expenses by working part-time. Students can find employment both on- and off-campus.
What You Should Do if George Mason Makes You an Unsatisfactory Offer
In case George Mason makes you a poor offer and you need more funds, or the school rejects your application, you should file an appeal. You will need to write a financial aid appeal letter, which is a tiring and time-consuming task. The good news is that you can get help from DoNotPay!
Use DoNotPay To File a Financial Aid Appeal Without Trouble
If you are unsure how to write a financial aid appeal letter or you don't have enough time to bother with the task, turn to DoNotPay for help! Our app will handle the task in a matter of minutes. You only need to heed these instructions:
Find the Appeal for More Financial Aid product
Let us know about financial aid offers from all the universities you applied to
Inform us about your family's income and financial status
DoNotPay will mail the letter to Mason on your behalf as soon as possible. We can also help you file a financial aid appeal for graduate schools.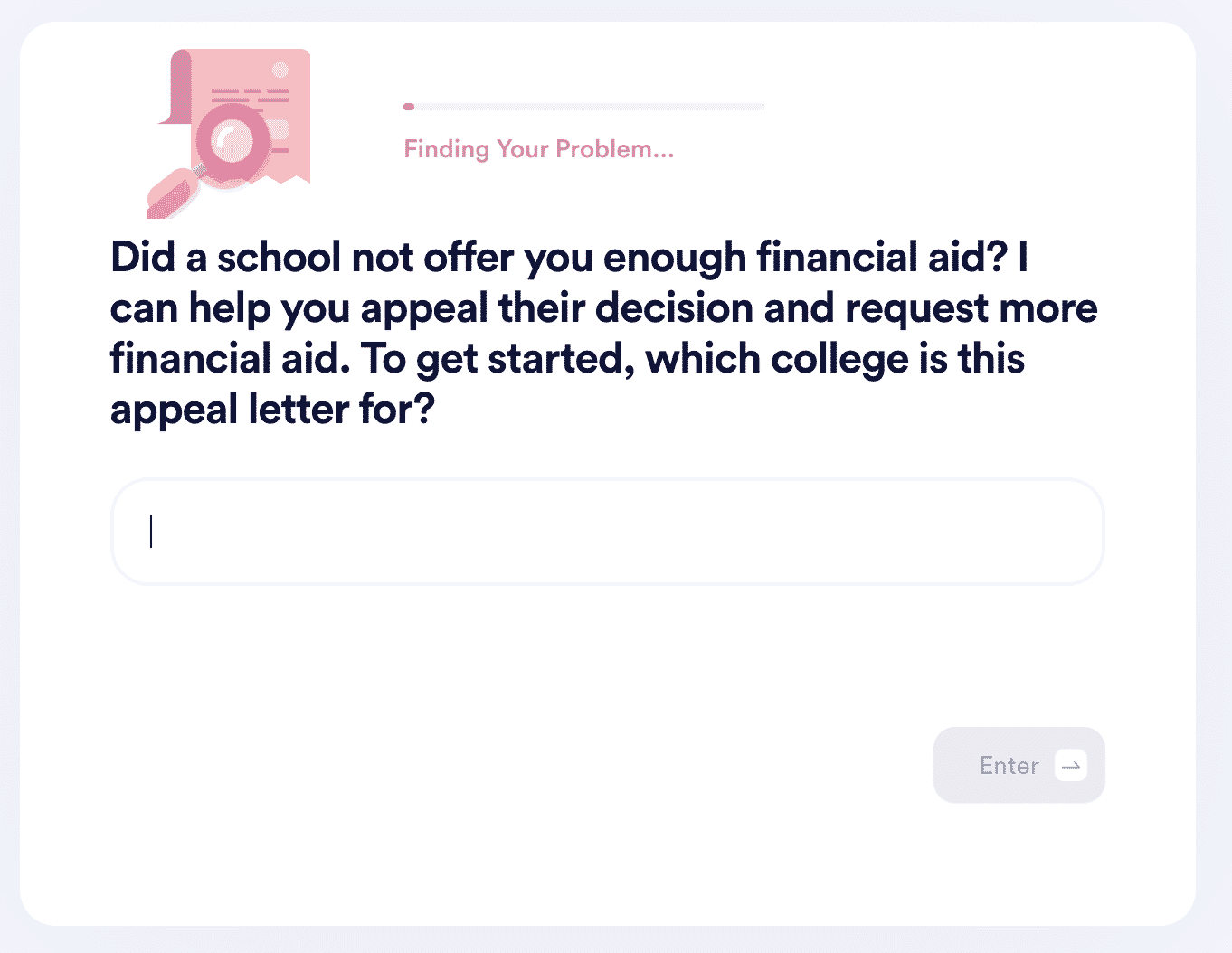 What Do Other Schools Have To Offer? Financial Aid Options You Shouldn't Miss
It is always a smart idea to check out the financial aid offer from other universities before making a final decision. See some of DoNotPay's guides to financial aid in the table below:
Choose From a Variety of DoNotPay's Amazing Tools
Did you manage to solve the issue with our app? If the answer is yes, you may also be interested in checking out other interesting features we offer. DoNotPay can help you:
| Get Rid of Spammers By | Deal With Uncooperative Merchants By | Get Help With Your Studies By |
| --- | --- | --- |
| | | |
Let DoNotPay Prepare Important Documents for You
Are you having a hard time drawing up a contract due to insufficient legal expertise? Say goodbye to failed drafts—DoNotPay can generate divorce settlement agreements, powers of attorney, child travel consent forms, and many other legal documents in under five minutes!
We will also help you create anonymous HR complaints and demand letters for your neighbors if you are experiencing any issues with them.