Sony Warranty
From A to Z
A warranty is supposed to protect consumers if they want to repair or replace a purchased product. Cars and homes also have warranties.
If you bought an item from Sony, it could be puzzling and overwhelming to go over and decipher all the info. This is why we'll answer all of your questions about Sony warranties and help you submit a warranty claim in no time!
What Does Sony Warranty Cover?
Sony is a multinational corporation offering myriads of products, such as TVs, headphones, cameras, and different gadgets. Sony warranties differ greatly depending on the types of electronics and your reasons for wanting to file a warranty claim.
There isn't a unified warranty for all Sony products, but check out some of the most common ones:
Product
Warranty Period
Key Details

USB flash drive

Two years

The warranty covers defects in material or workmanship

Sony will issue a refund or replace the product with a new or refurbished one

Camera

One year

The warranty covers defects in material or workmanship

The warranty doesn't cover technical assistance

Sony will repair or replace the product or its defective parts

TV

Usually 18 months to two years

90 days for commercial use

Headphones

One year
Sony Warranty Check
When you buy a product from Sony, you get the warranty inside the box or packaging of each item. The warranty can be its own document or part of the Primary User Manual. It is also available online in the Sony manuals section, which is also called the Sony warranty check in some countries.
Here's how to find the warranty for your product:
Go to the

Sony manuals

section

Tap on

All

and choose the type of your item from the drop-down menu

Enter the model name or keywords

Tap on

Search

Click on your product

Scroll down and tap on the

Warranty

PDF document
File a
Sony Warranty Claim
on Your Own
Once you checked your warranty to see if you're eligible and if it covers what you need, you can file a claim. Here's how you can file a warranty claim to Sony:
| | |
| --- | --- |
| Can You Claim Your Warranty With | Yes/No |
| DoNotPay | Yes |
| Email | No |
| Phone | Yes |
| Letter | No |
| In Person | Yes |
Initiate a Sony Warranty Claim Over the Phone
If you want to initiate a warranty claim with Sony, you can call its customer information service center by dialing 1-800-222-SONY (7669). Explain your situation and ask for further instructions on obtaining warranty service for your product.
Nobody likes to be on the call forever. Luckily, you can skip the phone queue! DoNotPay can wait on hold, and we'll let you know when to join the call once we reach customer service.
Initiate a Sony Warranty Claim in Person
To file a warranty claim in person, visit the closest Sony retailer and request warranty service.
Whether you call or come in person, you will most likely have to:
Deliver or bring the product preferably in its original packaging

Bring a bill or receipt of your product
Filing a Sony Warranty Claim With DoNotPay Is Fast and Easy
You don't have to waste time looking for your warranty in your house or dealing with customer service on the phone. All you need is DoNotPay! We can help you with a faulty or broken product and streamline the process of getting a repair or refund.
Here's how to file a Sony warranty claim the easy way:
Open DoNotPay in a

web browser

Select the

Claim Warranty

feature

Click on

Warranty on a Purchased Item

Enter

Sony

and type in the necessary details

Tap on

Submit
After a few clicks, DoNotPay will submit the warranty claim letter in your stead. Sony will soon reach out to you regarding your warranty service.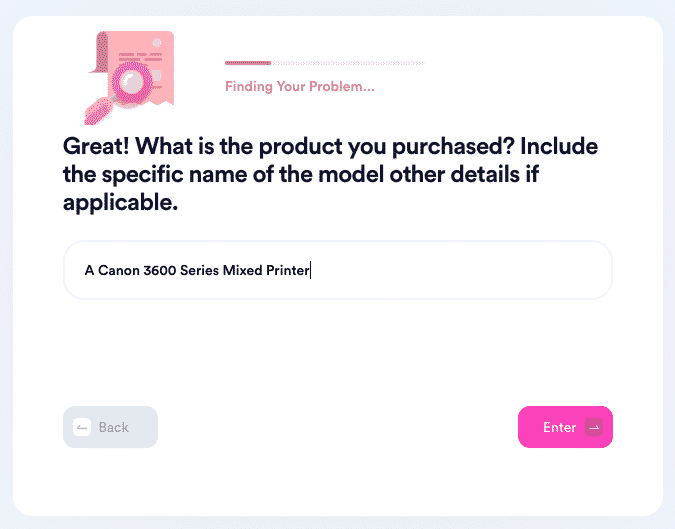 All you need to do is tell us what issues you have with the product, as you can see in the image below: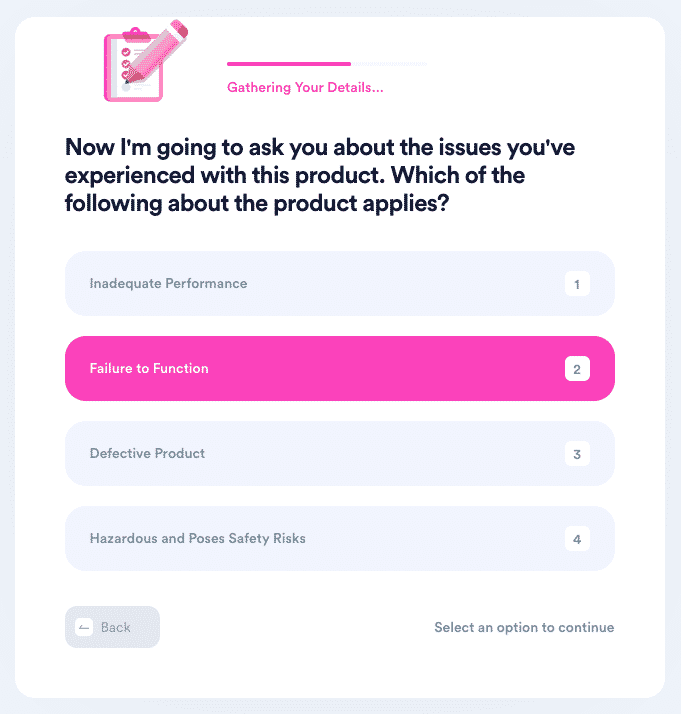 Is Your Warranty Claim Rejected? DoNotPay Helps You Appeal Your Claim!
Filing a warranty claim can be an arduous process as it is, but when your claim gets denied, it can be too much to handle. No need to stress about it! Most companies refuse to pay or accept warranty claims, but DoNotPay is here to put a stop to it!
Aside from helping you file a warranty claim, we can provide assistance with appealing your claim. Here's how it works:
Access DoNotPay in your

web browser

Choose the

Claim Warranty

feature

Click on

Appeal a Denied Warranty Claim

Answer a few questions about the product and the company

Provide details about the original warranty claim

Hit

Submit
We will build your case and send your appeal letter to Sony. You can sit back and wait for Sony to contact you.
Say Goodbye to Annoying Tasks Thanks to DoNotPay
The process of filing and appealing your warranty claim can be long and difficult. You can lean on DoNotPay for help not only for Sony warranties but for any home warranties in the U.S. or extended warranties for used cars. We can guide you through home warranty reviews and situations when a dealer refuses to cancel an extended warranty.
Getting the best of your warranty is not the only benefit of using DoNotPay!
Open DoNotPay in your web browser, and we'll gladly assist you in:
Disputing speeding tickets

Fighting traffic tickets