Claiming HP Extended Warranty—A Step-By-Step Guide
For those familiar with consumer technology, Hewlett-Packard (HP) needs no introduction. The Silicon Valley-based company is best known for its laptops and printers. It also makes:
Desktop computers

Business PCs

Workstations

Ink and toner cartridges

Monitors

Docking stations

Mice and keyboards
HP Warranty Extension—What's Included
HP products come with a manufacturer warranty, ranging from 90 days to a lifetime. Most laptop warranties offer coverage from one to three years, depending on the model.
Customers can also purchase additional coverage plans, called Care Packs, for their laptops, desktop PCs, and printers. These plans can be :
In-warranty—carrying additional coverage for the period during the factory warranty

Post-warranty—coming into force after the factory warranty expires
Take a look at the table for an in-depth overview.
Warranty Plan
Duration
What It Covers

In-warranty coverage

Two or three years

Money-back guarantee if the service is unused

Accidental Damage Protection

Absolute Theft Protection software (but not theft)

Post-warranty coverage

One year

Same as the factory warranty
Go to HP's website to research available options for your device or visit the online store to browse through available plans. Be aware that you can purchase post-warranty coverage up to 90 days before and within 30 days after your factory warranty expires!
How To Claim HP Extended Warranty on Your Own
There are four different ways to claim a warranty for your HP device:
Using Live Chat function on HP's website

Reaching out to HP's customer service on Facebook or Twitter

Calling customer service

Contacting an authorized service center
Before claiming your warranty, check the product's documentation for coverage details. Make sure you have your product's serial number with you.
Claiming Warranty on Live Chat
You can use the chatbot service on HP's website anytime to claim a warranty. The virtual agent should offer you different options to choose from.
Messaging HP's Social Media Pages
HP's customer service is also available on its official Facebook and Twitter accounts. The advantage of this method over the chatbot is that you can communicate with a real person.
Calling Customer Service
If you prefer talking to a customer service representative over the phone, you can call 1-800-474-6836 to claim a warranty for your HP product.
Calling a Service Center
HP's Contact Support Page provides resources to diagnose and try to repair common issues remotely. If that fails, you can contact a nearby service center and schedule an appointment. Do the following:
Visit the service center

search page

Enter your

zip code

The results should show

service centers near you

, including their

phone numbers

Call a

service center

to claim a warranty
Keep It Simple and Claim Extended HP Warranty with DoNotPay
The easiest method available for filing warranty claims is via DoNotPay. Skip composing emails, trying to understand exhausting warranty procedures, and explaining your issue to customer service reps. Whether you want to claim a warranty for your car, home, or laptop, we can help you do it in a few easy steps!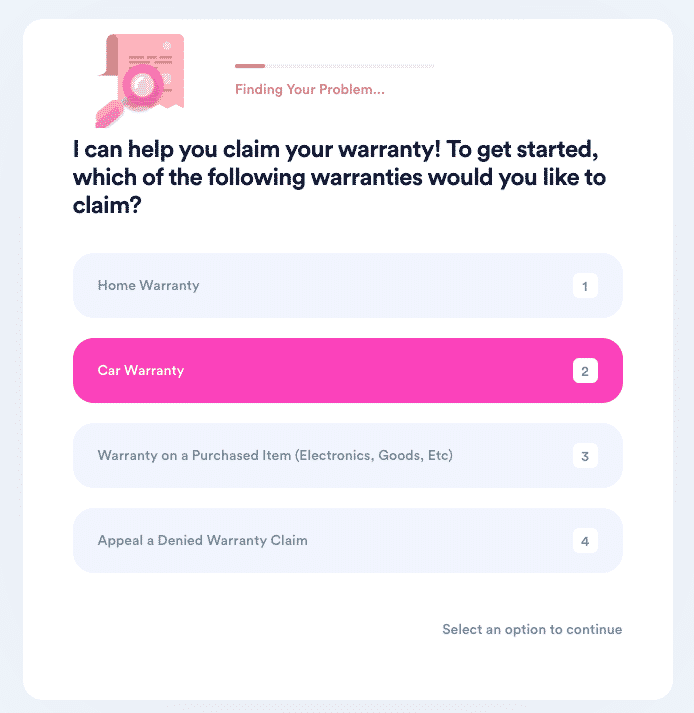 Here is how you can use DoNotPay:
Sign up in your

Choose to

Claim Warranty

Select

Warranty on a Purchased Item

Type in the necessary details about your product and the issue you're experiencing

Click

Submit
Once we submit your claim to HP, the company should contact you directly regarding your case.
DoNotPay Helps You Appeal a Denied Warranty Claim
Don't give up on seeking the service you're entitled to if HP denies your initial warranty claim. DoNotPay can help you with the appeal!
The process is straightforward:
Visit DoNotPay in your

Access the

Claim Warranty

functionality

Select

Appeal a Denied Warranty Claim

Indicate that you're appealing a warranty rejection from the

product manufacturer

Enter information about HP and your

original warranty claim
DoNotPay will compose and send an appeal letter to HP on your behalf. The company should reach out to you directly with a follow-up.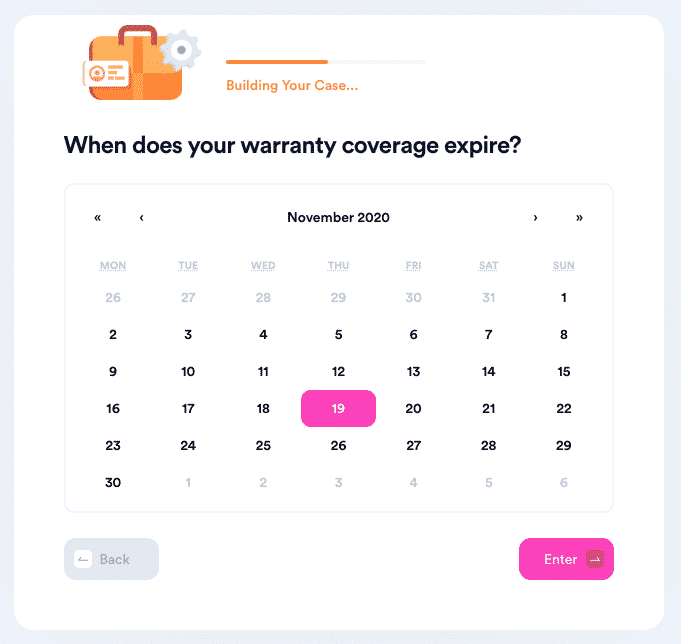 DoNotPay Offers So Much More
DoNotPay is far from a one-trick pony. The world's first robot lawyer can claim warranties for your Asus, Acer, Apple, Samsung, Sony, Toshiba, or Lenovo devices! We have designed a virtual sidekick that can step in to make bureaucratic issues easier to resolve.
Claiming extended warranties for used cars or canceling them if your dealer refuses to are undemanding tasks when you resort to DoNotPay! Read our extensive home warranty reviews and find the best home warranty in America!
Access DoNotPay from your and take advantage of our functionalities to:
Dispute traffic tickets

Contest speeding tickets