College Application Fees and How To Avoid Them
Being a college student means that you will have to spend money on exorbitant college fees. Before you start worrying about how to pay tuition and accommodation, you first have to cash out admission application fees. 
The application fees pile up easily, but you can find a way to avoid them. If you can't afford the application fees, learn how DoNotPay can help you save your money. 
Why Do Colleges Have Application Fees?
Some institutions, such as Baylor University, don't charge any application fees, but most others do. Colleges usually receive thousands of applications each year, and reviewing them takes a lot of time and work. This amount of work bears high costs, so colleges require students to pay an application fee. 
The fees also help colleges separate applicants who are serious about enrolling from those that aren't. Students would apply to a large number of colleges if application fees didn't exist.
How Much Are College Application Fees?
On average, application fees cost $50. If you want to apply to a more prestigious college, be prepared to pay a fee of $90. Most students apply to five or more schools to have a backup. This practice can cost them hundreds of dollars in application fees. If they don't get admitted to a college, they probably won't get their money back since most application fees are not refundable.
Here how much application fees cost at some of the most popular colleges among students:
Can You Avoid Paying for Application Fees?
The costs of college application fees can be a significant burden on students' budgets. To make sure that students with low income can send an admission application, colleges offer fee waivers. 
If you get a fee waiver, you will be exempt from paying the application fee. With fee waivers, you can lower your expenses and get the opportunity to apply to some of the top colleges.
Who Can Qualify for College Application Fee Waivers?
Students need to meet economic need criteria to receive a college application fee waiver. The criteria may differ from college to college, but most of them will need proof that the applicant is a:
Person who lives in a foster home

Student eligible for the

Pell Grant

Ward of the state, orphan, or homeless

Student qualified for the Federal Free or Reduced Price Lunch (FRPL) program 

Participant in financial aid programs, including

Upward Bound

Member of a family that receives public assistance or lives a federally subsidized public housing

Part of a family with an annual income that does not exceed the amounts set by the

USDA Food and Nutrition Service
| | |
| --- | --- |
| Number of Household Members | Annual Income |
| One | $12.760 |
| Two | $17,240 |
| Three | $21,720 |
| Four | $26,200 |
| Five | $30,680 |
| Six | $35,160 |
| Seven | $39,640 |
| Eight | $44,120 |
Colleges often accept SAT, ACT, or NACAC fee waivers as well. Some colleges might exempt you from paying the application fee if you are a U.S. military veteran. If you think you can be exempt from paying college application fees, you can request a fee waiver.
How To Submit College Application Fee Waiver Request on Your Own?
Ways of requesting application fee waivers vary. Usually, if colleges accept applications through the Common App or Coalition App, you can use them to submit the fee waiver request. 
Some institutions, such as The California State University, accept fee waiver requests submitted only through their application form. Sometimes, you will have to mail the application form to the college admission office.
You might also need to ask your high school counselor to sign your documents and fill out the necessary forms. Colleges may ask you to send additional documentation as proof of your financial standing. 
In a nutshell, these are the ways of making a fee waiver request:
| | |
| --- | --- |
| Can You Request a Fee Waiver Via | Yes/No |
| DoNotPay | Yes |
| Common App | Yes, but might not work for some colleges |
| Coalition App | Yes, for certain colleges |
| College's Application Form | Yes |
| Letter | Yes |
| Email | Yes, most of the times |
| Phone | No |
| In Person | Depends on the college |
What Issues Can You Encounter When Requesting College Application Fee Waivers?
Most of the methods of applying for fee waivers seem simple but may turn into a nightmare. The Common App and the Coalition app might not have the college you want to apply to in their database. 
Filling out the fee waiver forms can be rather complicated and time-consuming. Counselors might be too busy with other work or not accessible due to the unpredictable circumstances created by the COVID-19 pandemic.
If you want to request a fee waiver in the most efficient way, use DoNotPay! The process is simple, and it won't take more than a few minutes.
How To Request a College Application Fee Waiver via DoNotPay
DoNotPay allows you to make a college fee waiver request fast and easy! With our easy-to-use app, you can submit fee waiver requests for:
New student applications

Transfer students

Enrolment deposit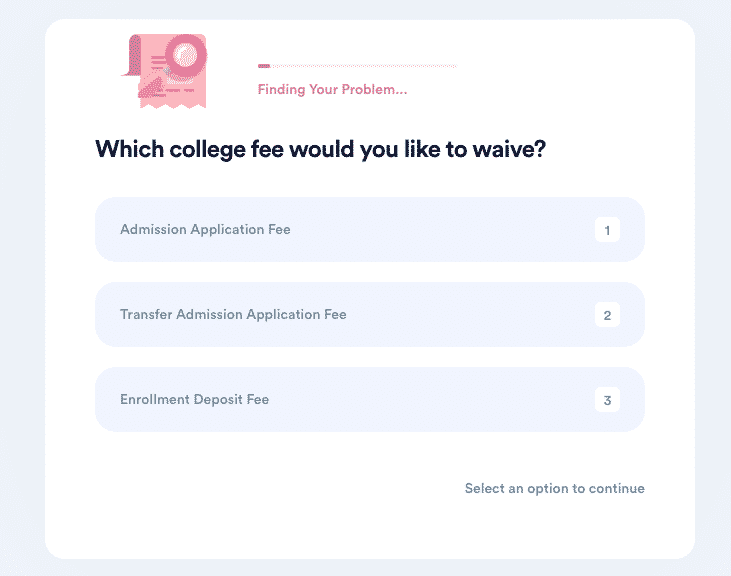 When using our app, you won't need to waste time filling out confusing forms. We will complete the necessary forms for you and send them to the admission office of the college of your choosing. 
To file a fee waiver request, follow these instructions:
Set up your DoNotPay account in any

web browser

Open the

College Application Fee Waiver

feature

Select the fee you want to get waived

Choose the college you want to apply to and answer the questions regarding your financial status

Indicate whether you need a counselor's signature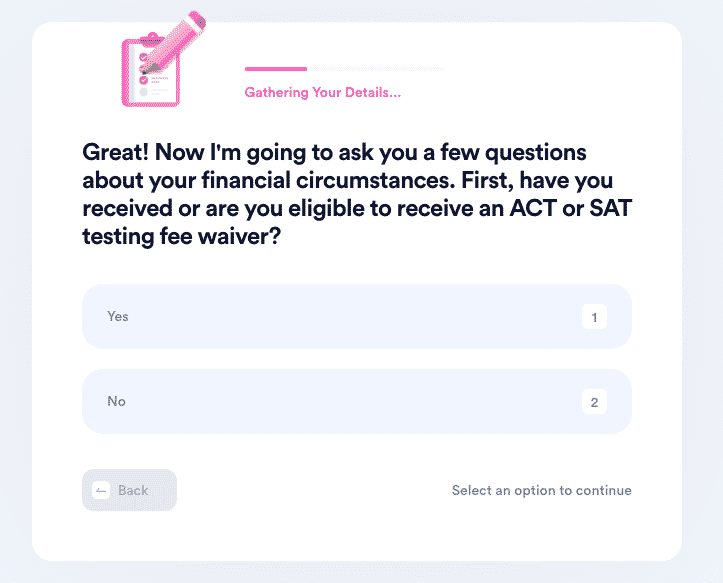 We have an extensive database of U.S. colleges, so you can easily find the ones you want to apply to. Use DoNotPay to request fee waivers from Brandeis, Columbia, Duke University, Auburn University, University of Arizona, and many others.
DoNotPay—The Easiest Solution to Your Administrative Issues
DoNotPay is an expert in dealing with bureaucratic tasks. We've assisted many people in solving their administrative issues and got the Louis M. Brown Award from the American Bar Association.
Aside from helping with college fee waivers, DoNotPay can make your student life easier by doing daunting tasks you would rather avoid. These tasks include canceling your Study Edge or Mathway subscription, requesting a refund from Grammarly, or starting the Amazon Prime Student free trial the risk-free way.
If you have any trouble with your student loans, DoNotPay is here to help you find the solution.
Open DoNotPay in any web browser, and check out our other time-saving features:
Fighting traffic tickets

Disputing speeding tickets