A Quick Guide To Getting a Syracuse University Application Fee Waiver
Syracuse University is a private research facility based in New York and organized into 13 schools and colleges. The university has programs in information studies and library science, architecture, communications, business administration, engineering, and the College of Arts and Sciences.
If you're thinking about applying, keep in mind that you might be qualified for a Syracuse University application fee waiver—use DoNotPay to take advantage of that!
College Application Fee Waivers—What Are They, and How Do They Help?
Applying to colleges and universities is time-consuming, overwhelming, and quite expensive. Students take on a lot of pressure and spend hundreds of dollars when researching and applying to universities, so fee waivers can be of immense help to them regarding the expenses of application fees. The purpose of fee waivers is to help the students who come from low-income families or are in financial need, but that is not the only criterion for getting an application fee waived.
The application fees and the criteria for eligible candidates for fee waivers differ from school to school. Some schools have application fees of $50 to $60, while other prestigious universities, like Harvard and Columbia, charge $80 to $90 for their applications.
How Much Is the Syracuse University Application Fee?
Syracuse University has an application fee of $85. You can get fee waivers if you:
Are a student who received the SAT or ACT fee waiver

Have received NACAC fee waivers

Find that paying an application fee is a financial hardship for you

Are a current or former member of the U.S. military
Can I Get an Automatic College Application Fee Waiver?
The criterion that guarantees an automatic college fee waiver is if you are a student who is in a hard financial situation. Some colleges and universities will give automatic application fee waivers to the former or current members of the U.S military as well. Students who already got an ACT or SAT fee waiver are also eligible candidates for college application fee waivers.
In case you are using Common App or Coalition App, the process is simplified because both of these facilitate the procedure of applying for college fee waivers.
How To Apply for the Syracuse University Application Fee Waiver
Syracuse University offers multiple ways to apply for their application fee waivers. Let's review them one by one:
| | |
| --- | --- |
| Can I Apply for a Fee Waiver Via | Yes/No |
| DoNotPay | Yes |
| SAT and ACT | Yes |
| NACAC | Yes |
| Letter from a school counselor | Yes |
| Common App | Yes |
| Phone | No |
Students With the SAT or ACT Fee Waivers
If you fall under this category, all you need to do is forward a copy of your SAT or ACT fee waiver to the Syracuse University admissions office.
Using NACAC To Apply for Syracuse Application Fee Waiver
The NACAC form will also be accepted by Syracuse University, and you can complete it in the next three steps:
Download the

form

and write Syracuse University on the top line

Fill out the

Student section

and check all the boxes that apply to you in the

Economic need

section (you can select

Other request

if none of the boxes are right for you and explain your financial situation in short)

Have a school counselor complete the

Authorized Official

section verifying your economic eligibility and send the form to Syracuse University admissions office
Having a School Counselor Vouch for Your Financial Situation
Your school counselor can request a fee waiver at your behest if you are a student dealing with financial hardship. The counselor should complete the request in writing on school letterhead and submit it as a PDF file to orange@syr.edu.
Apply for Syracuse Application Fee Waiver as a Member of the U.S. Military
As a current or former member of the military, you can have your application fee waived automatically by filling out the Veterans and Military Students Application.
This is how it works:
Visit the Syracuse University

website

Click on

Begin Your Application

Sign in and finish the steps through the Common App
Apply for a
Syracuse Application Fee Waiver
With Common App
Syracuse University will accept fee waiver requests made with Common App as well. Follow the steps below to apply with Common App:
Indicate in the

Profile section

that you are eligible for a fee waiver

List your reasons why based on the indicators of economic need in that section

Sign

the section and

submit

your application
Your request should be processed in seven to ten business days.
Use DoNotPay To Apply for Your Syracuse Application Fee Waiver in Five Minutes
DoNotPay can simplify the process of applying for college fee waivers and do a lot more for you! We know that applying to multiple colleges and universities can be tiring and that several application fees can end up amounting to a couple of hundred dollars. That is why we came up with the College Application Fee Waiver feature that will make applying for fee waivers feel like a breeze!
Here's a quick five-step guide you should follow to apply for the Syracuse application fee waiver:
Load DoNotPay in your

Choose the

College Application Fee Waive

tool

Pick the fee that you would like to have waived

Choose

Syracuse University

from the provided list

Answer a few short questions about your financial situation and state whether you want to get a counselor's signature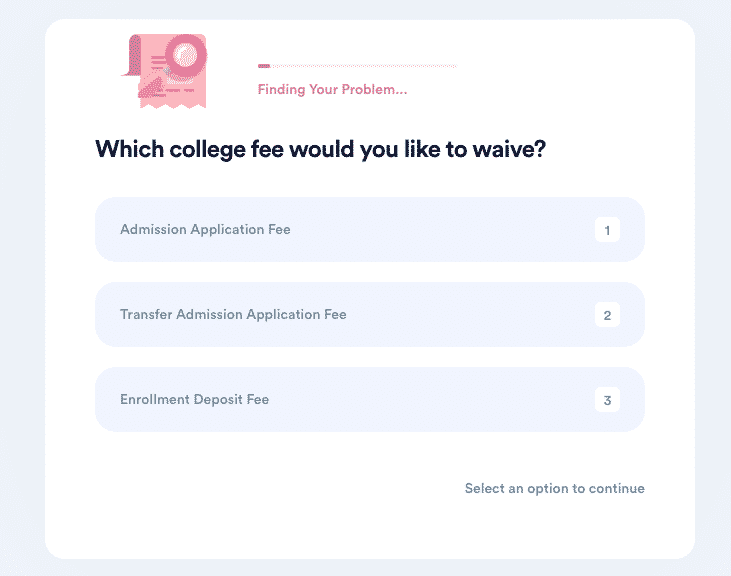 The three types of fee waivers we can offer you are:
Enrollment Deposit Fee Waiver

New Student Application Fee Waiver

Transfer Student Fee Waiver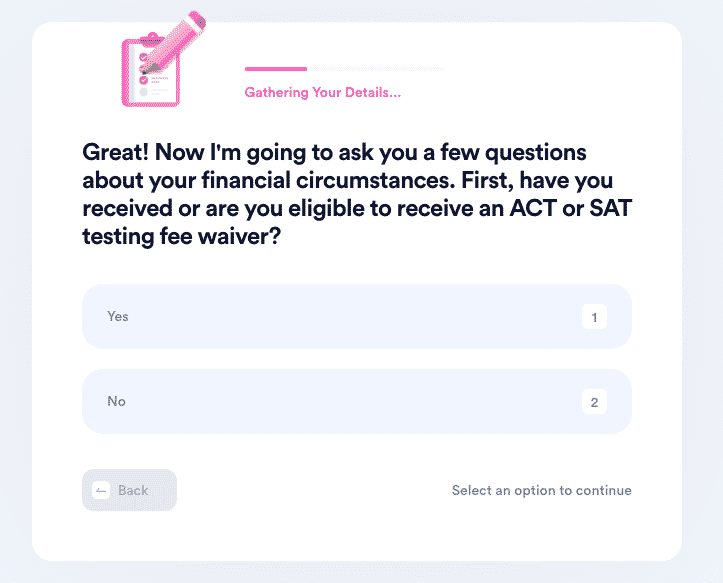 With our app, you can boost your admission application so that you have better chances of getting a fee waiver! The way it works is simple and takes almost no effort on your part—we do most of the work!
All you need to do is let us get your school counselor's signature and do the rest of the work for you. We'll complete the fee waiver form and send it on your behalf to the Syracuse University admissions office!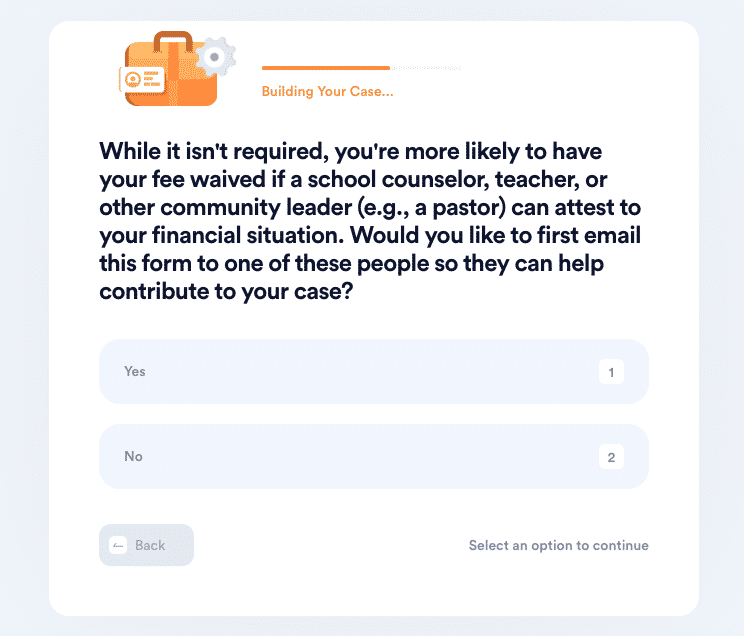 You can get our assistance in waiving both college application fees (for undergrad and grad studies) and test fees, with the only exception of the SAT and ACT.
Use DoNotPay To Tackle Administrative Issues Head-On
DoNotPay can help you with a lot more than waiving college and university fees!
Do you keep getting charged for memberships and subscriptions like The New Yorker and New York Daily, but you stopped using them a while ago? Cancel them with DoNotPay in just a few clicks! We have all kinds of useful tools you can use to skip the line making a DMV appointment or renewing your driver's license in the state of New York.
Open your and visit DoNotPay to see how we can help you:
Fight speeding tickets

Dispute traffic tickets