What Is the Common App Fee Waiver and Why You Should Use DoNotPay Instead
The Common App is an online application system that enables students to apply to hundreds of colleges in the U.S. and certain schools outside America. Around 250 member schools don't charge an application fee, but the rest of the colleges do.
Most universities have low application fees (around $50), but some can charge up to $100. If you want to apply to multiple colleges, you know that it can be pricey. You'll also have to pay for SATs or ACTs, travel expenses, etc. That's where fee waivers come in handy, and the Common App offers a feature that can help you request to have your college fees waived.
Common App Features Explained
The primary purpose of the Common App is to make the process of applying for multiple colleges easier. Both first-time and transfer students can use the platform. 
Before you fill out your applications through the Common App, you should create an account. You can sign up any time, but the new version of the app is available in August each year. You should transfer your info to the latest version if you register before August.
Once you sign up, you'll be able to start working on your applications. You'll need to provide the following details:
Your name and address

Employment and education of parents

Extracurricular activities
You'll type in this info only once, and each application will be automatically completed. If a certain school requires more details, fill out only those fields when applying. The Common App enables students to write a 650-word essay to include in their application. You'll also need to submit materials such as transcripts and recommendation letters. 
Transfer students will need to enter additional information:
The name of the school they attended

Enrollment dates

Completed coursework

GPA

Essay
How To Pay Application Fee on the Common App
When you complete your application, click on the Review and Submit button to check your application details one more time. Once you review it, you can continue to the next step—paying the application fees. 
You'll be redirected to a webpage where you can choose the payment method and provide the required info. After you complete the payment, you'll be taken back to the application page to complete the last step and submit your application.
How To Get the Common App Fee Waiver
To request a fee waiver with the Common App, follow these steps:
Log in to your

Common App account

Click on the

Common App

tab on your dashboard

Select

Profile 

Click on the

Common App Fee Waiver

option

Answer all of the questions
Your fee waiver request will be sent to your school counselor, who should complete the form, confirm your eligibility, and provide any additional info or statements. 
The Common App fee waiver feature, while useful, can be challenging to use considering the number of questions you'll need to answer. 
DoNotPay offers a much better, time-efficient option. Not only do we complete the request for you and compose a formal email, but we also don't have to send the fee waiver request to your counselor unless you need their signature. 
Why Is DoNotPay a Better Option? How To Waive College Application Fees the Easy Way
Instead of having your counselor fill out the waiver fee form, you can rely on DoNotPay to do it in no time! Our helpful feature will save you a lot of time since it will only take you a few clicks to complete the process:
Open your DoNotPay account in a

web browser

Choose our

College Application Fee Waiver

option

Pick the fee you want to waive

Select the college you want to apply to and respond to our question about your financial situation

Tell us if you need to obtain your counselor's signature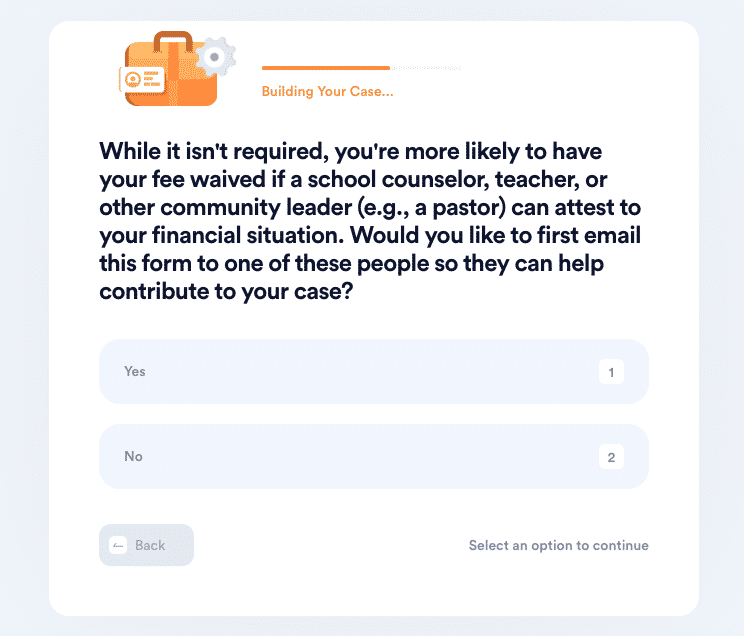 DoNotPay can help you waive three types of fees:
New Student Application

Enrollment Deposit

Transfer Student
We will complete the fee waiver form and send it either to your counselor for a signature or to the university you're interested in.
The Common App can help you get a fee waiver only for the member colleges. With DoNotPay, you can request to have your college application fees waived in any university in the U.S., including Harvard, Stanford, and New York University. 
| | | | | |
| --- | --- | --- | --- | --- |
| | Effective | User-Friendly | Time-Efficient | Covers All Colleges in the U.S. |
| DoNotPay | ✔ | ✔ | ✔ | ✔ |
| Common App | ✔ | ✔ | ✘ | ✘ |
Other Ways To Get a College Application Fee Waiver
If the Common App doesn't cover the school you're interested in, you can request to have your fees waived in other ways.
One of the options is to consult your school counselor and ask him or her about the fee waiver possibilities. Colleges usually send their forms to all high schools, so there's a good chance your counselor will have it.
If you're home-schooled, you can contact the local high-school counselor and provide proof that you need financial aid. You could bring your tax reports or prove that you live in a low-income family.
Some colleges grant free applications if you show up at the university to ask about the fee waiver or if you apply online on their website. Gather the relevant info about your desired college regarding fee waivers by visiting their website or giving them a call.
The best option to request a fee waiver for any university is with DoNotPay, as we will do most of the work for you.
How Many Schools Does the Common App Fee Waiver Cover?
There are over 900 member schools that you can apply to with the Common App, and you can try to get your fees waived for all of the member schools that charge the application fee. 
What Are the Common App Fee Waiver Requirements?
To be granted a fee waiver with the Common App, you should:
Have received an

SAT

or

ACT fee waiver

Be enrolled in the reduced-price lunch program 

Come from a family that gets financial aid and has an income that falls within the USDA Food and Nutrition Service guidelines 

Fit into one of these categories: orphan, homeless, or live in a foster home
Some universities might impose additional requirements. Consult your guidance counselor to find out more details about your desired college.
DoNotPay Does Much More!
College Application Fee Waiver isn't the only tool DoNotPay offers. We can help you save a lot of money in many other ways. 
Students often sign up for homework-related services such as Chegg, Bartleby, and Study Edge and then spend hundreds of dollars a year without even using them. DoNotPay can help you terminate all unwanted memberships fast and easy. 
Another option is to take advantage of our virtual credit card and avoid paying for the services in the first place. You'll have a chance to start free trials without the risk of being charged, whether you want to sign up for Cengage, Amazon Prime Student, or any other similar service.
Whichever issue you might encounter, DoNotPay has a solution for you. Sign in to your account from a web browser, and we will assist you in:
Fighting speeding tickets

Appealing traffic tickets