A Step-by-Step Guide to Getting an ACT Fee Waiver
If you want to apply to college, you have to take either the SAT or ACT entrance examination. There's evidence that shows scholarship providers prefer the ACT over SAT exams, and you stand a chance to receive a scholarship from ACT when you register. The ACT exams also include career and life planning as part of the exam package.
Apart from the entrance exams, you also have to cover application and travel costs. All of the college fees add up, especially if you're applying to more than one college. DoNotPay can help you get a fee waiver for college application fees, no matter how many universities you apply to.
What Are the Costs Involved in Taking the ACT?
When registering for the ACT, you can choose between a writing and no-writing exam. Both tests are less than $100 each, including the cost of mailing your results to four colleges.
The full test without the writing section is $55, and the test with it is $70.
Other fees include:
Standby testing—$56

Late registration—$35

Score reports after the fourth one—$13
You can request a copy of your results for a fee of $13 or your test and answers for $22. With so many extra costs, the expenses of the ACTs quickly pile up. If your financial situation doesn't allow you to cover these fees, you can request an ACT fee waiver.
What Does an ACT Fee Waiver Cover?
The fee waiver covers the following aspects:
Test registration or late fees

Up to four reports to colleges of your choice at the moment of registration

Official preparation materials
You can't make changes to your registration with your fee waiver. Date, venue, or test type changes will cost you an additional $35. The ACT fee waiver doesn't cover your standby fee if you ask to be put on a waiting list.
If you need more than four score reports, you can request them afterward for free.
You can reschedule the examination and apply another fee waiver to the new test date if you can't take the test on the registered date.
ACT Fee Waiver Eligibility Requirements
You can apply for the ACT fee waiver, but you have to meet at least one of the ACT fee waiver requirements. To be eligible for an ACT application fee waiver, you have to:
Be enrolled in the 11th or 12th grade

Take the test in the U.S. states or territories, including Puerto Rico

Meet at least one economic need indicator
You can find the list of economic need indicators below:
Indicators
Description

Free or reduced-fee lunch

You were eligible or enrolled in a fee-reduced or free lunch program in high school

Your family earns less than:

$12,760 for a one-person household

$17,240 for a two-person household

$21,720 for a three-person household

$26,200 for a four-person family

You can add $4,480 for every additional person in the family. The USDA income levels apply to most U.S. states

Program for economically disadvantaged students

You've been enrolled in programs such as

GEAR

or

Upward Bound

Housing

You're homeless, in foster care, or a ward of the state

State assistance

Your family lives in subsidized housing or receive low-income subsidies
The ACT committee can request that you submit additional documents—such as tax returns—as proof that you require assistance.
You must submit all your documentation by the 31st of August each year.
If you receive an ACT fee waiver, you will automatically be eligible for a college application fee waiver.
How Do You Apply for the ACT Fee Waiver?
You cannot apply for a fee waiver on the ACT website. You have to contact your guidance counselor for assistance. Follow these steps to request an ACT fee waiver:
Talk to your school counselor, who should have all the necessary forms—if the counselor doesn't have the documents, they must contact the ACT offices

Fill in the necessary forms and make sure you have supporting documentation

Ask your counselor to send the application to the ACT offices

Wait for your ACT waiver code after you've applied—the ACT offices will send this code to you directly if you get the fee waiver

Pay for any additional fees with your credit card

Finish the registration process
Make sure you approach your counselor early in the year. An early application won't guarantee a waiver, but a late application means you won't be eligible.
Once you've been approved, you can receive up to four waivers. Every time you register for the ACTs, you use one release, regardless of whether you take the test. If you have any questions about billing, you can fill in a contact form on the website with your query.
How Do You Prepare for The ACT?
Once you've been approved, your fee waiver allows you to get free access to various official preparation tools. When you register with a valid fee waiver, The Official ACT Self-Paced Course, powered by Kaplan, will automatically be added to your order at no additional cost. ACT offers more prep tools you can use on its website.
To get the best possible scores, you should:
Register early for the test

Choose a date and venue that suits you

Use the official prep materials

Write realistic practice tests
While you can use four separate fee waivers, you probably want to get the best possible scores on your first try. If you follow the guidelines to prepare thoroughly, you won't have to write the test multiple times.
Let DoNotPay Help With Your Fee Waiver Applications
While DoNotPay can't handle the application for an ACT or SAT fee waiver on your behalf, we can help you get all the information you need for your application.
If you receive an ACT fee waiver, you'll automatically be eligible for an application fee waiver for most colleges.
The students who don't receive an ACT fee waiver can apply for college application fee waivers directly from their smartphones using DoNotPay! You don't have to struggle to fill in forms or get signatures. We take care of the request form and send it to any four-year college that you choose from our list.
To take advantage of this nifty service, follow these steps:
Open DoNotPay in your

Select

College Application Fee Waiver

Choose which fee you need waived when prompted

Choose the colleges that you're applying to

Answer some questions about your financial situation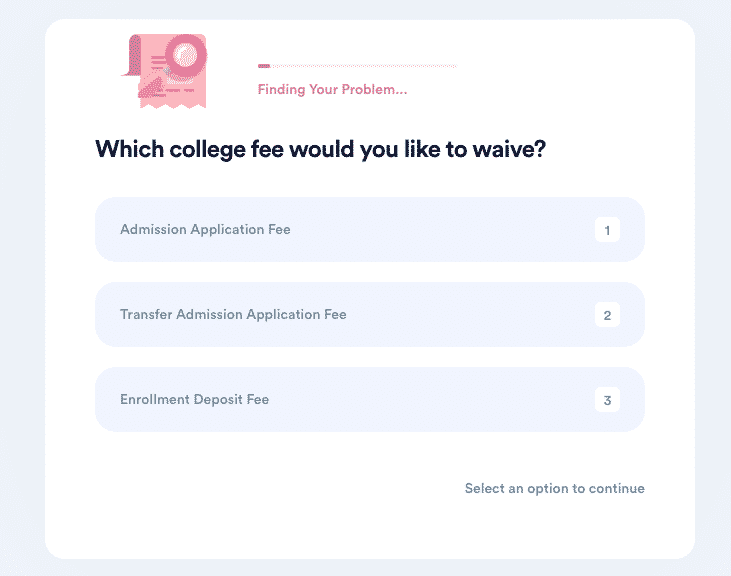 Our app can also get your school counselor's signature to strengthen the application and confirm you need the fee waiver.
You'll receive a notification regarding the results of your application as soon as it's available, and you can then carry on with your registration process.
What Else Can DoNotPay Do?
DoNotPay is the service, developed to make your life easier. We can help you apply for college application fee waivers at any school that allows it, including Harvard, Stanford, and MIT. If the school requires you to apply through Common App, we can provide instructions.
DoNotPay can assist you in managing your student loan bills or saving money on utility bills.
You can log on to DoNotPay in your and access other useful tips and tricks. From scheduling appointments to requesting refunds, you can get help with tasks like:
Disputing speeding tickets

Fighting traffic tickets