University of Arizona Application Fee Waiver—Get It Easily With DoNotPay
The University of Arizona is a public university in Tucson, Arizona. It is a research university ranked 97th on the National Universities list.
The University of Arizona has around 35,801 undergraduate and 10,117 postgraduate students. If you want to become a part of the student body, you'll need to pay the college application fee and college tuition if you get in.
DoNotPay can help you avoid paying the application fee by requesting a fee waiver on your behalf.
What Is an Application Fee Waiver?
Application fees can be expensive, particularly if the student wants to apply to multiple colleges. For some high-profile schools such as Harvard, Stanford, Northwestern, and many others, application fees can be around $90. When put together, college application fees can create expenses that add up to $400.
College application fee waivers are request forms that students submit to a college. A fee waiver should enable the student a free application to a college.
If you can prove that you're experiencing financial hardship, the school will approve your fee waiver application. There are usually eligibility criteria that you must meet so that the college would waive your application fee. The eligibility guidelines are different for every university. Most of them will waive your application fee if you've obtained the SAT or ACT fee waiver. Colleges that allow application through the Common App will waive your fee if you fulfill the criteria set by the Common App.
How Much Does the University of Arizona Application Fee Cost?
The University of Arizona application fee is $50. The University accepts payment via:
Future Wildcat—online application form

Phone with credit card

Check

Money order to the UA Office of Admissions
If you are paying online, you don't have to pay the fee immediately. You can return to your application after you submit it and pay the fee online using the application ID and password.
The only form of payment that the University doesn't accept is cash.
Who Qualifies for the University of Arizona Application Fee Waiver?
The University of Arizona will accept a fee waiver from students who are unable to pay the fee. The student has to prove that they have financial hardships. To prove your economic need, you need to fill out a fee waiver form and get your high school counselor to sign it.
Make sure to pay the application fee or submit a fee waiver before the deadline because the applications won't be processed if you don't.
You meet the standard eligibility criteria if you:
Are a member of a family that receives public help

Are homeless or live in public housing or a foster home

Received the ACT or SAT fee waiver

Have a family income that meets the income eligibility criteria of the USDA Food and Nutrition Service

Are enrolled in or are eligible to be a part of a state, local, or federal program that aids low-income families

Receive a free or reduced-price lunch program
How To Obtain a University of Arizona Fee Waiver by Yourself
You can request a University of Arizona fee waiver in any of the following ways:
| | |
| --- | --- |
| Can You Request Via | Yes/No |
| DoNotPay | Yes |
| Common or Coalition App | Yes |
| Online Form | Yes |
| Letter | No |
| Phone | Yes |
| SAT/ACT/NACAC | N/A |
How To Get a Fee Waiver via the Common App
The Common App is a third-party platform that helps students apply to colleges more easily. When you apply to college through this app, you can request a fee waiver manually. All you need to do is:
Go to your profile in the Common App

Click on the

Fee Waiver

category

Tap on

Request a Fee Waiver
Applying for a Fee Waiver Through the Coalition App
The Coalition App is another third-party platform that enables students to request a fee waiver if they're unable to pay it. To apply for a fee waiver via the Coalition App, follow the steps below:
Go to the

Fee Waiver

section on your

MyCoalition Profile

Check all the boxes that apply to your case

See if the school you're applying to is on the list of colleges that will waive your fee through the Coalition App
How To Apply for a Fee Waiver via an Online Form
You can download the application fee waiver request form from the University of Arizona website. After your download it, do the following:
Print out the request form

Fill out the fields

Obtain your high school counselor's signature

Send the request form to one of the addresses at the bottom of the request form
How To Request a Fee Waiver Over the Phone
You can call the Admission Office to request a fee waiver. You can reach the office at 520-621-3237.
If you need some clarification, you can ask the University's representative to explain the process of requesting a fee waiver in more detail.
What Can DoNotPay Do About Fee Waivers?
DoNotPay can request three types of fee waivers on your behalf—they are:
New Student Application Fee Waiver

Transfer Student Application Fee Waiver

Enrollment Deposit Fee Waiver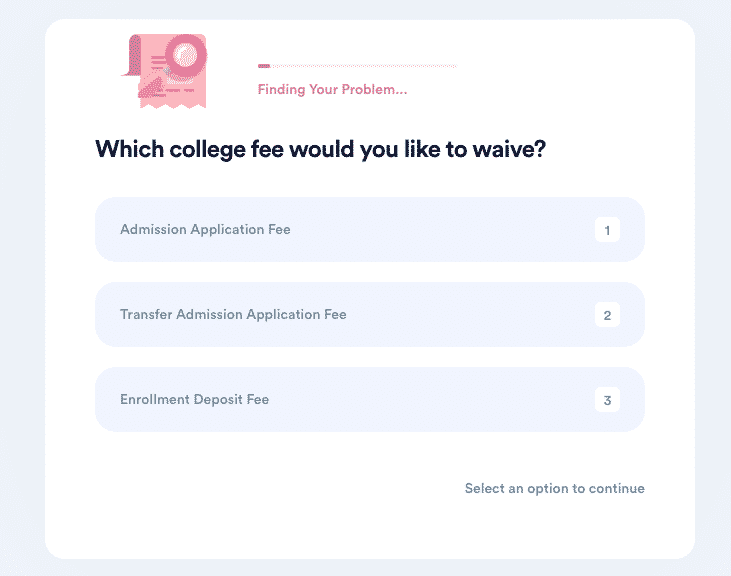 With our platform, you can request a fee waiver easily in a few simple steps. We will submit the request on your behalf after you provide us with some information about your financial situation. DoNotPay can obtain a signature from your high school counselor if you opt for this option.
After we fill out your fee waiver request form, we'll mail it to the college you're applying to. If you decide you want your counselor's signature, DoNotPay will send the form to them first.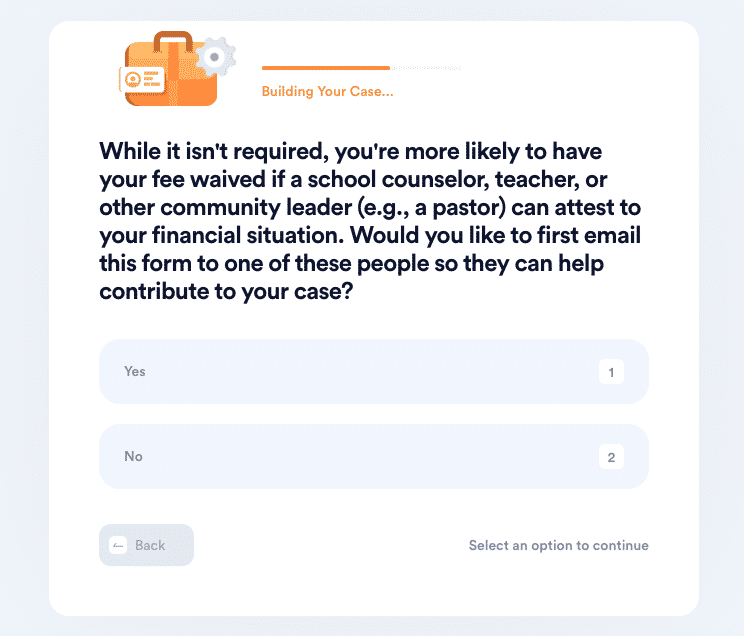 How To Obtain a College Application Fee Waiver With DoNotPay's Help
To use DoNotPay's feature to request a fee waiver, you should open our app in any . After you create an account or log in to an existing one, follow these steps to get a University of Arizona fee waiver:
Access the

College Application Fee Waiver

feature

Select one of the fee waivers

Enter

University of Arizona

as the college you're applying to, and answer a few questions about your financial situation

Specify if you want DoNotPay to obtain your high school official's signature
Resolve Your Administrative Troubles With the Help of DoNotPay
DoNotPay can help you waive your college application fees, but this isn't all that we can do. You can help people and participate in clinical trials in Arizona—DoNotPay will help you find the best clinical trials near you.
Another one of our platform's useful features is that we can assist you with scheduling an appointment with the DMV without waiting forever so that you can renew your Arizona driver's license.
Find out what else we offer by opening DoNotPay in any .
We'll enable you to:
Dispute traffic fines

Fight speeding tickets