Interested in Applying to Baylor University? Get the Scoop on Baylor Application Fee!
Baylor University is a highly-ranked private Christian University situated in Texas. It offers graduate and professional educational programs that include medicine, law, and business.
Baylor University has an acceptance rate of 39%, which makes it one of the more selective institutions.
Considering all the expenses that applying for colleges entail, we are here to explain how to reduce the costs of applying for Baylor University.
What Are Application Fees And What Are the Usual Prices
Application fees cover the expenses of reviewing your application and deciding on your admission. The average price of application fees is around $60. Some colleges charge as much as $90, and some allow you to apply for free.
Applying for colleges involves a lot more than covering the cost of application fees. Even if the college doesn't charge an application fee, other expenses can still set you back for hundreds of dollars. Here are some of the costs of applying for a college that you maybe haven't considered:
Most students want to keep their options open and increase their chances of enrolling, so they apply for more colleges. That can cause a serious financial setback for you and your family. One of the ways of reducing those costs is by applying for a college application fee waiver. DoNotPay is here to present the conditions you have to meet and provide the easiest way of applying.
The Price of Baylor University Application Fee and the Application Process
Applying for Baylor University is free of charge. You can apply using these three methods:
Applying consists of three steps:
Application Steps
Description

Choosing the application deadline

You can pick between early and regular admissions for the fall and spring semester

Selecting the method of applying

Choose between one of the provided websites and create a goBAYLOR account so you can track your application status

Reviewing your application checklist

You have to create a goBAYLOR profile on the website. It will indicate what documents you need to provide to complete your file before the deadline

Sending your application materials to the university address

Undergraduate Admissions

One Bear Place #97056

Waco, TX 76798-7056
What Are the Conditions of Applying to Baylor University?
If you are considering Baylor University, have in mind that some of their requirements are:
If you don't feel certain that you will make the cut, applying for some backup colleges may seem like a good idea. Most other colleges require an application fee, but that shouldn't stop you from applying. The majority of them will allow you to apply for a fee waiver under special circumstances. We are here to show you how to do it.
Learn How To Get Your Application Fee Waived for Other Colleges
Every college has its own methods for applying for a fee waiver. Some of the most common are:
By accessing third-party apps, such as the

Common App

or

Coalition App

With NACAC fee waiver application form
Third-Party Applications
Applying for a college fee waiver by using the Common App or Coalition App implies some common steps. Both apps require:
Creating an account

Accessing the

Fee Waiver

section on your

Profile

Checking the statements that describe your financial situation

Acquiring your counselor's confirmation or signature
When you complete all the steps indicated on the websites, your application fee waiver requests will be sent to your desired universities.
NACAC
Many colleges accept application fee waiver forms provided by NACAC. You need to:
Download the form

Provide information about your financial situation

Ask for a confirmation letter from your counselor or another person of authority

Send the letter and form to the institution's office of admission
DoNotPay Helps You Get Any Application Fee Waived in No Time
DoNotPay will help you apply for a fee waiver at any backup college you are considering. Using other methods can be time-consuming and unreliable. With the outbreak of Covid-19, obtaining a counselor's signature and confirmation can be especially challenging.
Our service will save your time and ease the stress of applying to colleges. We will fill out the form and mail it to your counselor or university on your behalf! All you have to do is:
Access DoNotPay from your

Choose the

College Application Fee Waiver

feature

Select the desired college and answer some brief questions regarding your financial situation

Confirm that you will need your counselor's signature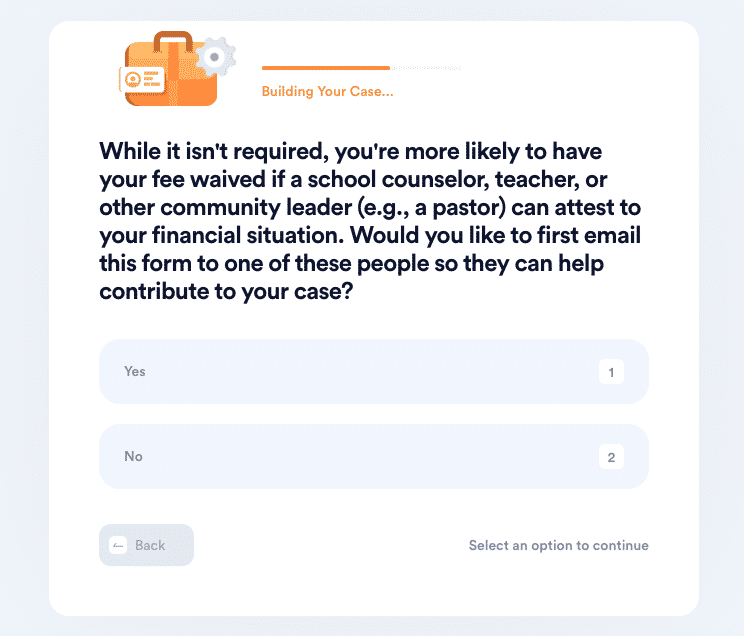 DoNotPay fills out the form and sends it to your counselor for signature or to the university's financial aid office. With DoNotPay and its practical solution to get a fee waiver, no college is out of reach!

Am I Eligible To Request an Application Fee Waiver
Most colleges will grant an application fee waiver to students who face financial hardships. The fee waiver criteria that most colleges and universities accept are:
Being homeless, an orphan, or a ward of the state

Living in public housing or a foster home

Receiving public assistance

Participating in any program designed to help students that come from low-income families

Being enrolled in Federal Free or Reduced Price Lunch Program

Meeting the Income Eligibility Guidelines provided by USDA Food and Nutrition Service
Many colleges have additional conditions, so it is advisable to check their websites before applying for a fee waiver.
If you took your SAT and ACTs with a fee waiver, you are eligible for getting a college application fee waiver as well.
DoNotPay Can Facilitate Your Other Mundane Tasks
Relax and sit back while DoNotPay solves all your bureaucracy issues in no time. We can help you apply for clinical trials in Texas or get an extension on paying your electric bills. If you need to renew your license or contest parking tickets, DoNotPay will provide the easiest way of doing so.
Interested in learning all about harassment laws in Texas? We will educate you and help you report harassment with a few clicks of a button. Maybe you want to apply to more colleges but feel like it might be too expensive? We can help you get your application fees waived for high-profile schools like Princeton, Cornell, or Stanford.
Access DoNotPay from any and let us assist you with: