Learn How To Get an SAT Fee Waiver and Save Money
The Scholastic Assessment Test (SAT) is a standardized high school test developed and published by the College Board. It is designed to test students' knowledge of mathematics and critical reading and writing. The SAT scores play a crucial part when it comes to college admissions. 
Since the SAT with the optional essay costs almost 65 dollars, having an SAT fee waiver can be of big help to students with financial issues, especially if they want to take the test more than once.
SAT Fee Waivers Explained
Applying for colleges is super stressful for everyone, and the most stressful part is taking the SAT. The situation can get even worse for students who aren't in a great financial situation. With test preparations, the price of SATs, and college application fees, the costs quickly add up. That's why most students can benefit a lot from an SAT fee waiver. 
Having your SAT fees waived can help you save hundreds of dollars, not only for the tests but also for your college application.
How Many SAT Fee Waivers Can I Get?
Students can get fee waivers for: 
Two SATs with or without the essay 

Up to six SAT Subject Tests
Many students use this opportunity to have a trial SAT and then do another one a few months later. The results are usually better the second time they take the test. The SAT fee waiver is available to students in 11th and 12th grade.
When it comes to the SAT Subject Tests, the fee waivers cover registrations for two whole days. Since you can take three tests per day, your fee waiver can cover up to six tests. 
What Else Does the SAT Fee Waiver Cover?
Besides covering the SAT and SAT Subject Test registrations, a fee waiver can help you save hundreds of dollars by offering the following benefits:
Two free reports of Question-and-Answer Service (QAS) or Student Answer Service (SAS) 

Unlimited score reports that will be sent to your desired schools

Fee waiver for application fees for most colleges

Free CSS Profile applications in case you need to apply for financial aid

No fees for late registrations 
While getting a fee waiver for the SAT brings many perks, it doesn't cover the changes in your registration. You'll need to pay a fee if you want to change the date or the center in which you take the test.
How To Get an SAT Fee Waiver
You can ask your counselor to help you determine if you're eligible for an SAT fee waiver and provide you with the necessary forms. 
If you're home-schooled, you can contact a local high school counselor. You'll need to provide any proof of eligibility, for example, a guarantee that you enrolled in a financial aid program. 
How To Register for the SAT With a Fee Waiver
You can register for the SAT with a fee waiver in two ways—online or by mail, and this is how to do it:
Registering Online

Type in the 12-digit code from your fee waiver card

Enter the school counselor's name

Select why you qualify for a fee waiver

Registering by Mail

Your counselor should provide you with the paper registration form

Complete the required information

Include the info from the fee waiver card in the

Payment Information

field

Mail both the registration form and fee waiver card to College Board
SAT Fee Waiver Requirements—Who's Eligible To Get an SAT Fee Waiver?
You'll be granted an SAT fee waiver if:
You enrolled in the

National School Lunch Program

(NSLP) or any federal or state program that offers financial help to students from low-income households

Your family gets public assistance

You're homeless or live in a foster home 

You're an orphan 
Need Help Getting a College Application Fee Waiver? DoNotPay Has Got Your Back
While DoNotPay can't assist you in getting an SAT or ACT fee waiver, we can lighten the burden by helping you have your college fees waived. 
You might have heard about the Common App, whose primary goal is to help students apply for multiple colleges at once. While they also offer a feature that could help you get a fee waiver, DoNotPay is a much better and quicker option. Our feature is dedicated to making the process of requesting fee waivers as simple as possible. 
With us, you can take care of three types of fees:
New Student Application

Transfer Student

Enrollment Deposit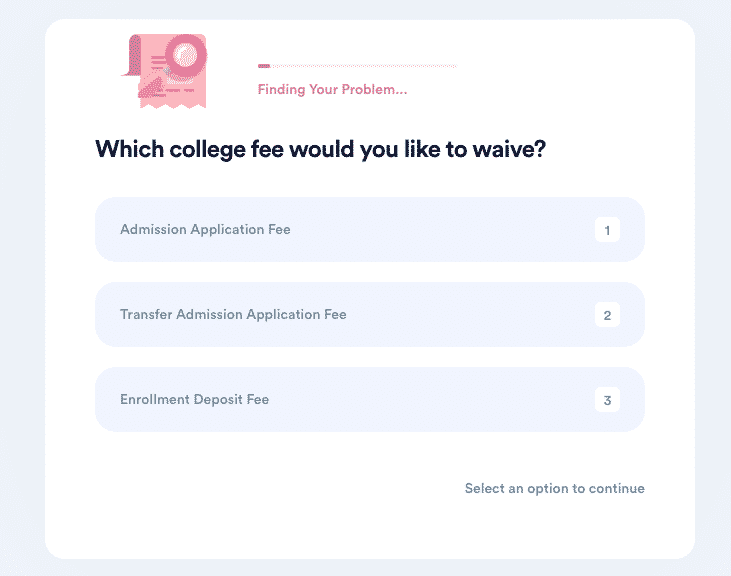 You already know how pricey colleges in the U.S. are, and if you want to apply for multiple schools, you'll probably need to pay hundreds of dollars for college application fees only.
If you missed the chance to request an SAT fee waiver, you should consider getting a college fee waiver to save money. DoNotPay can help you do it in a few clicks:
Log in to your account from a

web browser

Click on our

College Application Fee Waiver

tool

Pick the fee you want to waive

Select your desired school

Answer some questions about your financial situation

Let us know if we need to obtain your counselor's signature 
Due to the COVID-19 outbreak, most schools don't require the counselor's signature. You can check the requirements of the college you're interested in to see if you should obtain it.
Once DoNotPay completes the fee waiver form, we will compose an email and send it to your counselor or your desired university if the counselor's signature isn't necessary.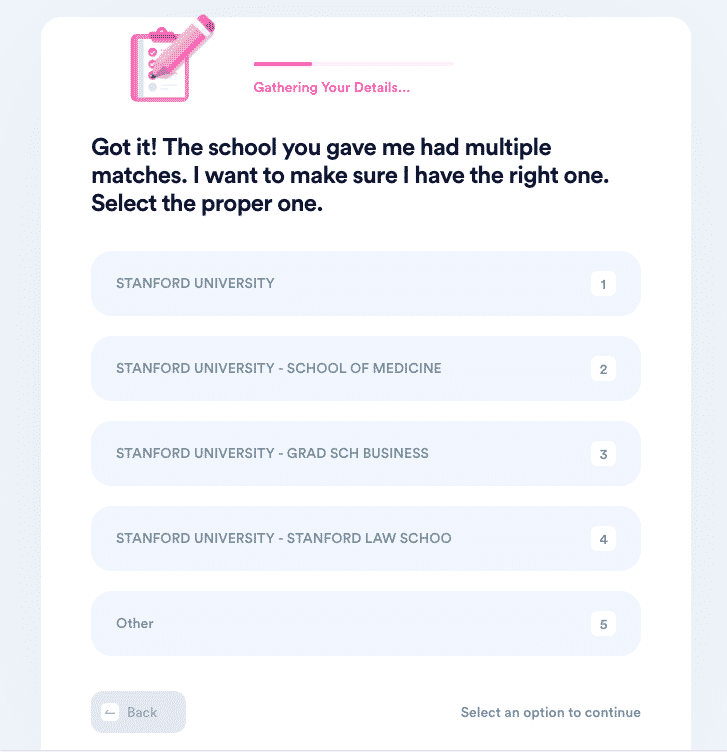 How To Use the SAT College Application Fee Waiver
Once you get a fee waiver for the SAT, you should automatically be eligible to have fees waived for your college application as well. While most colleges accept SAT fee waiver benefits, not all schools agree to participate.
You should check if your desired university requires students to pay application fees even if they took the SAT for free. If it does, you should try to find another solution to get a college application fee waiver (Hint: DoNotPay will gladly help you!).
Allow Us To Make Your Student Days Less Stressful—Solve Any Pesky Issue With DoNotPay
DoNotPay can help you get a fee waiver for any college in the U.S., including Harvard, the City University of New York, and Northeastern University in Boston. We also offer the fastest solution for canceling student-oriented services such as Chegg, Bartleby, or Study Edge. 
Our convenient app can assist you in generating virtual credit cards and registering for numerous free trials, such as Cengage and Amazon Prime Student, in a risk-free way or offer help when dealing with student loan bills.
Log in to your DoNotPay account from any web browser and rely on us when you want to:
Dispute traffic tickets

Contest speeding tickets