DoNotPay Will Help You Waive Your Temple University Application Fee
Temple University charges $55 for the application fee, which can be pricey if you want to apply to multiple schools. If college fees pose a financial burden on you or your family, consider requesting a Temple University application fee waiver with DoNotPay.
Why Do I Need a College Application Fee Waiver?
While most universities charge around $30 for the application fee, some schools can charge up to $100. Since students usually apply to at least four colleges, most of them spend hundreds of dollars on fees only. The most popular schools often have the highest application fees:
With many other college-related expenses—such as SATs, ACTs, campus visits, and similar—the financial burden can become overwhelming. If you're worried about paying for multiple college application fees, getting an application fee waiver might come in handy.
How To Get a Temple University Fee Waiver
Temple University allows prospective students to apply through the Common App only. Before you submit your application, you can request a college fee waiver on the Common App platform:
Sign in to your

Common App account

Select the

Common App

tab

Click on

Profile

Choose the

Common App Fee Waiver

option

Respond to all required questions
The Common App will send the fee waiver request to your high school counselor. He or she will need to:
Complete the form

Confirm your eligibility

Provide additional info
If the Common App accepts your fee waiver request, you won't be charged for your college application.
Who Qualifies for the Temple University Application Fee Waiver?
To obtain the Temple University application fee waiver, you have to:
Qualify for the free or reduced-fee lunch program

Live in a family whose income falls within the income eligibility guidelines according to the

USDA Food and Nutrition Service

Come from a family that receives financial help

Be eligible for an SAT or ACT fee waiver

Belong to one of the following categories—orphan, homeless, or ward of the state
Temple University Grad School Fee Waiver
If you wish to apply for one of the grad school programs at Temple University, you will need to:
Take one of the standardized tests, such as:

Graduate Management Admission Test (GMAT)

Miller Analogies Test (MAT)

Complete your application on your desired program's website

Pay $60 for the application fee
The university grants fee waivers to U.S. candidates who are enrolled in one of the following programs:
To get more info about the Temple University grad school fee waiver, send an email to schumach@temple.edu.
How Can DoNotPay Help With the Temple University Application Fee Waiver?
DoNotPay is the easiest way to get college application fee waivers. You only have to fill in your information once, regardless of how many schools you apply to. DoNotPay will help you apply for an application fee waiver for any university quickly and stress-free. You can use our services to apply for three types of fee waivers:
New admissions

Transfer students

Enrollment deposit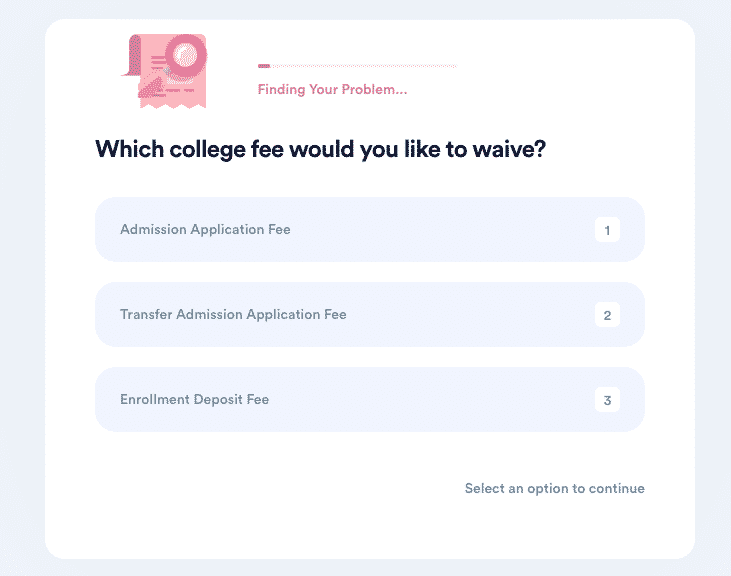 To access our platform and obtain a fee waiver, follow these steps:
Log in to your DoNotPay account in any

Select

College Application Fee Waiver

from the menu

Choose which fees you would like waived

Choose the school that you're interested in

Answer some questions about your financial situation
DoNotPay offers an additional service that enables you to strengthen your application with your counselor's signature. If you would like your guidance counselor to sign your application, indicate your choice when prompted. DoNotPay will send your forms to your counselor to sign before sending them directly to the admissions office of the school you chose.
Why Is DoNotPay Better Than the Common App?
While the Common App is a valid solution to obtain a college fee waiver, it's not the perfect choice. One of the biggest disadvantages is that it can help you get a fee waiver for member schools only. If your desired university isn't on the list, you can't use the Common App to apply for free.
As opposed to the Common App, DoNotPay can help you request a fee waiver when applying to any college. Our platform is a much more efficient choice because it can send the fee waiver request to the university in question directly if you choose so.
What Other Universities Can DoNotPay Help Me With?
will send your fee waiver request to any college in America, such as:
Required standardized tests can also cost a fortune. DoNotPay will help you request a fee waiver for any test—except for the SAT and ACT—including:
What Else Can Our Award-Winning App Do for You?
If you think that's impressive, wait until you've heard about other features we boast!
Our powerful app can draft paperwork for you, locate unclaimed funds under your name, cancel subscriptions, sue robocallers, and protect you from stalkers and harassers—all in one nifty browser app!
Our services have been recognized by the esteemed ABA Brown award, serving as a testament to our abilities to assist you with your small claims issues, free trial auto-renewals, college fee waivers, public records, copyright protection, and much more!
More Benefits of DoNotPay
DoNotPay is a useful tool for handling many otherwise annoying life's trifles, including: