DoNotPay Can Help You Obtain a VCU Application Fee Waiver—See How To Do It!
Virginia Commonwealth University (VCU) is a public research university in Richmond. It is a classified R1 doctoral university, which means that it has very high research activity. VCU offers baccalaureate, master's, and doctoral degrees, along with certificate and professional courses.
VCU isn't among the most affordable universities regarding college fees, especially if you're an out-of-state student, and college application fees aren't any better.
DoNotPay can help you get a VCU application fee waiver and ease the financial burden that comes with going to college.
How Much Is the Virginia Commonwealth University Application Fee?
You can apply to VCU only online. The application fee is $70, and the University accepts only credit card payments. They won't accept cash, checks, and money orders.
You can apply either via VCU's online application or the Common Application. The VCU application fee is nonrefundable.
You won't be required to pay the application fee if you apply to undergraduate health sciences programs on the MCV campus while being a part of any degree program on the Monroe Park Campus.
How To Obtain a VCU Application Fee Waiver by Yourself
Since VCU processes applications through the Common Application, you can request a Common app fee waiver if you meet the eligibility criteria. To get a fee waiver via the Common app, follow the steps below:
Create an account on the Common app

Fill out the application

Go to

Common App Fee Waiver

in the

Profile

section of your application

Indicate that you meet one or more of the eligibility criteria for a fee waiver on your application

Tap on

Request Application Fee Waiver
You can request a fee waiver even if you're an international student. After you check the eligibility criteria for a fee waiver, you should include the indicator of economic need in your application.
This should be enough to get you a fee waiver but keep in mind that every school is different, so they will decide whether to accept a fee waiver request.
The University will ask you to pay the application fee if they determine that you don't fulfill the eligibility criteria.
| | |
| --- | --- |
| Can You Request a Fee Waiver Via | Yes/No |
| DoNotPay | Yes |
| Letter | No |
| Online Application | No |
| Common Application | Yes |
| SAT/ACT Fee Waiver | No |
| Phone | No |
Are You Eligible for a Fee Waiver?
You will qualify for a VCU application fee waiver if you meet any of the criteria set by the Common app.
The criteria that you need to fulfill are:
The annual income of a family is within the

USDA Food and Nutrition Service

income eligibility guidelines

Having or being eligible to receive the

SAT

or

ACT fee waiver

A school official, financial aid officer, or a community leader being able to provide a supporting statement about your financial situation

Being homeless, or living in a foster home or a subsidized public housing

Enrollment in any local, state, or federal program that helps low-income students

Receiving public assistance

Participating or being able to participate in the federal free or reduced-price lunch program

Being a ward of the state, or an orphan
The University will ask your school counselor to fill out the fee waiver form to confirm that you need a fee waiver.
How To Get a Fee Waiver if You're Applying for Graduate School
If you participated in a Bridges program, Minority Access to Research Careers (MARC), Initiative for Maximizing Student Development (IMSD), and Postbaccalaureate Research Education Program (PREP), and you're applying to the Department of Health Disparities of VCU, the University offers a fee waiver. 
To get a fee waiver, your student program director will need to send an email or a written fee waiver request to the VCU coordinator for research training programs. The letter should include a statement from the program director that the student in question (you) participated in the program.
The school will confirm the fee waiver via email, and they will send you further instructions for application submission.
If you're applying to chemistry, you can get a fee waiver if you're a domestic student. The Department of Chemistry will pay for your application fee after your application is finished.
You can request a fee waiver at iuarachchige@vcu.edu.
VCU Baccalaureate Graduate Masters program has an automatic graduate application fee waiver.
You can also get a fee waiver by applying for a Partnership program between Virginia Commonwealth University and any international partner institutions. You'll need to email the waiver request to soeinfo@vcu.edu.
Use DoNotPay To Get a VCU Application Fee Waiver
Our platform can help you obtain an application fee waiver in under five minutes. Using our College Application Fee Waiver feature, you'll be able to request the following types of fee waivers:
Transfer Student Fee Waiver

New Student Application Fee Waiver

Enrollment Deposit Fee Waiver
DoNotPay will fill out the fee waiver request form on your behalf after you choose which fee waiver you want to apply for. We will send the request form to the University's Financial Aid Office.
We offer one additional option—you can instruct us to send your request form to your high school counselor to obtain their signature. It might be an important part of getting a fee waiver because it will attest to your financial need. After DoNotPay gets the signature, we'll send the fee waiver request form to your potential University.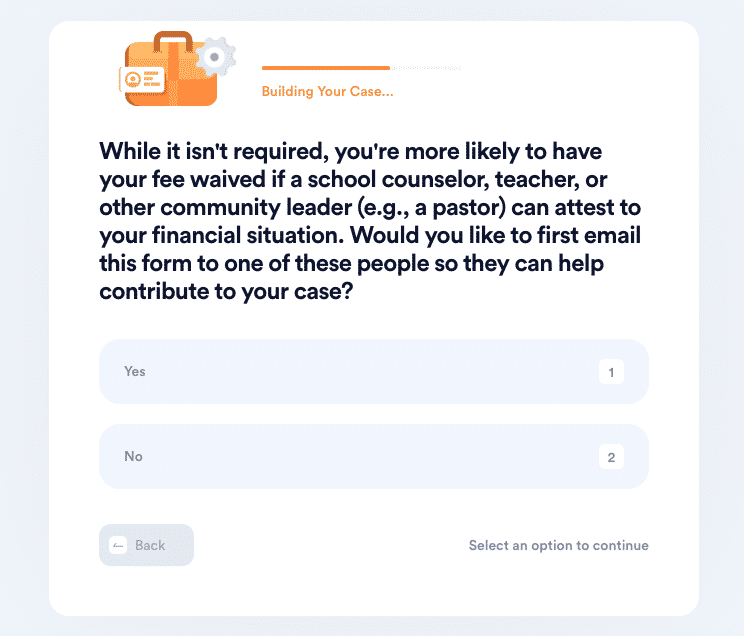 Steps To Request the VCU College Application Fee Waiver With DoNotPay
There are a few simple steps you need to take to request a fee waiver. You can do it from any web browser, from the safety of your home. Open DoNotPay, log in to your account, and follow these instructions:
Find the

College Application Fee Waiver

feature

Choose the type of fee you want to request

Type in

Virginia Commonwealth University

and answer a few questions about your financial situation

Indicate whether you want DoNotPay to obtain your counselor's signature

Click on

Submit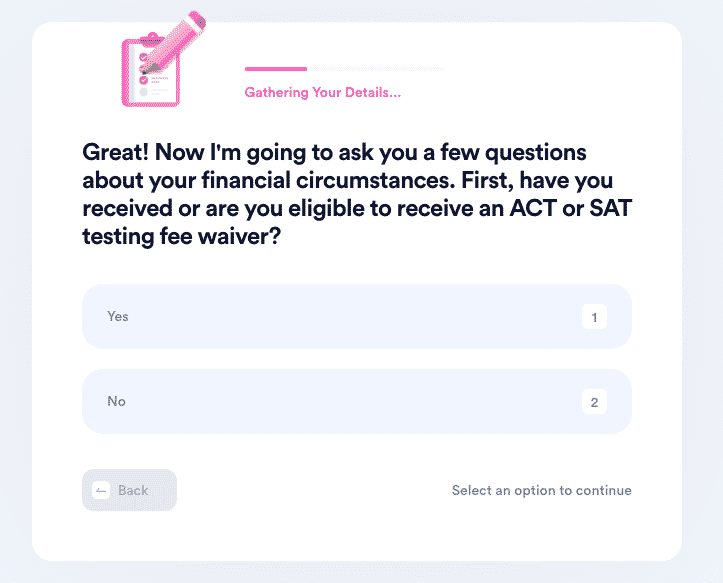 DoNotPay Has a Wide Range of Features You Might Find Useful
You can use our platform to obtain fee waivers for other Universities such as UVA, and Virginia Tech, and William and Mary. DoNotPay can do much more for you!
Our app can help you prepare for your DMV test in VA or a Commercial driver's license (CDL) test. If you are a Virginia resident, you might have some unclaimed money there—be sure to check. One of the easiest ways to find your missing money is with DoNotPay.
Find out if DoNotPay has a solution to your problem by accessing our platform from any web browser. You can get help with:
Fighting traffic citations in the U.S.

Appealing speeding tickets