Do You Want To Apply to Columbia but Struggle With Money? Learn How To Get a
Columbia Fee Waiver
!
Columbia University in the City of New York is one of the top U.S. schools. It has over 31,000 students enrolled in its programs. Given its prestigious status, the university has high college fees, which can make it difficult for some students to enroll. 
Columbia University offers fee waivers and financial aid to students in need. 
If Columbia is on your college wish list, learn how to waive college application fees and save money.
Why Are College Application Fee Waivers Useful?
College applications will probably cost you around $40, but if you want to apply for a more prestigious college, such as Columbia, you will have to pay much more. 
Many students apply for more than five colleges at the same time. This practice makes the application fees add up to hundreds of dollars. 
Universities are aware that not everyone can afford to pay application fees, so they offer fee waivers to students with financial difficulties. If you want to apply to Columbia University, you can ask for an application fee waiver.
What Qualifies You for the
Columbia Application Fee Waiver?
Columbia University's application fee is $85. Bear in mind that if you apply and don't get admitted, you won't be able to get a refund. 
If you can't afford to pay the application fee, you can have it waived. To meet the criteria for a fee waiver, you need to be:
Eligible for the Federal Free or Reduced Price Lunch program (FRPL)

A part of a household with an annual income lower than $60,000

A participant in financial-aid programs, such as Upward Bound

Homeless or live in a federally subsidized public housing

An orphan

On duty in the U.S. military

A U.S. military veteran

A member of a family whose income meets the

USDA Food and Nutrition Service

's Income Eligibility Guidelines:
| | |
| --- | --- |
| Number of Household Members | Annual Income |
| One | $12.760 |
| Two | $17,240 |
| Three | $21,720 |
| Four | $26,200 |
| Five | $30,680 |
| Six | $35,160 |
| Seven | $39,640 |
| Eight | $44,120 |
It is enough to fulfill one of these criteria to obtain the application fee waiver.
How Can SAT and ACT Fee Waivers Help You With Applying To Columbia University?
In case you are eligible for the SAT or ACT exam with a fee waiver, you won't have to pay any Columbia application fees. 
What you should know is that Columbia University changed its policy on SAT and ACT requirements. Since many students won't be able to sit for the exams due to the COVID-19 pandemic, Columbia University decided to make submitting the SAT and ACT results optional in the 2020-2021 application cycle. 
What Is Columbia University's Financial Aid Program?
You can get the application fee waiver only if you plan to apply for the Columbia University financial aid program. 
This program allows students to get help with paying college fees and planning their student budget. International students are also eligible to sign up for the financial aid program. 
How To Request a Columbia University Application Fee Waiver by Yourself
You can ask to have your Columbia application fee waived in several ways:
How To Request a Columbia Application Fee Waiver Online
You can submit your application fee waiver request by filling out the Application Fee Waiver form on the Columbia University website. Here are the steps to follow:
Open the form

State whether you want to apply as a first-year, transfer, or combined-plan candidate

Select

Yes

under

Do you plan on applying for need-based financial aid?

Provide your personal information

Answer

Fee Waiver Eligibility Questions

Click on

Submit
How To Get the Columbia Application Fees Waived With QuestBridge
QuestBridge is a non-profit organization that helps students from low-income families apply for top universities. The organization is a partner of Columbia University. 
All students who become QuestBridge Finalists don't have to pay when applying to Columbia University. QuestBridge Finalists are those students who excel in their academic achievements but have financial troubles. 
How To Waive Columbia Application Fees via the Common App
To get a fee waiver with the Common App, you will need to follow these steps:
Set up your

Common App account

Click on

Profile

Select the

Common App Fee Waiver

option

Answer various questions

Submit your request

Wait for your counselor to fill in the forms and gather any additional documentation
Applying for a fee waiver via the Common App can be complicated and time-consuming since you have to answer a number of questions. The questions might confuse you, so you will need to look for your counselor for advice.
If you want to get your fee waiver more efficiently, use DoNotPay!
Use DoNotPay To Get a Columbia Application Fee Waiver in No Time
If you don't want to waste time filling out the eligibility forms and waiting on QuestBridge's decision, use DoNotPay to get the Columbia fee waiver fast! We can deal with all the necessary forms and send them to the Columbia admission office. All you need to do is:
Access DoNotPay from any

web browser

Choose the

College Application Fee Waiver

option

Select the fee you want to avoid

Choose

Columbia University

and answer the questions about your financial status

Indicate whether you need a counselor's signature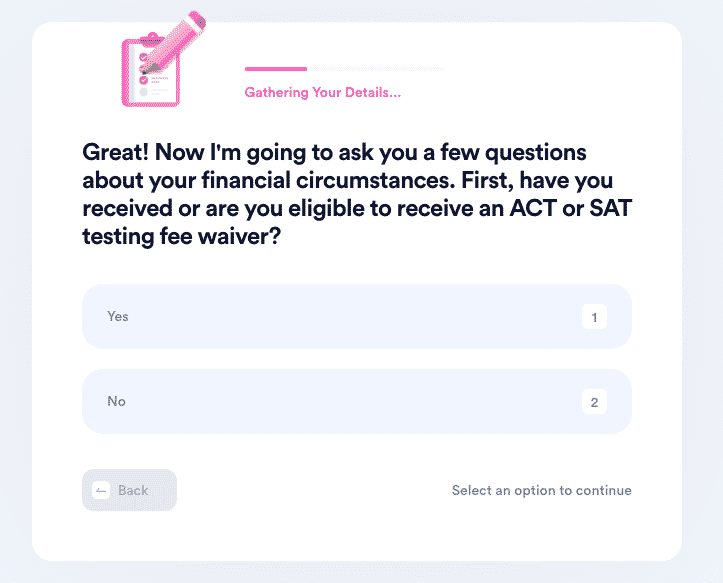 What makes DoNotPay the best option for requesting college application waivers is its database of colleges in all U.S. states. You can use our app to request fee waivers for Brown University, Harvard Law School, Northeastern University, The City University of New York, and many others.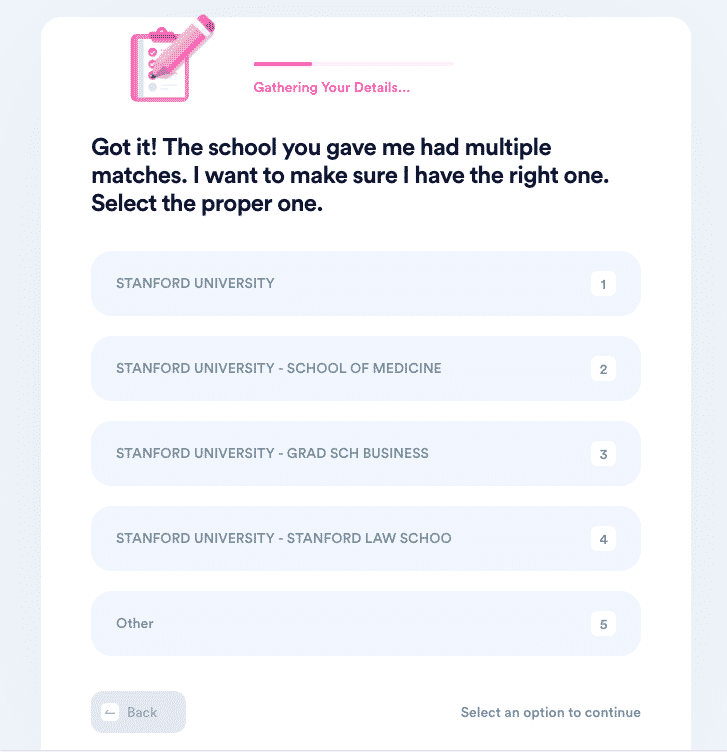 With DoNotPay, you can waive fees for new and transfer student applications, as well as for enrollment deposits.
DoNotPay Deals With Bureaucracy for You
Does bureaucracy give you a headache? 
With our app, you can solve many tasks, such as canceling your Bartleby, Mathway, or Study Edge subscription. Besides canceling memberships, you can also use DoNotPay to make refund requests. Don't hesitate to ask for your money back and learn how to get an Adobe or Grammarly refund!
You can also take advantage of our virtual credit card and virtual credit card generator and sign up for a Cengage or Turnitin free trial without worrying about being charged afterward. 
DoNotPay is the world's first robot lawyer and has assisted many people with administrative tasks. We received the American Bar Association's Louis M. Brown Award for Legal Access as a recognition of our efforts to provide legal services to those in need.
Open DoNotPay in any web browser and get help in:
Appealing speeding tickets

Fighting traffic tickets