How To Get an NC State Application Fee Waived Trouble-Free
North Carolina State University (NC State) is a public research university based in Raleigh, North Carolina. It is a large institution with an enrollment of 22,317 undergraduate students, and it's best known for its most popular majors like engineering, business, management, and marketing. 
If you applied to North Carolina State University, you might be eligible for an NC State application fee waiver.
Understanding College Application Fee Waivers
A fee waiver is a form that a student fills out and submits to a certain college to request the reduction or removal of the application fee. The costs of application differ from school to school, but in general, they amount to anywhere from $60 to $90. Some of the most expensive application fees are those of Stanford University, Columbia University, and Duke University.
Considering that students apply to multiple universities, their costs can stack up and end up amounting to hundreds of dollars in fees alone. That is where fee waivers come in to make it easier for students to navigate through this deluge of expenses.
Some of the major expenses you will encounter when applying to college are:
Tuition

Room and board

Textbooks and other school supplies

Transportation for the on-campus visits

Application fees
There are general qualifications you will have to meet to be an eligible candidate for a fee waiver. They are usually given to students who are in financial need, but some universities will make exceptions if you meet their criteria.
How Much Does the NC State Application Fee Cost?
The application fee for NC State University is $85. It's also a non-refundable fee, so it would be wise to talk with your school counselor and ask them to help you get it waived. 
You can get your NC State application fee waived using the waiver form provided by NACAC, ACT, or the College Board or by sending a letter verifying that you meet the waiver guidelines of one of the three organizations. 
Are You Eligible For an Automatic College Fee Waiver?
Students who got an SAT or ACT fee waiver are supposed to be eligible for college application fee waivers automatically. And if you are using Common App or Coalition App, the procedure should be even easier.
What Are the Qualifications for the NC State Application Fee Waiver?
There are certain qualifying guidelines for application fee waivers that are universal and more or less the same for all universities. If any one of the following applies to you, you should be eligible for an application fee waiver provided you:
Meet the

Income Eligibility Guidelines

Live in public housing or a foster home

Enrolled in a program that helps students from low-income families

Are a ward of the state

Receive public assistance

Are an orphan
You can look at the table below to see the Income Eligibility Guidelines in detail:
| | |
| --- | --- |
| Number of Household Members | Total Annual Income |
| One | $23,606 |
| Two | $31,894 |
| Three | $40,182 |
| Four | $48,470 |
| Five | $56,758 |
| Six | $65,046 |
Ways To Get the NC State Fee Waiver on Your Own
NC State university allows three ways to apply for fee waivers. They will accept each of the following official fee waiver forms: College Board, ACT, or NACAC.
Applying for the NC State Waiver With College Board
To access college application fee waivers with College Board, follow the next few steps:
Visit their

website

Click on

Get your college application fee waivers

Review the given options

Sign your waiver and send it to NC State University
Applying for an Act Fee Waiver 
Before you apply for a fee waiver, go to the ACT website to check if you are eligible. After that, talk to your school counselor to get more information on how to apply for a waiver and send one in.
Applying for the NC State Waiver Using NACAC
You can use the NACAC fee waiver form when applying for college if you are a student who has limited financial resources. These are the steps you should follow:
Download the

form

Put North Carolina State University in the top line

Complete the

Student section

and check the boxes that apply to you in the

Economic need

section (you can choose

Other request

if none of the boxes apply to you and explain your financial situation briefly)

Have a school counselor complete the

Authorized Official

section and verify your economic eligibility

Send this form directly to the NC State admissions office
Use DoNotPay To Get the NC State Fee Waiver in Four Easy Steps
DoNotPay can help you get college fee waivers and apply for an NC State fee waiver in the most convenient and easy way. Considering how many schools are now closed due to the COVID-19 pandemic and that counselors are overwhelmed dealing with other issues, this year's college applicants are going to have a hard time applying for fee waivers. 
That's why DoNotPay's College Application Fee Waiver feature is designed to assist you during the whole procedure and take some burden off your back! The steps you should follow to apply for a fee waiver are also quite simple and take almost no time at all!
Here is how it works:
Open DoNotPay in your

web browser

and select

College Application Fee Waive

Click on the fee that you would like to have waived

Choose the college that you are applying to and answer a few short questions regarding your financial situation

Say whether you would like to get a counselor's signature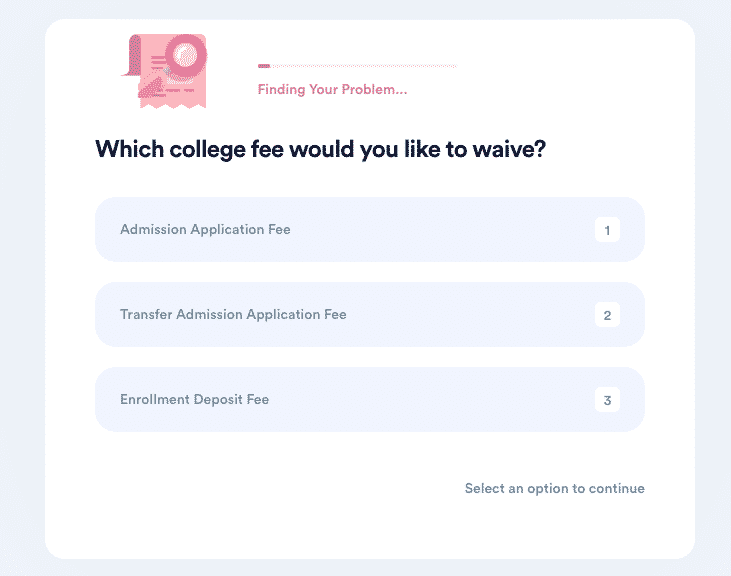 DoNotPay can offer even more help during this process! We can also:
Fill out the form in your stead

Send the form directly to NC State's financial aid office

Help you apply for college application fee waivers (for undergrad and grad studies)

Assist you in requesting test fee waivers (with the exception of the SAT and the ACT)
Our product works with any college in the U.S. because of our comprehensive database of all colleges in America. We present you with three types of fee waivers:
New Student Application Fee Waiver

Transfer Student Fee Waiver

Enrollment Deposit Fee Waiver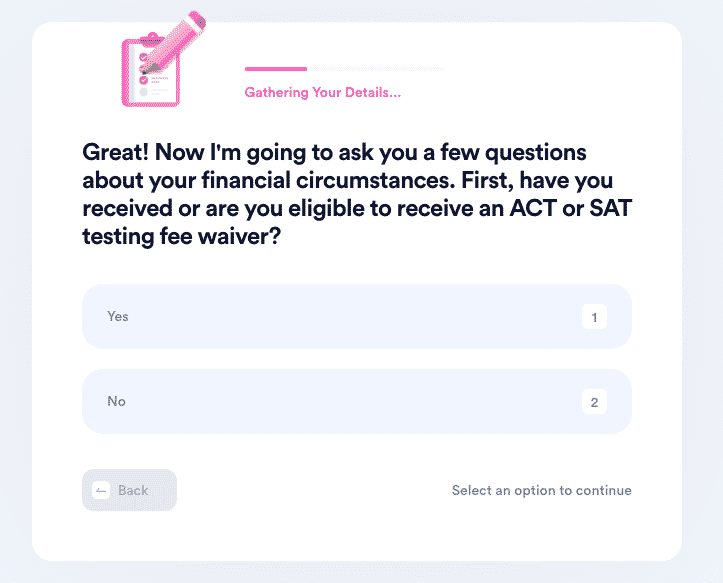 That's not all! You can improve your application by obtaining a school counselor's signature with DoNotPay. We can complete the form and send it to your counselor for a signature or mail it to the university's financial aid office in your stead!
DoNotPay's Other Neat Features
Use DoNotPay to make your life trouble-free, and complete any administrative task that comes your way with ease! 
Need help with requesting application fee waivers for other colleges? No need to worry as we can help you get fee waivers for Duke, UPenn, Columbia, Vanderbilt, and more! Not only that, but we can also help you find any unclaimed money under your name, schedule a North Carolina DMV appointment faster, and teach you how to pass a North Carolina permit test!
All you need to do is open your web browser and go to DoNotPay to see how we can help you:
Fight speeding tickets

Dispute traffic tickets