C U in NY—How To Get a CUNY Fee Waiver
The City University of New York, also known as CUNY, is the largest urban university system in the U.S. Thousands of prospective students apply to the university every year, but many give up due to the mounting costs of tuition and supplementary fees that accompany applications. 
College application fees are just one example of the increasing costs of higher education, but they aren't inevitable. Many universities allow you to apply for a fee waiver, as long as you come from a disadvantaged household. This process can be time-consuming, especially if you're a student that wants to apply to multiple colleges. 
DoNotPay can step in and simplify getting a fee waiver, so you don't have to worry about wasting time and effort when you send your applications. 
Why Does the City University of New York Demand an Application Fee?
The City University of New York and many other colleges require that students pay a fee during the application process. These college fees help pay for the processing of thousands of applications that the university receives. 
How Much Is the CUNY Application Fee?
Students that wish to apply to a college within the City University of New York must pay an application fee of $65. This amount applies to freshmen signing up for college for the first time. Applications from students that wish to transfer from another college cost $70 instead. The fee is valid only for a single entrance term. 
Students can pay using Mastercard, Visa, eCheck, or request a waiver for their application fee. 
What Is an Application Fee Waiver?
Students that come from low-income families often find it difficult to finance their applications. While the cost of one application isn't astronomical, it's not uncommon for students to apply to multiple colleges at once. There's no guarantee that their first choice university will accept them, which is why hedging their bets is the smartest move. 
Freshmen who wish to join the City University of New York can apply to a maximum of six of the university's colleges at once, which increases the cost of application sixfold. Getting a waiver can help mitigate this cost and allow students to apply to the colleges they want without ruining their finances. 
Students that have received ACT or SAT fee waivers are exempt from application fees for most colleges, but CUNY may or may not grant a waiver, as the admissions office reviews applications on a case-by-case basis. 
Qualification for a
CUNY Fee Waiver
As is the case of most universities, the City University of New York provides fee waivers to students from low-income backgrounds. Only waivers granted explicitly by the City University of New York are accepted. 
Students who've received waivers from institutions such as the College Board or other sources won't be able to mitigate the application's cost unless they request a waiver directly from the City University of New York.
Students may receive an automatic application fee waiver under specific conditions:
They are homeless

Their family lives in federally subsidized public housing

They qualify for free or reduced-price lunch

Their family receives public assistance of any kind

They are in foster care
How Do I Request a
CUNY Application Fee Waiver
?
There is no streamlined method you can use to request an application fee waiver. If you aren't eligible for an automatic waiver, you must contact the CUNY Board or a counselor directly to request it. 
Here's an overview of the methods you can use to obtain a CUNY application fee waiver:
| | |
| --- | --- |
| Can I Request a Waiver With | Yes/No |
| DoNotPay | Yes |
| CUNY Board Contact | Yes |
| Online Form | No |
| College Board  | No |
| Third-Party Apps | No |
Application Fee Waivers for Military Personnel
The City University of New York exempts military personnel from paying the application fee when applying for undergraduate studies. The following groups are given special channels to request application fee waivers:
Active Duty members

Veterans of the United States Military Service

Members of the National Guard or Reserves
If you fall under one of the groups mentioned above, follow these steps to receive your application fee exemption:
Create an account on the

CUNY portal

Fill out the application and press

PAY LATER

Compose an email that includes your full name, date of birth, Application Control Number, and the semester you're applying for

Send it to

veterans@mail.cuny.edu

Send or fax a DD-214 form, current Military ID card, or deployment or pre-separation order to the CUNY Office of Admission Services
How To Get a CUNY Fee Waiver Using DoNotPay
If you aren't sure how to get a hold of the CUNY administration or request an application fee waiver, your options for getting a waiver are limited. Third-party apps for fee waivers like the Common App aren't guaranteed to provide you with a fee waiver, nor can you use waivers from institutions other than CUNY. 
DoNotPay has come up with a practical and efficient solution to get you a CUNY fee waiver as quickly as possible. Here's how you can use our app to get a waiver:
Sign up for DoNotPay in your

web browser

Access the

College Application Fee Waiver

feature

Choose the type of fee you want to waive

Locate CUNY in our list of colleges and answer key questions about your financial situation

Choose whether or not you want a counselor's signature and submit your request
We'll directly contact the CUNY financial aid office and provide them with the relevant information they need to review your fee waiver request. If you choose to get a counselor's signature, we'll send the request to your school counselor to provide you with a signature. It will increase your chances of receiving the application fee waiver.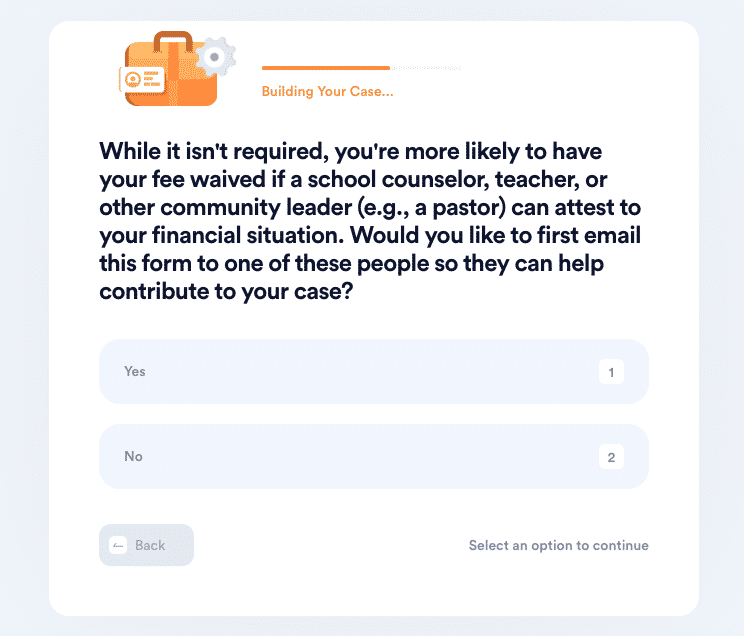 DoNotPay Can Be Your Pocket-Sized AI Assistant
If you're applying to multiple colleges but don't have the time to review all of their fee waiver guidelines, DoNotPay can step in and simplify the process. Use our app to get fee waivers from Harvard Law, Georgetown Law, Stanford Law, or any other college that provides them. Whether you need an application fee waiver from one of the colleges in the American Association of Colleges of Osteopathic Medicine or plan to apply to Brown University, we'll help you save money. 
When you join the college of your dreams, DoNotPay will help you sign up for an Amazon Prime Student free trial without risk. If you find it difficult to deal with student loan bills, we'll show you how to finance them. 
Access our app from your web browser and learn how to solve various administrative issues. Take a look at all the tasks that DoNotPay can simplify for you:
Fighting speeding tickets

Disputing traffic tickets