Don't Have Enough Money for the CSU Application Fee? Learn How To Get a CSU Fee Waiver!
The California State University (CSU) system has 23 campuses with over 4,100 undergraduate and graduate programs. More than 480,000 students get admitted to CSU every year.
If you think about applying for CSU, prepare to pay a fee for each application you make. In case this charge is a great burden on your budget, learn how to submit a CSU fee waiver request. 
What Are College Application Fee Waivers?
Most schools require application fees that range from $40 to $100. Here are the application fees for some of the most popular schools:
Students usually apply to several colleges to increase their chances of enrollment. Since application fees can pile up, fee waivers can be helpful to students with financial struggles. 
Everything You Should Know About the Cal State Application Fee
The application fee for all CSU campuses is $70. If you apply for more than one campus, you can end up spending hundreds of dollars. The fees are not refundable, so you won't get your money back if you miss a deadline or don't get enrolled. 
You can pay the application fee via PayPal, pre-paid credit or debit card, or standard credit or debit card. Bear in mind that you can't make a credit card payment over the phone. 
If you can't pay the application fee, check whether you are eligible for the CSU application fee waiver.
Who Can Qualify for the Cal State Application Fee Waiver?
You can apply for a CSU application fee waiver if you are a:
U.S. citizen

Foster child

California veteran

First-time freshman

California resident who is 60 or older

California resident for longer than a year

Student who is experiencing financial hardship

Participant in an in-state university exchange

Dependent on Victims of September 11, 2001 Terrorist Attacks​

Person who is eligible for an AB 540 nonresident tuition exemption

Student whose spouse or parent was a CSU employee who died in the line of work 
Sometimes, students who think they are eligible for the application fee waiver don't get one. This situation usually happens because they make errors when filling out the application form. If a campus denies a fee waiver request, it might be because the candidate:
Says that he or she is a dependable applicant with a family size of one

Puts the same amount for in the Adjusted Gross Income and

Untaxed Income fields

Chooses

None

as the reply to

What U.S. State/Possession do you regard as your permanent home?
If you want to avoid errors when filling out your CSU application fee waiver, you should check out the Application Fee Waiver Checklist. 
How To Request a Fee Waiver for the CSU Applications?
California State University will decide whether you are eligible for a fee waiver based on the answers you give in your admission application. To apply, you need to:
Log in to your

Cal State Apply

account

Provide all the necessary information about yourself, your school, and your financial situation

Click on the

Check My Fee Waiver Status

button to see whether you can expect to get a fee waiver

Click on

Submit All
In case you qualify for a CSU fee waiver, you can use it for up to four applications in the same term. You can't transfer the approved waivers to a future or past application term.
California State University won't accept any third-party fee application forms, such as the SAT, ACT, NACAC, Coalition App, or Common App fee waivers. 
Did CSU Deny Your Fee Waiver Request? You Can File an Appeal
In case your family's financial situation changes for the worse after your CSU application, you may file a fee waiver appeal. What you should do is:
Open the

Application Fee Waiver

page 

Scroll down and click on the Fee Waiver Appeal Form

Check the boxes that apply to the changes that happened to you

Give the form to your guardian to sign

Provide your signature

Fill in the details about your U.S. citizenship or check the boxes that apply to you in case you are not a U.S. citizen
Once you complete the form, you will have to send it to each CSU campus you want to apply to. The campus representatives should contact you regarding your case. Here is the contact information of all CSU campuses.
Do You Have Other Colleges on Your List? Use DoNotPay To Submit an Application Fee Waiver Request in No Time
The process of applying for the California State University fee waiver can take you a lot of time. Don't let the same happen when you request fee waivers for other colleges—use DoNotPay to save your time! 
With our AI-powered app, you can submit a fee waiver request in minutes! All you need to do is follow a few easy steps:
Set up your DoNotPay account in any

web browser

Open the

College Application Fee Waiver

feature

Choose the fee you want to get waived

Select the college you want to get an application fee waiver for and answer the questions regarding your financial status

State whether you would like to have a counselor's signature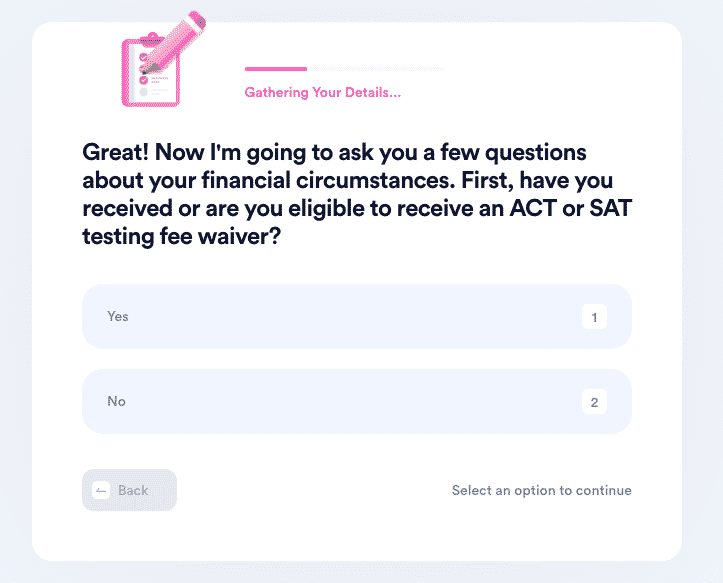 What's best is that you won't have to worry about filling out any forms. We'll do that for you and send your request to the admission office of the school you want to apply to.
You can use our app to waive three types of fees:
New student application

Transfer student

Enrollment deposit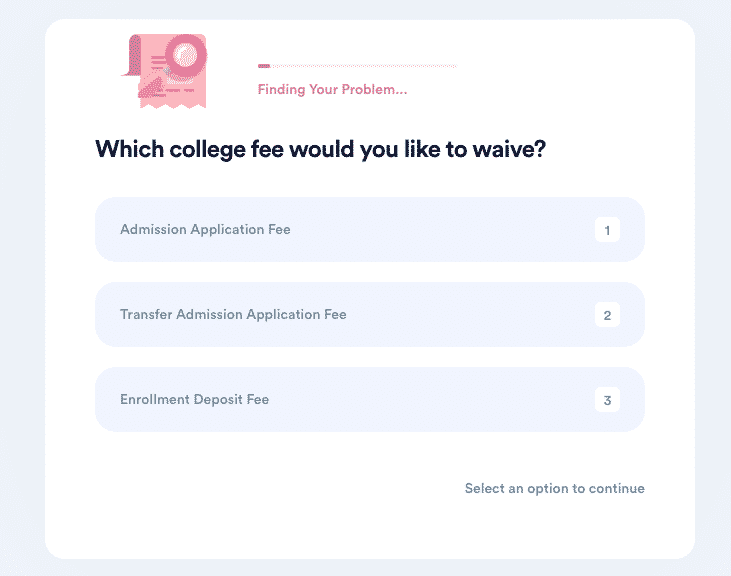 DoNotPay has a vast database of schools all around the U.S., and you can easily find the one you wish to enroll in. With our app, you can submit fee waiver requests for Harvard, American University, Columbia University, Northeastern University, The University of Maryland, The University of Texas at Arlington.
DoNotPay Is Your Solution to Administrative Issues
DoNotPay—the world's first robot lawyer—can help you deal with a bunch of daunting administrative tasks!
Use DoNotPay to learn more about college fees.
We can assist you in unsubscribing from Mathway or Bartleby, requesting a refund from Grammarly, or starting a Masterclass free trial the risk-free way. 
You can also use our app to learn how to get a driver's license in California and appeal parking tickets in San Diego.
With our app, you can also find the best clinical trials in Los Angeles or San Francisco.
Open DoNotPay in any web browser, and check out what tasks we can help you handle:
Disputing traffic tickets

Fighting speeding tickets