Get Your University of Chicago Application Fee Waived Quickly
The University of Chicago is a private institution with a reputation for being one of the most rigorous schools to attend. It's no secret that this school is expensive as well. If the University of Chicago application fee is too pricey for you, consider obtaining an application fee waiver with DoNotPay. 
Why Must You Pay an Application Fee?
Universities and colleges ask for an application fee to cover the costs of the screening process. Technology has made the process less labor-intensive, but there are still people involved in every step. You usually attend an interview and write an essay, and someone needs to evaluate these application segments. 
Schools also use application fees to make sure that only serious students apply. Some schools don't ask for an application fee, and others have window periods when you can apply for free.
What Is an Application Fee Waiver?
While most universities ask for an application fee, they are also willing to offer a fee waiver under specific circumstances. The application fee amount depends on the school and usually varies between $20 and $100. The fees might not seem like much, but if you're applying to a few colleges, the expenses can quickly add up. Here are some schools that charge the highest application fees:
Apart from the application fee, there are various other fees that you might have to pay before you're admitted to the school, including:
Students who can't afford all of the expenses can request an application fee waiver.
Application Fee Waiver Requirements
To qualify for a University of Chicago fee waiver, you have to:
Be eligible for an SAT or ACT fee waiver

Have participated in a reduced-fee lunch program or have been eligible to participate

Come from a family that receives state assistance—grants for food, childcare, etc.

Be a veteran or an active member of the

U.S. Armed Forces

Live in foster care or subsidized housing or be homeless 

Meet the

USDA

Food and Nutrition Service Guidelines
Consult the following table to check if you're eligible to get financial aid according to the USDA Food and Nutrition Service Guidelines:
| | |
| --- | --- |
| Number of People in Household | Average Income Is Less Than |
| One member | $12,760 |
| Two members | $17,240 |
| Three members | $21,720 |
| Four members | $26,200 |
If your family is bigger than four people, you should add $4,480 for every additional member. 
What Is the Chicago University Application Fee?
While the average application fee for colleges in the U.S. is $60, the University of Chicago charges $75. Applicants can apply for a fee waiver if they need financial assistance. The admissions committee may ask you to submit supporting documents before accepting your request. Early application will not guarantee a fee waiver, but late applications won't be considered at all. 
Some students require financial aid but don't meet any of the required criteria. Such students should still apply for an application fee waiver. The University of Chicago will review your request and may honor the waiver if they find that you need assistance.
How Can You Get a Fee Waiver From the University of Chicago on Your Own?
The University of Chicago is a member school of both the Common and the Coalition Apps. You can request a University of Chicago fee waiver using one of those platforms:
Platform Name
How To Request a Fee Waiver

The Common App

Log in to your

account

Click on the

Common App

tab and choose

Profile 

Select the

Common App Fee Waiver

section

Answer all required questions

The Coalition App

Open your

account

Visit the

Profile

section and click on the

Fee Waiver

option

Provide the necessary info to get a list of schools that grant fee waivers

Choose the school you want to apply to
Let DoNotPay Help You Request a University of Chicago Application Fee Waiver
DoNotPay makes the process of requesting application fee waivers easier. You can apply to different schools, and you only need to fill in the form once. 
Your desired school may expect your guidance counselor to request the fee waiver on your behalf. In this case, DoNotPay can send your forms to your guidance counselor and then submit them to the university.
You can follow these steps to request a fee waiver with DoNotPay's help:
Log in to your

DoNotPay

account

Open the

College Fee Waiver

option in the menu

Select

Admission Application Fee

when prompted

Select the school you are applying to

Answer the questions about your financial situation and indicate whether you need your counselor's signature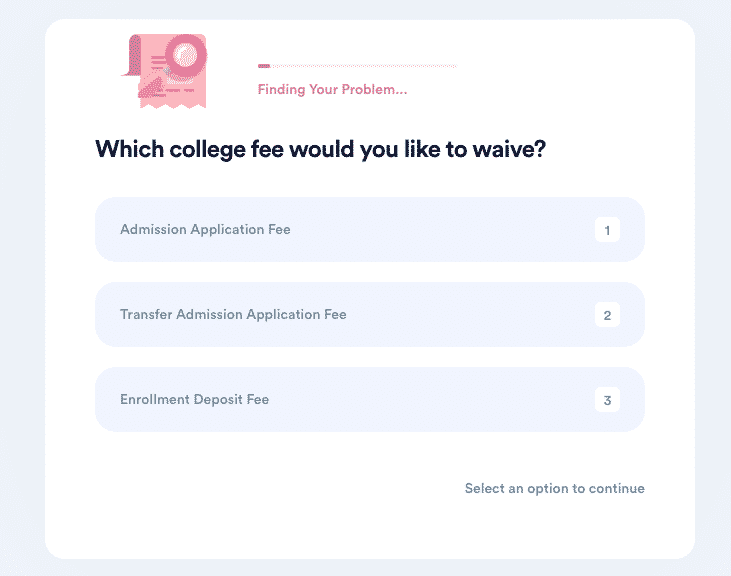 DoNotPay will send the application fee waiver request to each school that you indicate. The school will contact you regarding your request. With our help, you can obtain a fee waiver for any grad or undergrad school in the U.S., including:
Clear Your Schedule With the Help of DoNotPay
DoNotPay is renowned for making our users' lives infinitely easier. Not only can we root out unwanted subscriptions for you—you don't need to do it manually one by one any longer—but we can unsubscribe you from unwanted email and snail mail lists.
Fire up our app and let it navigate the phone tree instead of you or use it to make a DMV appointment at your earliest convenience. Forget about googling clinical trials near you—DoNotPay can sort them out according to your needs and their individual eligibility criteria. 
We can fill out the paperwork that you need to file at your local small claims court to initiate a dispute. You can work around the U.S. penal system and have DoNotPay locate an imprisoned loved one instead of you trying to reach individual prisons attempting to do it yourself.
You don't need to go to great lengths to get in touch with a counselor to sign your college fee waiver either—DoNotPay does it for you and then forwards the necessary documents on your behalf. 
DoNotPay Never Ceases To Amaze
Where there's one useful feature, there are nifty features galore!
Use our Virtual Credit Card to sign up for free trials and stop robocalls and spam text messages from reaching your phone. If you feel a free trial unrightfully turned into an expensive paid membership, we can help you request a refund or chargeback for the inconvenience.
We can further assist you in exercising your consumer rights by making a warranty claim in your place and verifying your online accounts with temporary phone numbers.
We can also break down the Freedom of Information Act for you and introduce you to online fax options and property tax reductions.