Everything You Should Know About Law School Application Fees
Practicing law in the United States requires the Juris Doctor degree, a professional doctorate. All law schools in America grant the Juris Doctor degree. To obtain it, you have to finish studies that last three or four years, depending on whether you're a full-time or part-time student. If you want to apply to a law school, you should be aware that you first need an undergraduate degree.
Like other schools and colleges, some law schools require their prospective students to pay a college fee when applying. With the help of your robot lawyer, DoNotPay, you can learn everything about the law school application fees and avoid them with no hassle.
How Much Will I Have To Pay for Law School Application Fees?
Most law schools work with the Law School Admission Council (LSAC), the organization that offers Law School Admission Tests (LSAT). LSAC is in charge of the application process, which makes it way easier, as it can be done once and in one place.
How does the application work? You submit your LSAT scores, transcripts, documents, and letters of recommendation to LSAC, and they are in charge of generating a Credential Assembly Report (CAS report). Once you select the desired schools, LSAC sends your CAS report to each law school.
Is it too good to be true? Maybe. Registering for LSAT and CAS services is mandatory, and it costs $320. Don't forget the application fees. In the table below, you can see application fees of some of the best law schools in the States:
What Are Application Fee Waivers?
Applying for multiple law schools at once is not cheap. The costs of the LSATs, CAS reports, and applications can add up to nearly a thousand dollars. Depending on the number of law schools and their fees, the costs can even exceed that number.
Law schools, like other colleges, offer fee waivers to their eligible future students.
Am I Qualified for an Automatic Law School Application Fee Waiver?
When applying to some colleges, having the ACT and SAT fee waivers can exempt you from paying college application fees.
When it comes to law schools, if you already have an LSAC fee waiver, you are automatically eligible for a fee waiver. If that is not the case, you have to check with the school you're applying to and see if you meet the requirements.
Keep in mind that this rule is not applicable for every law school, so it's best to check with every school's admissions office before applying.
How To Request a Law School Application Fee Waiver
There is no general fee waiver request method that works for every law school. Some may accept fee waiver requests made through the Coalition App or Common App, while others may require submitting the written request. That is why it's smart to contact the law school first or use the most reliable method—DoNotPay.
Aside from contacting your preferred law school directly, you can request an LSAC fee waiver with DoNotPay in a few clicks.
If you wish to apply for an LSAC fee waiver on your own, here is how you can do it:
Sign in or create a new LSAC

account

Check the fee waiver requirements that apply to you

Provide the required documentation

Complete the request
How To Get a Law School Application Fee Waiver Using DoNotPay—The First Robot Lawyer
If application fees are too costly for you, but the process of requesting fee waivers seems too demanding, don't fret! DoNotPay has a fantastic feature to help you obtain fee waivers when applying to any law school in the U.S.
College Application Fee Waiver service uses the most comprehensive database of universities in America, which enables us to work with any college and school.
What Can Our Practical Feature Help You With?
College Application Fee Waiver feature is ready to assist if you want to obtain fee waivers for:
First-year student application fees

Transfer student application fees

Enrollment deposit fees
Another amazing service we provide is obtaining a signature from your high school counselor or any other assigned official, in case the school you're applying to requires it.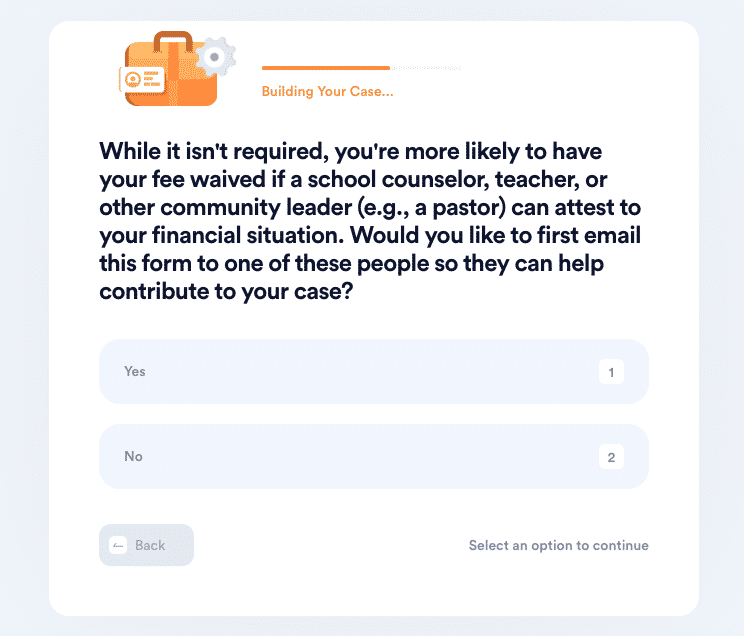 How To Get a Law School Fee Waiver With DoNotPay
We managed to create a feature that will do all the grunt work for you, including:
filling out forms

mailing requests

getting signatures from assigned officials
You only need to open DoNotPay in your and follow these simple steps:
Open

College Application Fee Waiver

feature

Select the desired type of fee

Find the law school you are applying to

Answer a couple of questions about your financial situation
It usually takes up to two weeks for the admissions office to review all the requests. Once they make a decision about your request, we will notify you.
DoNotPay Helps You Fight for Your Consumer Rights
Did you know that companies often reject first-time warranty claims?
You're probably familiar with how complicated the process of appealing parking tickets is. Trying to get a refund for an unsatisfactory purchase or a delayed flight has likely made you mad at least once.
Not anymore! DoNotPay makes all these issues go away in less than five minutes, and that is not all we can do for you!
You don't have to deal with customer service reps of any company on your own anymore—we do it all for you!
DoNotPay bypasses any bureaucratic obstacle for you—scheduling DMV appointments, delaying bill payments, getting in touch with your incarcerated loved ones, filing lawsuits in small claims courts, and claiming insurance policies.
Keep Your Data Safe With DoNotPay
Do you love free trials but are reluctant to disclose your credit card details, phone number, or email address?
Our app lets you try out different subscriptions in a risk-free way!
Use DoNotPay's Burner Phone feature to sign up for services without providing your phone number! We'll make sure robocall scammers and text spammers cannot harass you!
With our virtual credit card, you can sign up for any free trial and not worry about canceling it! Since the card is not linked to your bank account, no one will be able to charge you once the trial expires. An additional perk is that the card comes with a free email address, which means no spam emails from the company.