Duke Application Fee
Breakdown—How To Get a Fee Waiver for Duke University
Duke University in North Carolina is a home for students looking for an exemplary education, access to various student activities, and rich campus life. It is also one of the most selective universities when it comes to choosing applicants. 
The students who apply for Duke University must have a high SAT score, provide recommendation letters, and meet other academic conditions. Considering the competition, the strict selection criteria, and a high application fee, applying for Duke might be too much of a risk for someone with limited funds. 
Applying for a fee waiver can relieve the considerable cost of an overall college education. We are here to provide guidance on how to avoid paying the application fee for Duke University. 
What Is an Application Fee Waiver and Why Should You Apply for It?
Applying for colleges is an expensive undertaking. Parents often don't consider many of the college expenses, like:
Covering travel costs

Taking standardized tests

Paying for application fees

Scoring the tests and sending the results to the required college

Mailing paper applications

Paying for test preparations
Universities have started to offer application fee waivers as a manner of attracting more students. Considering that most students apply for many colleges to increase their chances of getting in, application fee expenses pile up. 
Getting a college fee waiver will help you save hundreds of dollars and allow you to apply to more colleges. Application fees refer to the amount of money colleges require to review your application and decide upon your admission. 
You can apply for a college application fee waiver if you are qualified for financial aid or by meeting certain requirements, such as paying an official on-campus visit. Applying for a waiver doesn't have to be difficult or time-consuming—DoNotPay will show you how to do it with the least amount of effort. 
How Much Is the
Application Fee for Duke University
?
The Duke University application fee is $85. This is one of the most expensive application fees, along with those of some other Ivy-League institutions, such as Boston University or New York University. Most other universities charge around $50 for applying.
The regular decision deadline is on the 1st of January, and the early decision deadline is the 1st of November.
Who Qualifies for a
Duke University Application Fee
Waiver?
If you have taken the SAT or any SAT Subject Tests using a fee waiver, you will automatically receive a Duke University application fee waiver. 
All applicants must send their requests for a fee waiver before sending the applications. After the university processes the application, it is no longer able to refund the fee.
Students with financial needs are eligible for financial aid at Duke University, and that covers fee waivers. You are eligible for a fee waiver when applying for Duke University if you:
Receive public assistance

Are an orphan or a ward of the state

Live in a foster home 

Are homeless or a part of the federal public housing program

Meet the Income Eligibility Guidelines set by the USDA Food and Nutrition Service 

Are enrolled or eligible for some of the programs for low-income families, such as the Federal Free, Reduced Price Lunch Program, or Upward Bound
Here are the criteria set according to Income Eligibility Guidelines that you must meet if you want to apply for a fee waiver:
| | |
| --- | --- |
| Number of Household Members | Annual Income |
| One | $23,606 |
| Two | $31,894 |
| Three | $40,182 |
| Four | $48,470 |
| Five | $56,758 |
| Six | $65,046 |
How To Get a
Duke Application Fee Waiver
by Yourself
Duke University offers freshmen with financial difficulties two ways of getting an application fee waiver. You can apply by accessing the Common App or Coalition App. Here is a step-by-step guide for both:
The Common App
The Coalition App

Access the website

Create an account 

Click on the

Profile

Section 

Click

Yes

Select a field that applies to your financial situation

Put an electronic signature in the required field

Click on the website

Open a

MyCoalition

account 

Click on the

Profile

section

Select all the statements that apply to your status. You have to choose at least one

Click on

Add to list

 
Your counselor will have to confirm your application regardless of which way you choose. If you got the SAT or ACT fee waiver, the counselor will sign it off automatically. If not, you will be required to provide some additional documentation to prove your eligibility. 
How To Get a
Duke Fee Waiver
With DoNotPay
The easiest way of applying for a fee waiver is by using DoNotPay. Our app has access to the database of all colleges across America, so you can get a fee waiver for any university you wish to enroll. We offer these types of fee waivers:
New Student Application Fee Waiver

Transfer Student Fee Waiver

Enrollment Deposit Fee Waiver
You can apply with a few simple steps, and the app will do most of the work! Here is how to do it:
Access DoNotPay from your

web browser

Click on

College Application Fee Waiver

Select the type of fee you would like to waive

Choose

Duke University

and answer a few questions about your financial situation

Indicate if you would like to get a counselor's signature
You will not have to go through the trouble of filing the form and getting the signature or approvals yourself. DoNotPay will automatically complete the entire process on your behalf. We will even send the request to your counselor for a signature to strengthen your case or mail it directly to the university. 
Don't wait for a second longer to apply for a fee waiver with the help of our amazing app!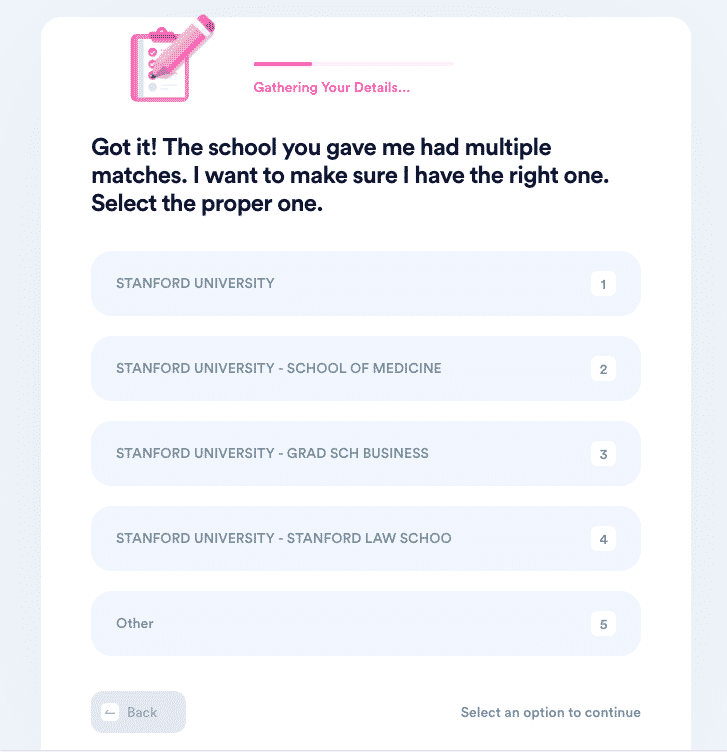 Resolve All Your Bureaucratic Issues With DoNotPay
DoNotPay is the world's first AI lawyer that can help you solve all kinds of issues. Learn about the Do Not Call list in North Carolina with our help. You can save money and time with our tips for getting an extension on your electric bills in NC or skipping the lines for DMV appointments.
We can provide you with tips on how to participate in clinical trials in North Carolina or pass the North Carolina permit test.
If you want to get information on applying for a fee waiver at other high-profile universities, such as Harvard, Princeton, or Yale, we will tell you all you need to know. By accessing DoNotPay from your web browser, you can get help with issues like:
Contesting speeding tickets

Disputing traffic tickets